4-Star Defensive End Visits Pitt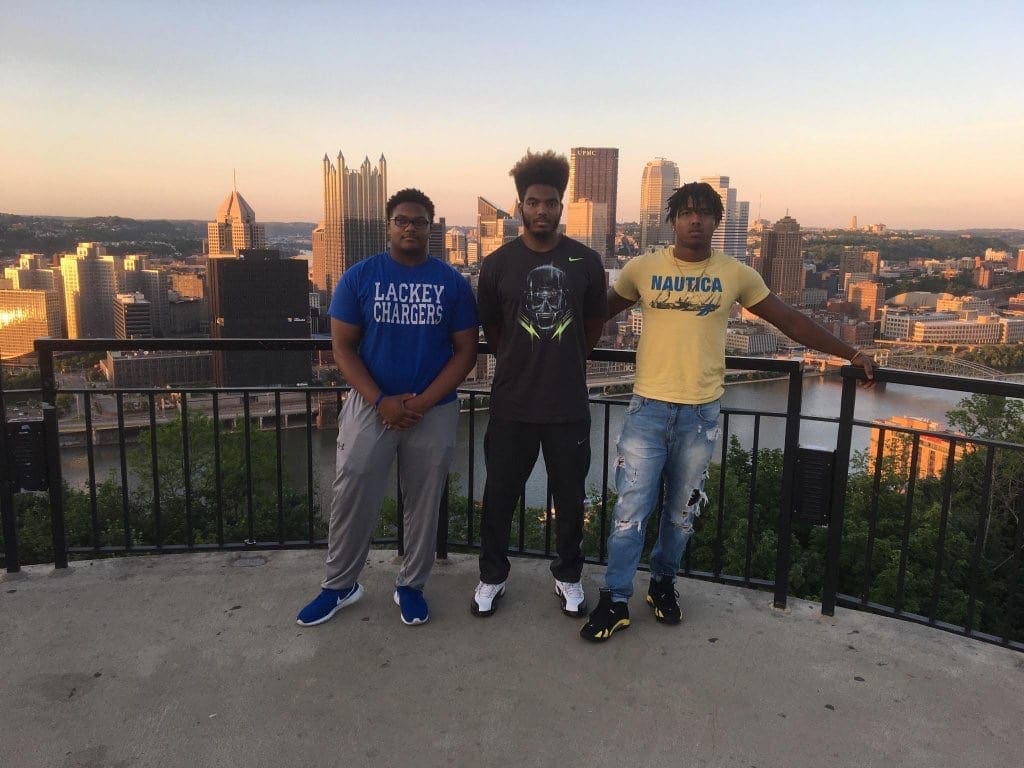 Pat Narduzzi is one of the best defensive minds in all of college football so it shouldn't come as a surprise that top defensive players are drawn to him.
4-star linebacker Nathan Proctor (Indian Head, Maryland) and a couple of his teammates visited the South Side today. Proctor was joined by teammates 2017 linebacker Malik Burns, 2018 OL Elijah Lane and his head coach John Lush, who is a graduate of Pitt.
Lush went to Pitt from 2000-2004 and then did an accelerated Masters program from 2004-2005 in secondary English education. While he was in that program, Lush was a student teacher at McKeesport.
"Nate is the best player I have coached in my 11 years and it has very little do with his athleticism", said Lush. "He is supremely talented, but he cares much more about his teammates and winning games than he does individual accolades. More often than not, highly recruited kids are about themselves. Nate is about his football family. It will be important that he goes to a college that shares that vision."
Before we hear from Proctor, I asked Coach Lush about his thoughts on today and the presentation by the Pitt staff.
"The passion and uniformity of the staff is uncanny. You can tell they truly care about the players as people first and they are all on the same page."
What were your impressions of the new Pitt football facilities and how big of an impact could that be on recruits?
"I think it's a big deal", said Lush. "The game is evolving and it's important that the facilities evolve as well. Since there isn't a stadium on campus, it's important that the facilities breed a family atmosphere."
Now onto Lush's star pupil, Nathan Proctor. This was his first visit to Pitt and the experience was a positive one.
"It was a great visit. It was my first time in the city and on campus so I wasn't sure what to expect but it was great. My good friend Chase Pine is committed there and told me it was awesome and now i know why", said Proctor.
"The city is truly blue collar and is all about hard work. Coach Lush took me everywhere on Monday so I got to see all the sites and sounds of Pittsburgh."
What was the one thing that stood out to you the most today?
"Coach Narduzzi's passion for the city of Pittsburgh and the kids. I think he will be there for a long time."
Proctor says that he spent most of the day with Coach Narduzzi, Coach Harley and Coach Powell.  He also told me that he loved the facilities and thought they created a sense of family.
Proctor holds offers from California, Florida, Georgia, Indiana, Kentucky, Maryland, Miami, Mississippi, North Carolina, Notre Dame, Penn State, Rutgers and Virginia Tech. The 4-star athlete is rated as the #3 prospect in Maryland and one of the top 250 in the country. So, what's next for Proctor?
"I'm still going through the process right now. I want to keep all of my options open and make the right decision. Pitt has definitely grabbed my attention," said Proctor.
"I'm going on a bus tour visiting multiple schools and I will be back to Pitt on June 20th."
That's good news for Pat Narduzzi and Pitt.
// Header image: Nathan Proctor, Malik Burns and and Elijah Lane on Mt. Washington in Pittsburgh, photo courtesy of Nathan Proctor