Pitt/WPIAL Recruiting Notes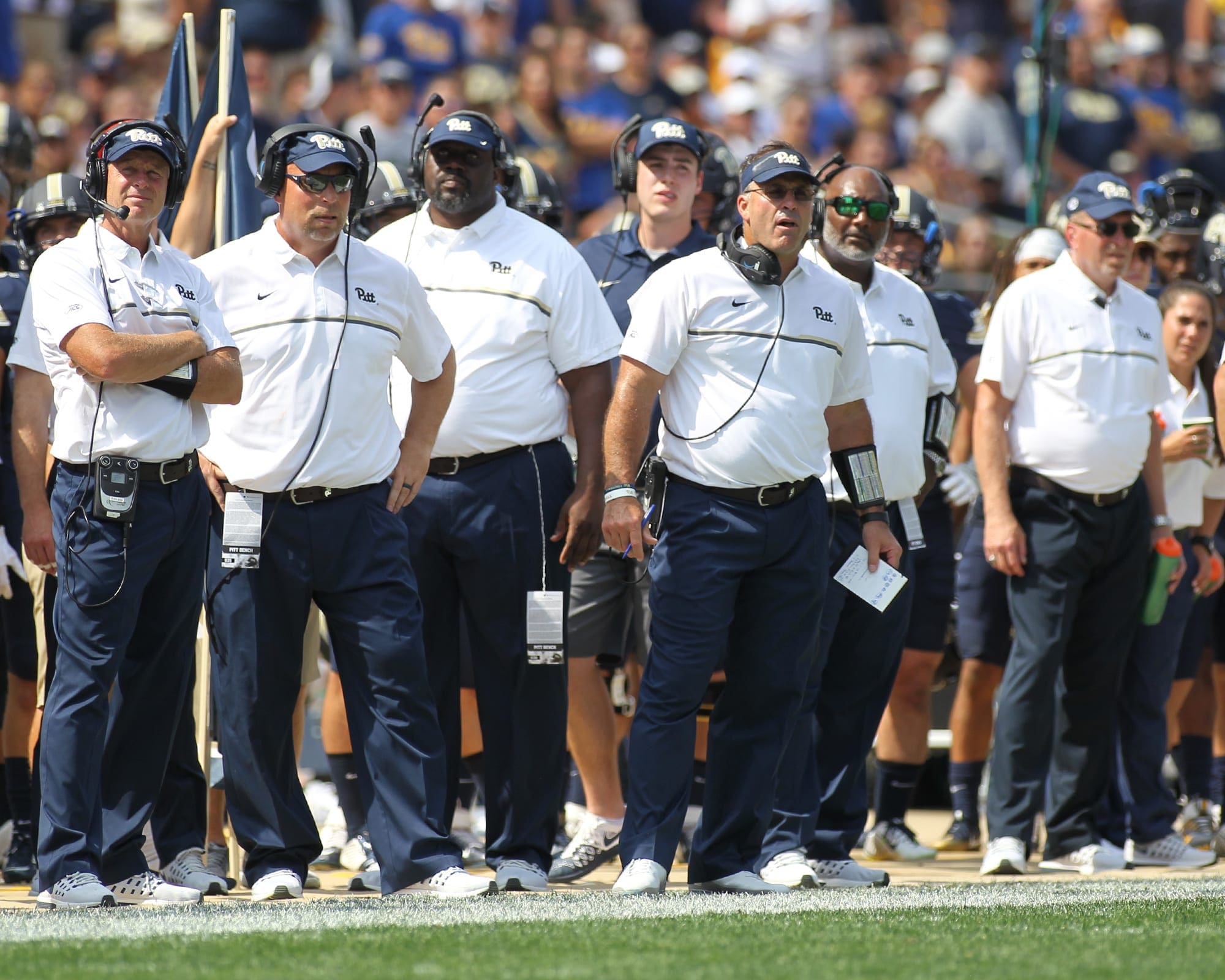 It's a bye week for Pitt but that doesn't mean the coaching staff is taking the week off.
It's actually an important week because for the first time since the summer, the entire staff will be out recruiting.
As you'd expect, Panther assistants will be in states like New Jersey, Virginia, Maryland, Ohio and Pennsylvania. I'd anticipate Pat Narduzzi's staff will be in their usual recruiting territories.
Andre Powell – Maryland
Tim Salem – New Jersey
Kevin Sherman – South
Josh Conklin – Eastern Pennsylvania
Rob Harley – Western Pennsylvania
John Peterson – Ohio
Tom Sims – South
UPDATE (6:56 PM)-
** Just talked with 2018 Malvern Prep (PA) QB Kevin Doyle who told me that Pitt offensive coordinator Matt Canada stopped by his practice today.
For weeks now, recruiting analysts have been hinting that Michigan State and a few others have pulled ahead of Pitt for Doyle so I asked him about that.
"That is false. Michigan State is not ahead of Pitt, " said Doyle. "Pitt is one of the top, if not the top of my board."
UPDATE (1:10 PM)-
** This morning we told you that Kevin Sherman would we recruiting in the South today and I just confirmed one of his stops. Sherman was at North Stanford H.S. checking in on 2018 4-star OT Nana Asiedu. This junior star has over 20 offers including ones from Auburn, Clemson, Georgia, LSU, Michigan State, Penn State, Tennessee and West Virginia.
UPDATE (11:30 AM)-
** Could Thomas Jefferson linebacker Zane Zandier be close to getting another big offer?
I'm being told that Michigan State was in last week to see the 3-star linebacker and they want him to make a visit to East Lansing. Zandier already holds offers  from Virginia, Syracuse, Boston College and West Virginia.
UPDATE (11:22 AM)-
** Another player that Kevin Stallings was recruiting has committed to another school. Following his official visit to Purdue this weekend, 2017 small forward Aaron Wheeler has given a verbal commitment to the Boilermakers. Wheeler was one of the first players that Stallings and his staff offered.
UPDATE (10:18 AM)-
** Ohio running back Morgan Ellison is  a player that Pitt is familiar since he's visited them a couple of times. However, to this point the coaching hasn't offered him a scholarship.
Could that be changing?
https://twitter.com/morganellisonfb/status/788013852961153024
UPDATE (9:45 AM)-
** Wow, what a story this would be if it happens! ESPN's Brett McMurphy and Mark Schlabach released their updated bowl projections and look who Schlabach has Pitt playing in the Sun Bowl.
Sun Bowl: Pitt vs.  Todd Graham and Arizona State
TaxSlayer Bowl- Pitt vs. LSU  (December 31)
UPDATE (9:18 AM)-
** Looks like a 2018 5-star wide receiver was impressed with Pitt's win over Virginia.
Pitt was lit yesterday great win🤘🏽

— JERMAINE ESKRIDGE JR. (@THEESKRIDGE_ERA) October 16, 2016
UPDATE (8:57 AM)-
** I'm told that Coach Salem will be in New Jersey this week looking in on offensive guard Joshua Fedd-Jackson from St. Joseph's HS (Montvale, New Jersey).
Fedd-Jackson (6-3, 305) is a 3-star player and teammates with current Pitt's recruit Owen Drexel. Fedd-Jackson currently holds offers from Boston College, Indiana, Michigan, North Carolina, Rutgers and Syracuse.
UPDATE (8:22 AM)-
** I'm told that Narduzzi will be at a high school practice today personally evaluating a Pennsylvania athlete. I know the player but I'm not sure Coach wants his whereabouts revealed at this time so I won't say anything until after practice. In fact, I'm scheduled to interview this athlete following practice to see what Coach Narduzzi tells him.
My only hint is that he's a player that most of you are familiar with and he's having a great senior season.
Save