Duquesne's OT Luck Runs Out Against Richmond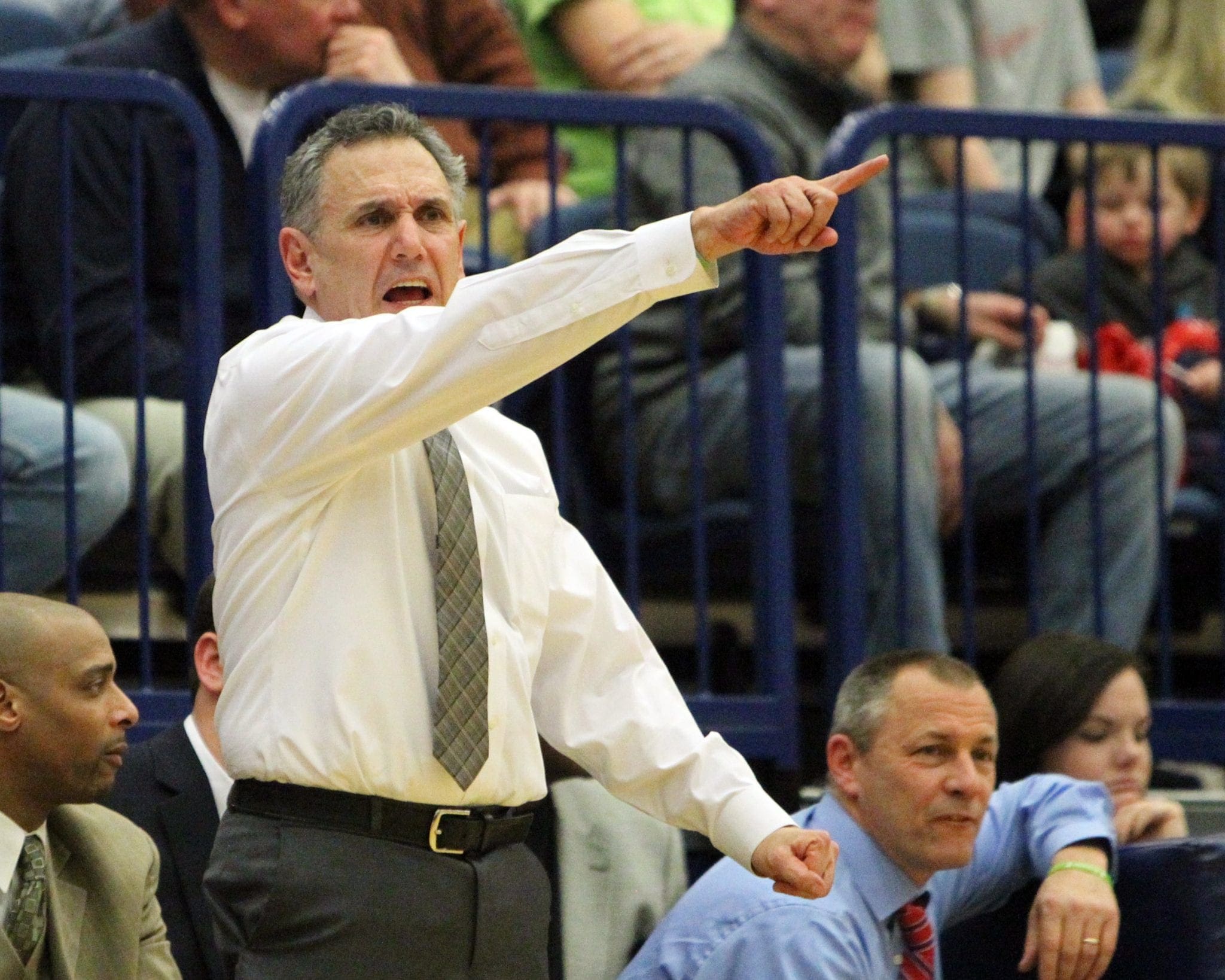 PITTSBURGH, Pa. – Duquesne's luck in overtime was bound to run out.
Wednesday night it did.
The Dukes stormed back from a 16-point second half deficit against Richmond but fell 77-73 in overtime at the AJ Palumbo Center. It was the third straight home game that required free basketball to determine a winner.
Duquesne needed three overtimes to outlast La Salle two Saturdays ago, and another two this past weekend to defeat George Mason.
The loss snapped the Dukes' 10-game home winning streak and dropped them to 14-7 on the season and 5-3 in the A-10. It was just their third home loss of the season.
Duquesne struggled to put the ball in the basket all night, shooting 38 percent as a team. The Dukes were just eight of 29 from behind the arc, and Mike Lewis II and Rene Castro-Caneddy combined to miss 24 of 28 shots.
"Part of that could be mental fatigue and physical fatigue," head coach Keith Dambrot said of the missed shots. "This is the first time Duquesne's ever been in games that really mattered—where it matters to the top of the standings—and they've been in a bunch of close overtime games, which mentally kind of fatigues you."
HIGHLIGHTS: Dukes Battle Back But Fall to Richmond in OT, 77-73 #GoDukes pic.twitter.com/KjQcBnDxEI

— Duquesne Basketball (@DuqMBB) January 25, 2018
Grant Golden's putback slam in transition with 13:41 remaining capped a 5-0 Richmond burst and gave the visitors a 50-34 cushion, matching their largest lead of the night. The Spiders were on the verge of blowing Duquesne out, but then the game turned. After landing on his feet, Golden inexplicably shoved Williams Jr., drawing a technical foul and the ire of the Dukes.
After sleeping walking through the first 26 minutes of the game, the home team was suddenly engaged. Duquesne ripped off a 20-3 run, including scoring 10 in a row to tie the game at 52 on Williams Jr.'s layup with 7:44 left. Jordan Robinson's basket on the ensuing possession handed Duquesne its first lead of the night
"I think it just kind of woke us up a little bit," Tarin Smith said of Golden's shove. "I think we were lacking energy, a little bit of juice, and I think when that happed, it woke the crowd up, woke the whole arena up, and woke us up as a team."
Richmond surged ahead again, but Williams Jr. banked in a triple to tie the game at 57. The Spiders regained control by scoring the next six points.
In similar fashion to the last two home games, the Dukes rallied. Robinson's slam whittled the lead to two, and after a defensive stop, Mike Lewis II drained a corner three with 32 seconds left to put Duquesne back in front, 66-65. The Spiders worked the ball inside to Golden on the next possession, and he converted, adding a free throw to complete the and-one play.
Out of a timeout, Tarin Smith drove the lane and finished over a defender, knotting the score at 68 with 4.4 seconds remaining. Nick Sherod raced to the other end but tripped, forcing overtime.
The extra session was a back-and-forth affair, as neither team led by more than two until the final 10 seconds. Sherod's jumper with 32 seconds left broke a 73-all tie, and the Dukes committed a turnover on their next possession. De'Monte Buckingham sinked a pair of free throws to ice the game.
Duquesne missed five of six shots in the extra session, struggling to find open looks against the Spiders' defense. Dambrot felt fatigue might have played a factor.
"Probably a little tired," Dambrot said. "We drove them the whole night. We pretty much got to the rim whole night, and in overtime, we didn't get to the rim. So the only thing I could probably put my finger on is probably a little tired."
It's @CoachesvsCancer week and @CoachDambrot had a special tribute to someone close to him during tonight's game. Check out the story aired at halftime. pic.twitter.com/WrlI5GDViN

— Duquesne Basketball (@DuqMBB) January 25, 2018
Outside of the game's opening minutes, Duquesne fared well against Richmond's Princeton-style offense. The Spiders connected on their first seven shots of the game to build a 20-8 advantage and eventually took a 34-28 lead into the break. They scored the first nine points of the second half to stretch their lead to 16. Duquesne appeared dead in the water, but Golden's push set the wheels in motion for a third straight overtime contest.
Williams Jr. led the Dukes in scoring again with 25 points, hitting five more threes just days after connecting for a school-record nine against George Mason. Smith finished with 15 points, and Lewis II had 13.
The Dukes will have little time to dwell on the missed opportunity. They turn around and play at conference leader Rhode Island on Saturday
"Just learn from it quick and focus on the next game," Smith said. "We can't get this one back. We've got to focus on what we could have done better."
Tipoff against Rhode Island is slated for noon. The game will be televised on NBC Sports Newtwork.