PSN Recruiting Notebook: July 13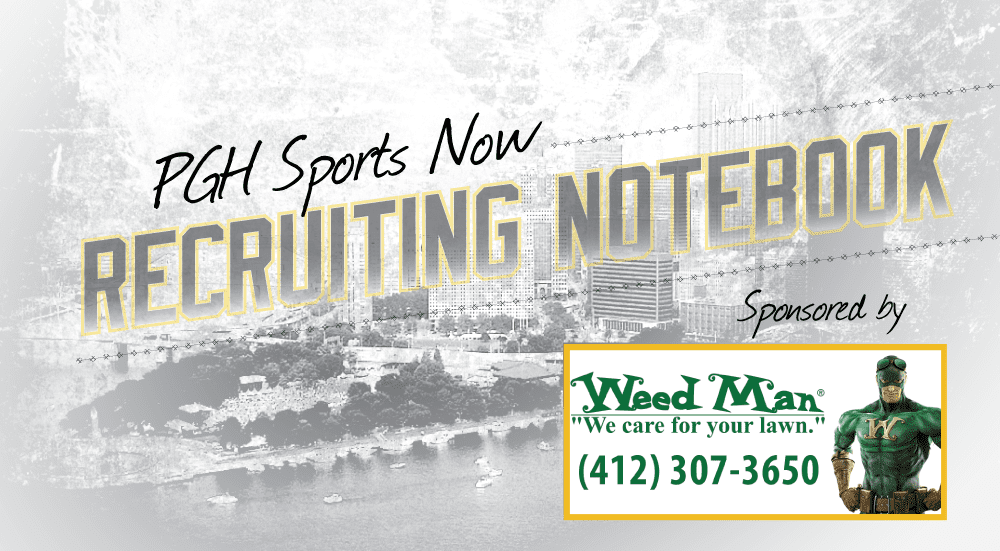 The PSN Recruiting Notebook, your home for updated recruiting news on Pitt, Duquesne, Robert Morris and the WPIAL, is sponsored by Weed Man USA Lawn Care. For more than 45 years, the team at Weed Man Lawn Care have safely and effectively cared for your lawn, so you and your family can experience it at its best. Contact them for a free online quote for any of your lawn issues. Weed Man Lawn Care will transform your lawn from a burden into a paradise.
UPDATE (10:02 PM)-
@WPABruinsAAU 2019 G Makenna Marisa gets an offer from @Pitt_CoachWhite & @Pitt_WBB – Congrats @makenna_marisa #BruinsNation #BusinessIsBoomin

— WPABruinsAAU (@WPABruinsAAU) July 13, 2018
UPDATE (9:27 PM)-
Class of 2020 North Mecklenburg (NC)/ @teamsynergy2020 6-2 G Demar Anderson (@DemarAnderson30) has received an offer from Robert Morris, he announced pic.twitter.com/FFDLdFmpFX

— Stephen Rodgers (@CoachRodgers33) July 14, 2018
UPDATE (8:48 PM)-
Another huge performance here from ITPS (PA) center Oscar Tshiebwe. His motor on both ends is unmatched & is the best rebounder I've seen in the 2019 class.

— Pat Lawless (@PatLawless_) July 14, 2018
UPDATE (8:06 PM)-
**Pitt has extended an offer to 3-star wide receiver Kalani Norris from Columbus High School in Miami, Florida. Norris (5-11, 175) also holds offers from Baylor, Georgia, Georgia Tech, Iowa, Ole Miss, Missouri, NC State, South Carolina, Tennessee and Texas A&M.
UPDATE (7:48 PM)-
Big time game about to tip off. @TheCityRocks vs @NYRhoops. Georgetown, Pitt HC Jeff Capel, Rutgers HC Steve Pikiell, Stanford, Tom Izzo, Shaka Smart & more coming in

— DeAnte' Mitchell (@MitchellDeAnte) July 13, 2018
UPDATE (7:44 PM)-
Pittsburgh, New Hampshire, McNeese St, Brown, Kentucky, Virginia, GW, Seton Hall, Kansas St., Charlotte for @XEliteBasketbal vs @ProSkillsGBB pic.twitter.com/4257eC9uyX

— 𝒜𝓃𝒹𝓇ℯ𝓌 𝒮𝓁𝒶𝓉ℯ𝓇 (@Andrew__Slater) July 13, 2018
UPDATE (5:43 PM)-
Pitt and Oklahoma State have been in to see '19 Anwar Gill of @DC_Premier_ and @GonzagaHoops this week @UAassociation https://t.co/zhFZP5JSIb

— Adam Ayalew (@AyalewAdam) July 13, 2018
UPDATE (5:14 PM)-
Pirates manager Clint Hurdle greets new Pitt head baseball coach Mike Bell on the field during batting practice Friday afternoon at PNC Park. pic.twitter.com/ZFsTfh9BsC

— Matt Freed (@mattfreedpghpg) July 13, 2018
UPDATE (2:47 PM)-
Top Schools coming August 1st ‼️

— Christian Mahogany (@CMahogany73) July 13, 2018
UPDATE (1:44 PM)-
Iowa head coach Fran McCaffery is sideline for @NYRhoops vs. @XEliteBasketbal this morning at the Peach Jam. The Rens feature 2020 four-star guard Ethan Morton while Expressions has 2019 guard Noah Fernandes. Coaches from UConn, Loyola-Chicago, and others also in attendance. pic.twitter.com/0qxNEzmkUS

— Sean Bock (@SBock247) July 13, 2018
UPDATE (9:28 AM)-
Schools watching 2020 @NYRhoops PG @EthanMorton_24 :

Head coaches from last night:

Purdue, Iowa, Pitt, Indiana, WVU

Assts;

UCLA, Oklahoma, Ohio State

— Adam Zagoria (@AdamZagoria) July 13, 2018
UPDATE (8:12 AM)-
Aundre Hyatt sets three more officials (UPDATED)
https://t.co/mg5oL4ppSX

— Adam Zagoria (@AdamZagoria) July 13, 2018
UPDATE (7:50 AM)-
**Jeff Capel has made his first offer of the live period. 2019 shooting guard Dontaie Allen (6-6, 185) from Falmouth, Kentucky received the offer from Pitt. Allen is a 3-Star recruit with offers from Purdue, Virginia Tech, West Virginia, Xavier,  Dayton, Florida, Nevada and Vanderbilt.