Weed Man/PSN Recruiting Notebook: July 15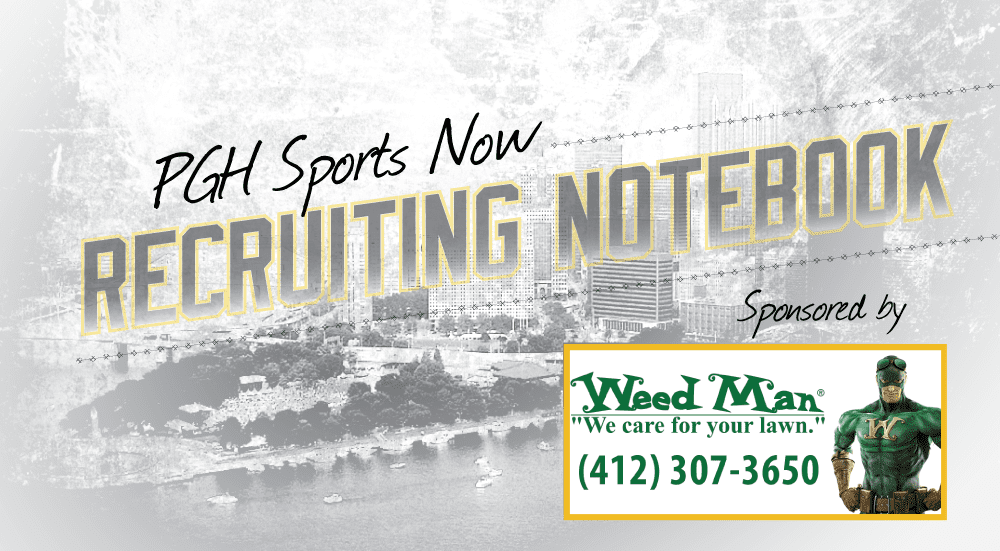 The PSN Recruiting Notebook, your home for updated recruiting news on Pitt, Duquesne, Robert Morris and the WPIAL, is sponsored by Weed Man USA Lawn Care. For more than 45 years, the team at Weed Man Lawn Care have safely and effectively cared for your lawn, so you and your family can experience it at its best. Contact them for a free online quote for any of your lawn issues. Weed Man Lawn Care will transform your lawn from a burden into a paradise.
UPDATE (9:31 PM)-
I'm blessed and thankful to receive an offer from University of Pittsburgh. Go Panthers!! @Pitt_CoachWhite @Coach_Santos @CoachTerri_Pitt @KiKiHunt @FBCMotton pic.twitter.com/eDuKZk05vZ

— Madison Hayes (@girl4allsports) July 16, 2018
UPDATE (9:24 PM)-
James Robinson signs with Bnei Herzliyahttps://t.co/tprWFFv9EB

— Sportando (@Sportando) July 13, 2018
UPDATE (9:19 PM)-
C O M M I T T E D🔴⚫️🐔#L1C4 https://t.co/kwa7KN1Kir pic.twitter.com/Pnjq0nob7i

— JP (@_jlp5) July 15, 2018
UPDATE (8:51 PM)-
"THE CHAMP IS HERE!!!" One of my favorite people ever came by to watch games with me in NYC today! Love this dude to death, and so proud of him! @QCook323 , 2015 NCAA Champion! 2018 NBA World Champion! #myguy #bestteammateever #championshipdna pic.twitter.com/4MP0syfeDn

— Jeff Capel (@jeffcapel) July 15, 2018
UPDATE (8:40 PM)-
https://twitter.com/ethanmorton_24/status/1018619210493255680?s=21
UPDATE (8:35 PM)-
2019 Kennedy Catholic (PA) G Maceo Austin has received an offer from Northwestern

— Verbal Commits (@VerbalCommits) July 15, 2018
UPDATE (8:31 PM)-
2019 Seward County CC (KS) F Isiah Small has received an offer from Robert Morris.

— Verbal Commits (@VerbalCommits) July 15, 2018
UPDATE (8:29 PM)-
Brandon George and Brian Wright came I today and went beast mode. As the season draws near, it's time to focus on the little details to get to the mountain top! @BadgleyBruce @B_George06 @Pitt_FB @mrpafootball pic.twitter.com/CVqEiK93LM

— Darryl Daniel (@ddstokes124) July 15, 2018
UPDATE (8:47 AM)-
**Robert Morris has extended an offer to 2019 guard Brandon Rush from Warrensville, Ohio. Rush also holds offers from Fairleigh Dickinson, Central Connecticut State and St. Francis (PA).
UPDATE (8:41 AM)-
Dartmouth, American, Bucknell, Navy, Cornell, RMU, Duquesne Yale and Drexel have been in contact with Jackson Blaufeld (@jacksonblaufeld) of @RYTES_PGH @ElevateHoops

— Zack Sandberg (@ZackSandberg) July 14, 2018
UPDATE (8:36 AM)-
Plenty of head coaches on hand here for ITPS vs. OSA Crusaders | Kansas, West Virginia, Penn State, Northwestern, Duquesne, Hofstra, Stony Brook, Brown & more.

— Pat Lawless (@PatLawless_) July 14, 2018
UPDATE (8:29 AM)-
**Something to keep an eye on today. 3-star tight end/wide receiver Jeremiah Pruitte from Marietta, Georgia tweeted yesterday that he'll be having an announcement today at 3 PM. Is this announcement going to be his commitment? PSN has reached out to Pruitte to try and find out but haven't been successful. Back on July 4, he released a final five schools: Indiana, Louisville, South Florida, Syracuse and Pitt.