Weed Man/PSN Recruiting Notebook: July 23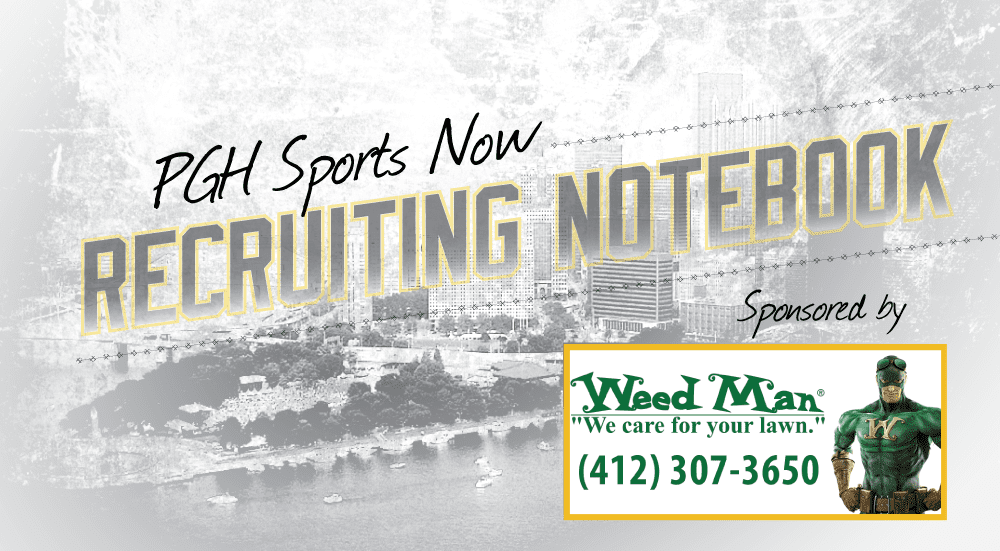 The PSN Recruiting Notebook, your home for updated recruiting news on Pitt, Duquesne, Robert Morris and the WPIAL, is sponsored by Weed Man USA Lawn Care. For more than 45 years, the team at Weed Man Lawn Care have safely and effectively cared for your lawn, so you and your family can experience it at its best. Contact them for a free online quote for any of your lawn issues. Weed Man Lawn Care will transform your lawn from a burden into a paradise.
UPDATE (4:41 PM)-
As I just reported, #Pitt basketball will not host Aundre Hyatt in August. His visit was canceled. The Panthers have plenty of prospects at wing. I believe they are focused on size (PF/C) for 2019. #ZooEra 🏀

— Harry G. Psaros (@PittGuru) July 23, 2018
UPDATE (4:29 PM)-
The predictions are out for the @ACCFootball season. #WTAE #H2P #PItt pic.twitter.com/IPS82CdlvV

— Andrew Stockey (@astockeyWTAE) July 23, 2018
UPDATE (2:04 PM)-
Our sister site Pittsburgh Soccer Now has a great one-on-one interview with Pitt women's soccer coach Randy Waldrum.
UPDATE (12:21 PM)-
#Bills RB LeSean McCoy is reporting to the #Bills training camp with the rest of the veterans on Wednesday, sources tell @MikeGarafolo and me. Unless his status changes with the league — it hasn't — the team is expected to treat him like any other player.

— Ian Rapoport (@RapSheet) July 23, 2018
UPDATE (11:38 AM)-
Spent some time with #WilmDE's own @DreeHenderson + dozens of young players and an outstanding group of coaches with NO Limit Athletics. #ThankYou all for working with our young people and mentoring them, not only in football, but also in their academics and in life. #netDE pic.twitter.com/NzfjIQ3763

— Mayor Mike Purzycki (@MikePurzycki) July 23, 2018
UPDATE (11:27 AM)-
#WVU DB and Aliquippa alum Dravon Henry-Askew has been named to the watch list for the Jim Thorpe Award (DB of the year)

— Alan Saunders (@ASaunders_PGH) July 23, 2018
UPDATE (10:56 AM)-
#Pitt senior linebacker Oluwaseun 'Sean' Idowu named to the Butkus Award preseason watch list. Note to future walk-on candidates: Mindset is everything. Don't ever say you can't. #H2P 🔹🔸 pic.twitter.com/IjhU83yp9M

— Harry G. Psaros (@PittGuru) July 23, 2018
UPDATE (9:56 AM)-
Coach K Duke, Coach Cal UK, Coach Wright Villanova, Coach Self Kansas, Coach Alford UCLA, Coach Miller Arizona, Coach Wojo Marquette, Coach Capel Pitt, Coach Beilein Michigan +600 coaches in last 5 days. West Coast Elite platform. Attitude of Gratitude… pic.twitter.com/LvaZ7jx7pA

— Ryan Silver (@RyanSilver1) July 23, 2018
UPDATE (8:17 AM)-
Chattanooga offered 2019 @ChristSchoolBB F Brandon Stone, he tells me.

— Jake (@jakeweingarten) July 21, 2018
**Bethel Park 2020 athlete gets his first D-1 offer.
I am honored to receive my first Division 1 offer from the University at Albany #GoDanes pic.twitter.com/Ju1f63dHDU

— 🃏*+Max Schipani+*🃏 (@max_ship01) July 22, 2018
UPDATE (7:37 AM)-
**4-star forward Aundre Hyatt has announced that he's officially reclassifying to the Class of 2018. This Top 100 player is a major target of Jeff Capel and will make his official visit to Pitt on August 1. After Pitt, he'll finish his official visits by going to LSU, Hyatt already has gone to Rutgers and Seton Hall. He also announced that he'll make his college decision on August 10.