Weed Man USA/PSN Recruiting Notebook: August 1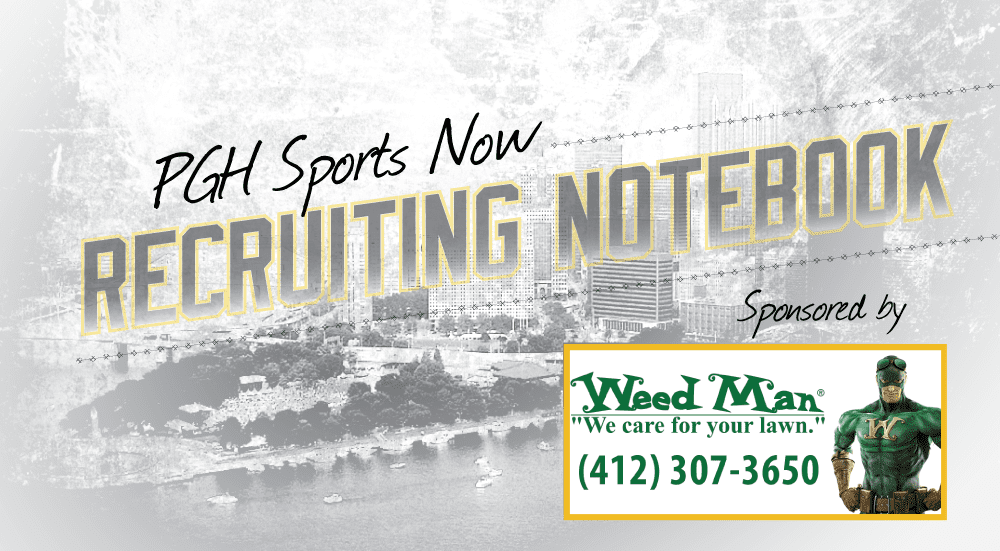 The PSN Recruiting Notebook, your home for the latest recruiting news on Pitt, Duquesne, Robert Morris and the WPIAL, is sponsored by Weed Man USA Lawn Care. For more than 45 years, the team at Weed Man Lawn Care have safely and effectively cared for your lawn, so you and your family can experience it at its best. Contact them for a free online quote for any of your lawn issues. Weed Man Lawn Care will transform your lawn from a burden into a paradise.
UPDATE (7:07 PM)-
COACHING NEWS: New @Pitt_BASE head coach Mike Bell rounds out his coaching staff with @WKUBaseball's Ty Megahee. Megahee has had stops at #Auburn #Mercer among others. #ACC #Pitt

Really intrigued to see if Coach Bell can get the ball rolling at Pitt.

— Kendall Rogers (@KendallRogers) August 1, 2018
UPDATE (4:44 PM)-
Panthers Place CB Ross Cockrell On IR, Claim OT Adam Bisnowaty https://t.co/GPEnW2XUHH pic.twitter.com/T5zpIymhVd

— NFLTradeRumors.co (@nfltrade_rumors) August 1, 2018
UPDATE (3:08 PM)-
@Avonworthschool congratulates rising senior Abby Wert on her verbal committment to play soccer at the University of Pittsburgh.
Congratulations Abby! #H2P pic.twitter.com/fk10r7nRuV

— Avonworth District (@Avonworthschool) August 1, 2018
UPDATE (2:06 PM)-
Thankful for all the universities that have recruited me, but i'm happy to announce that i will be cutting my list to 4 schools..

Penn State
Northwestern
Duquesne
VCU pic.twitter.com/x9Xa5fSxh9

— Ⓜ️🅰️ (@MaceoAustin5) August 1, 2018
UPDATE (12:20 PM)-
One step at a time. #ZooEra pic.twitter.com/d6CpTSRiBa

— Pitt Basketball (@Pitt_MBB) July 31, 2018
UPDATE (12:18 PM)-
Pitt Official Offer H2P🔵🔶 pic.twitter.com/Bv87Y1xYbu

— Tiawan Mullen (@Mullen_7era) August 1, 2018
UPDATE (10:58 AM)-
**Latrell Jean is a 2019 3-Star defensive end from Lakeland, Florida. Jean holds offers from Indiana, South Carolina, Kentucky, Cincinnati, Purdue, Syracuse and Tennessee.
Blessed to receive an offer and official from university of Pittsburgh @HamiltonESPN @CoachDuzzPittFB @ajdavis_2 @DemetricDWarren pic.twitter.com/vNATxHPSP1

— Latrell Jean (@latrellj96) August 1, 2018
UPDATE (10:54 AM)-
NEWS: Robert Morris To Take Foreign Trip For First Time In Program History To Prep For 2018-19 Season | https://t.co/zUORPGfn9T | #GRIT #Invest #ColonialPride pic.twitter.com/ips9p7yjAW

— RMU Basketball (@RMUMBasketball) July 31, 2018
UPDATE (10:35 AM)-
@CoachDuzzPittFB pic.twitter.com/KllX7hYdWn

— QUAN🐐💕 (@Dequanteouswat1) August 1, 2018
Can't wait to get to the Burgh 🐾💙💛#TurnOnTheL19HTS #H2P pic.twitter.com/sgok1Fy7uf

— Brandon Hill (@brandonhill_6) August 1, 2018
UPDATE (9:22 AM)-
Pitt and Oklahoma wrestling programs have offered Franklin Regional senior Colton Camacho

— J. Paul Schofield (@Schofield_Trib) August 1, 2018
UPDATE (9:11 AM)-
**Ontario wide receiver Jared Wayne is someone on Pitt's recruiting radar and someone that could be a Pitt lean. I'm getting indications that Wayne could be making a visit to Pitt soon possibly sometime this week.