Weed Man USA/PSN Recruiting Notebook: August 3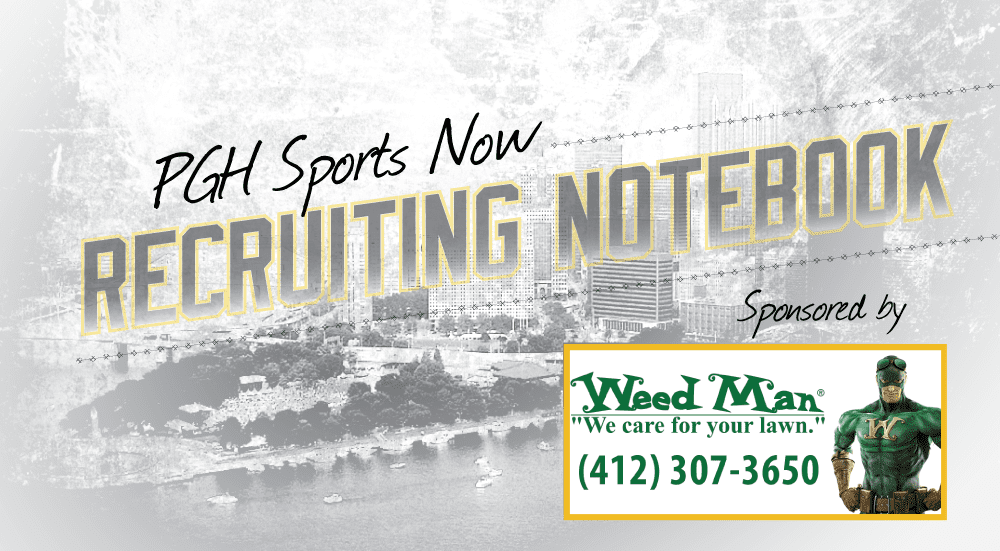 The PSN Recruiting Notebook, your home for the latest recruiting news on Pitt, Duquesne, Robert Morris and the WPIAL, is sponsored by Weed Man USA Lawn Care. For more than 45 years, the team at Weed Man Lawn Care have safely and effectively cared for your lawn, so you and your family can experience it at its best. Contact them for a free online quote for any of your lawn issues. Weed Man Lawn Care will transform your lawn from a burden into a paradise.
UPDATE (7:49 PM)-
Rene Castro-Caneddy signs with the British Basketball League's Sheffield Sharks // Congratulations Rene! // https://t.co/hSGe3zVENg pic.twitter.com/6dNhPCuRTG

— Duquesne Basketball (@DuqMBB) August 3, 2018
UPDATE (7:43 PM)-
Official offer Pitt Football pic.twitter.com/a17CvNL7gd

— Brant Banks (@BrantBanks) August 3, 2018
UPDATE (5:42 PM)-
2019 Norwin Athlete @giannirizzo04 commits to Youngstown State https://t.co/SgTK5f9pd7

— Pittsburgh Sports Now (@PghSportsNow) August 3, 2018
UPDATE (2:44 PM)-
https://twitter.com/jalengaffney/status/1025452169212977157?s=21
UPDATE (2:21 PM)-
#PittVB was picked to repeat as #ACC champs in the 2018 preseason coaches poll and three Panthers earned all-conference preseason honors. pic.twitter.com/1Eka8EVNfB

— Alan Saunders (@ASaunders_PGH) August 3, 2018
Bears Worked Out OL Alex Officer https://t.co/FcCVozf3uq pic.twitter.com/O7o32KtmEH

— NFLTradeRumors.co (@nfltrade_rumors) August 3, 2018
UPDATE (1:07 PM)-
Class of 2020 G @EthanMorton_24 of the @NYRhoops will take an unofficial to Michigan next week.

— Adam Zagoria (@AdamZagoria) August 3, 2018
UPDATE (12:27 PM)-
**Pitt football becomes first school to offer 2020 California guard/center Keith Jackson. This is a Jackson's first offer.
https://twitter.com/itskjacck/status/1025129514991411200?s=21
UPDATE (12:10 PM)-
MAJOR ANNOUNCEMENT!

We'll be heading to historic Rupp Arena for an exhibition game against @KentuckyMBB November 2 #TalonsUp pic.twitter.com/PqeQyrgqBH

— IUP Men's Basketball (@IUP_MBB) August 2, 2018
UPDATE (10:33 AM)-
tyler boyd continues his great camp pic.twitter.com/ui4fdzstdc

— john sheeran (@John__Sheeran) August 1, 2018
UPDATE (10:05 AM)-
First practice of the 2018 season ready to roll. Time to #LockTheGates pic.twitter.com/Yf2qkPWXlm

— Pat Narduzzi (@CoachDuzzPittFB) August 3, 2018
UPDATE (9:48 AM)-
Bam Brima running a sub 4.5 40 at that size is ridiculous. https://t.co/qwqP8OLKJT

— PittCabe (@PittCabe) August 3, 2018
UPDATE (9:28 AM)-
**Pitt 2019 PG target naming his Top 6 today.
https://twitter.com/jalengaffney/status/1025244036989366272?s=21
UPDATE (9:15 AM)-
**Pitt 2019 commit Bryce Nelms
Working hard when no one is watchi pic.twitter.com/xbe1wcApRF

— Bryce Nelms (@BryceNelms58) August 3, 2018
UPDATE (9:04 AM)-
Mike Bires: Once again, Ahmad Gilbert transfers to North Carolina https://t.co/mxZR1yQ6ux

— Mike Bires (@mikebires) August 3, 2018
UPDATE (9:02 AM)-
I am extremely honored to announce I have received an offer from @TarHeelFootball pic.twitter.com/MkZ6MWIFne

— Liam Dick (@biglug22) August 3, 2018