Weed Man USA/PSN Recruiting Notebook: August 28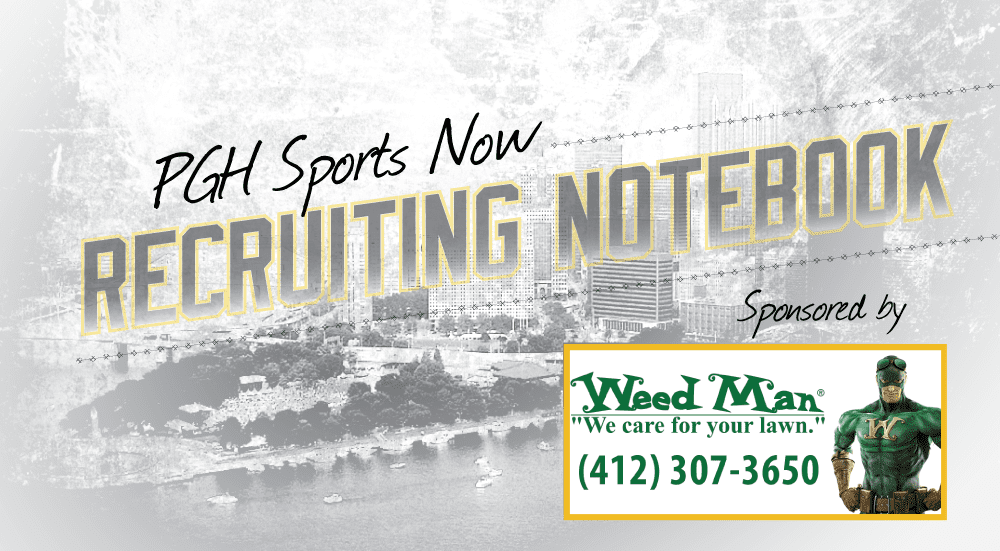 The PSN Recruiting Notebook, your home for the latest recruiting news on Pitt, Duquesne, Robert Morris and the WPIAL, is sponsored by Weed Man USA Lawn Care. For more than 45 years, the team at Weed Man Lawn Care have safely and effectively cared for your lawn, so you and your family can experience it at its best. Contact them for a free online quote for any of your lawn issues. Weed Man Lawn Care will transform your lawn from a burden into a paradise.
UPDATE (9:18 PM)-
Offer: Maryland
Blessed. Humbled. Hungry. pic.twitter.com/xokYy6IXpZ

— Prince (@DinoTomlin) August 29, 2018
UPDATE (8:47 PM)-
2019 big man Aidan Igiehon cuts to four
https://t.co/nf9udQP0nd

— Adam Zagoria (@AdamZagoria) August 28, 2018
UPDATE (5:09 PM)-
Important: The game scheduled for Friday 8/31/18 – Clairton Bears vs Mapletown High School has been cancelled, following a decision made by Mapletown administration. The Bears have been awarded a win. The next game will be home, 9/7/18 vs. Greensburg Central Catholic. #wpial pic.twitter.com/5IGeg3UHIA

— Clairton School (@Clairtonschool) August 28, 2018
UPDATE (3:23 PM)-
https://twitter.com/ualbanyfootball/status/1034518063713071105?s=21
UPDATE (1:38 PM)-
Congrats to @TBird_Athletics QB @ThomasMacVittie ! WSFL Offensive Player of the Week. 25-38 for 306 yards, 54 yards rushing, 5 TDs, 3 by air, 2 by ground #60Minutes #MesaTBirds pic.twitter.com/4oyWLQAiT0

— Christian Daniels (@cmd34) August 28, 2018
UPDATE (1:17 PM)-
#Pitt WR commit Jared Wayne made his debut playing football in America Friday night. 4 catches, 148 yards, 3 touchdowns. Not too shabby. pic.twitter.com/RWlTehUn8n

— Chris Peak (@PantherLair) August 28, 2018
UPDATE (1:13 PM)-
Introducing Pitt: Beyond the Script@ATTSportsNetPIT will air the series premiere Thursday, Aug. 30 at 6 p.m.

📰: https://t.co/Ef0rjMtV2I#H2P pic.twitter.com/kLLtJPsSEu

— Pitt Athletics (@Pitt_ATHLETICS) August 28, 2018
UPDATE (12:00 PM)-
Congrats to @jalengaffney in moving into ESPN's Top 100. Well deserved after outperforming several top 100 guards this AAU season. pic.twitter.com/DjOC00YcAz

— UConn Stats (@UConnStats) August 14, 2018
UPDATE (11:31 AM)-
Per the #PittFB website, walk-on Jake Zilinskas (Indiana) has moved from QB to TE and changed his number from 19 to 45.

Other number changes:

QB Nick Patti from 12 to 19.
S Jazzee Stocker from 43 to 7.
LS Cal Adomitis from 61 to 94.

— Alan Saunders (@ASaunders_PGH) August 28, 2018
UPDATE (10:53 AM)-
Cardinals receiver Larry Fitzgerald to speak at John McCain's Arizona memorial service https://t.co/2DOLBfBIVC

— ProFootballTalk (@ProFootballTalk) August 28, 2018
UPDATE (10:28 AM)-
**2019 point guard Cole Anthony is considered by some to be the top overall recruit in the Class of 2019. Last night, Anthony released his Top 12 and it included Pitt.
#FINAL12 pic.twitter.com/OTgI5NewtT

— Cole Anthony (@The_ColeAnthony) August 28, 2018