Weed Man USA/PSN Recruiting Notebook: September 10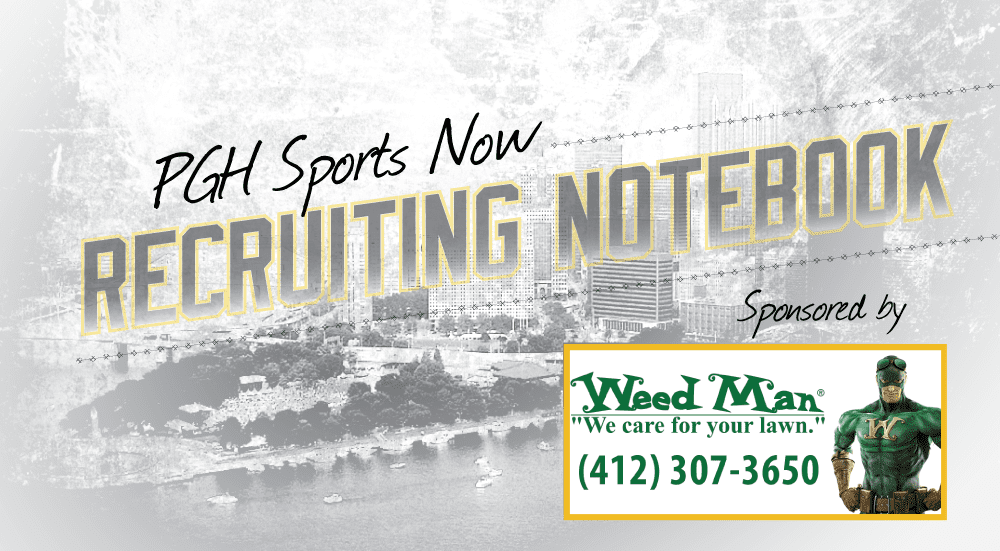 The PSN Recruiting Notebook, your home for the latest recruiting news on Pitt, Duquesne, Robert Morris and the WPIAL, is sponsored by Weed Man USA Lawn Care. For more than 45 years, the team at Weed Man Lawn Care have safely and effectively cared for your lawn, so you and your family can experience it at its best. Contact them for a free online quote for any of your lawn issues. Weed Man Lawn Care will transform your lawn from a burden into a paradise.
UPDATE (9:22 PM)-
Not a Coach Capel or Kofi Cockburn expert, but believe Coach Capel saw Kofi Cockburn @kxng_alpha as well today #H2P https://t.co/OrPhtJwWNw

— 𝒜𝓃𝒹𝓇ℯ𝓌 𝒮𝓁𝒶𝓉ℯ𝓇 (@Andrew__Slater) September 11, 2018
UPDATE (8:30 PM)-
Thanks @jeffcapel and the @Pitt_MBB 🏀 staff for inviting @williamjeffress for an unofficial visit on 9/8/18. It was an eventful weekend with Pitt vs PSU. The rain ☔️ didn't stop us. Thanks @smart_jocks📽 media for sharing the moment. pic.twitter.com/6DI7PWl4QQ

— Coach Jeffress (@CoachJeffress) September 10, 2018
UPDATE (8:23 PM)-
Today the WPIAL ruled that Isaiah Smith and Johnny Bryant will be eligible to play basketball at Lincoln Park this year. Smith transferred in from Sewickley Academy, Bryant from Holy Family Institute. #WPIAL #BCTsports

— Mike Bires (@mikebires) September 11, 2018
UPDATE (8:11 PM)-
**2020 4-star recruit from Maryland. At this point, Lewis hasn't been offered by Jeff Capel.
Pittsburgh and UCF were in today for 2020 four-star Justin Lewis, he tells Stockrisers.

— Jake (@jakeweingarten) September 10, 2018
UPDATE (7:28 PM)-
Pitt, Seton Hall, UCF & Wake Forest were in for '20 Earl Timberlake of @DeMathaHoops today, per a source https://t.co/82AEU6sjUB

— Adam Ayalew (@AyalewAdam) September 10, 2018
UPDATE (3:08 PM)-
Pitt officially has a top-10 program: the Panthers' volleyball team is No. 9 in the new AVCA coaches poll, released today.

— Craig Meyer (@CraigMeyerPG) September 10, 2018
UPDATE (12:21 PM)-
Scott Drew from @BaylorMBB,Chris Collins from @NUMensBball and @ToledoMBB are expected to be in town today taking a up close look at Oscar, Maceo and Mattia from Kennedy Catholic.

— Bob Greenburg (@BobGreenburg) September 10, 2018
UPDATE (10:06 AM)-
**Highlights From Pitt 2019 commitment linebacker Brandon George.
— Brandon George (@B_George06) September 9, 2018
UPDATE (9:20 AM)-
Notre Dame and Pitt will be at Oak Hill today for 2019 PG @The_ColeAnthony.

UNC tomorrow. https://t.co/LndYp2ysKD

— Adam Zagoria (@AdamZagoria) September 10, 2018
UPDATE (9:10 AM)-
**The Pitt basketball staff was in Massachusetts      this weekend watching 2019 3-star forward Chris Ledlum from North Mount Hermon. Ledlum (6-5, 200) holds an offer from Pitt along with Seton Hall, St. John's, TCU, Vanderbilt, Iowa, Notre Dame, Illinois, Boston College, Florida, Georgetown and Georgia.
UPDATE (8:32 AM)-
Fresh start!

— Andre Powell (@CoachAPowell) September 10, 2018
UPDATE (8:00 AM)-
**2019 4-star guard Isaiah Wong is a player that Jeff Capel and his staff are recruiting hard. Tonight, Wong will receive and an-home visit from Jim Larranaga and Miami.
**Something to keep your eye on, offensive tackle Kaleb Boateng, who appears to be a Pitt lean, made an unofficial visit over the weekend to hometown Florida. At this point, the Gators haven't offered him but that could change.
UPDATE (7:55 AM)-
**Over the weekend, Central Catholic defensive end Brian Dallas made a verbal commitment to Kent State.
**2020 5-star center Hunter Dickinson (Hyattsville, Maryland) visited Jeff Capel and the Pitt basketball program on Saturday and picked up an offer from the Panthers. Dickinson is rated as one of the top 20 juniors in the country.
**Bad news for one of Pitt's future ACC opponents. Duke announced yesterday that cornerback Mark Gilbert (hip) and quarterback Daniel Jones (broken left clavicle) would miss the remainder of the season. Jones is a huge loss because he's considered by some to be a future 1st round pick.