Weed Man USA/Recruiting Notebook: September 12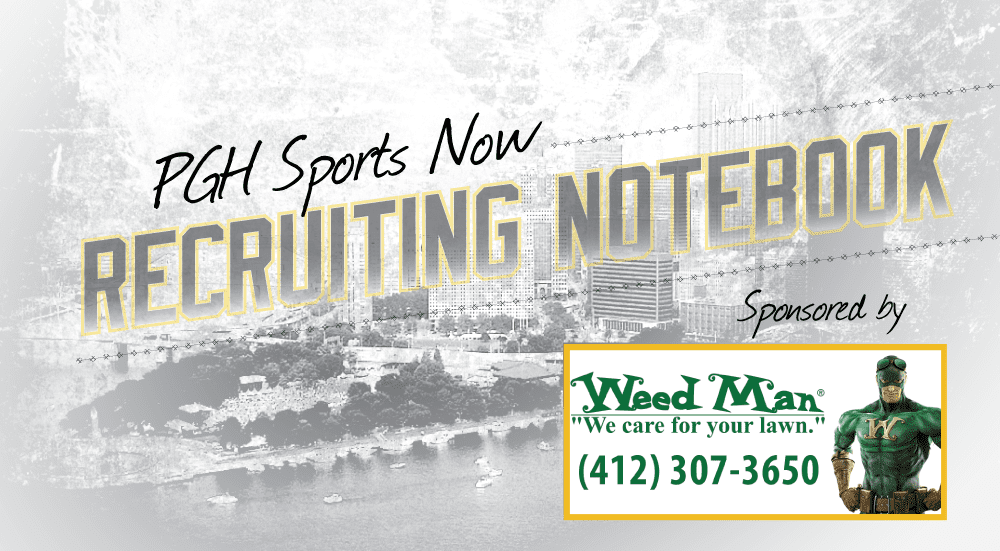 The PSN Recruiting Notebook, your home for the latest recruiting news on Pitt, Duquesne, Robert Morris and the WPIAL, is sponsored by Weed Man USA Lawn Care. For more than 45 years, the team at Weed Man Lawn Care have safely and effectively cared for your lawn, so you and your family can experience it at its best. Contact them for a free online quote for any of your lawn issues. Weed Man Lawn Care will transform your lawn from a burden into a paradise.

UPDATE (9:09 PM)-
**Another offer to a 4-star junior OL from New Jersey. Chris Mayo is actually teammates with Korey Smith, who also received an offer.
Truly Blessed to have received an offer from The University of Pittsburgh 🐾 #H2P @CoachTimSalem @CoachDuzzPittFB @RivalsFriedman @CoachMalleo @EdOBrien247 @BrianDohn247 pic.twitter.com/J9CKPWCysc

— Chris Mayo (@chris_mayo76) September 13, 2018
UPDATE (9:00 PM)-
**Pitt extends an offer tonight to 2020 4-Star New Jersey inside linebacker Korey Smith. Aside from a Pitt, Smith also holds offers from Boston College, North Carolina, Syracuse, Rutgers and Vanderbilt.
UPDATE (8:10 PM)-
For those who questioned @DBthaQB11 athletic ability. Well he's had a few runs like this tonight and over 100 on the ground. He looks pretty mobile to me I must say 😳🤔👊🏽🏈💯✔️@Pitt_FB pic.twitter.com/ckfGYpgTeI

— Ramon Robinson (@robinson_ramon) September 13, 2018
UPDATE (5:25 PM)-
We've claimed G Ike Boettger off waivers and released CB Ryan Lewis. #GoBills pic.twitter.com/sJQI8IoUTi

— Buffalo Bills (@BuffaloBills) September 12, 2018
UPDATE (4:49 PM)-
In a match pushed back to Wednesday morning kickoff due to weather postponement, @Pitt_MSOC earned a 1-0 win at VCU to improve to 2-3. https://t.co/2PPaXEQffW pic.twitter.com/INV4b0KOsP

— Pittsburgh Soccer Now (@pghsoccernow) September 12, 2018
UPDATE (4:44 PM)-
The Mapletown at West Greene football game has been moved to 7 p.m., Saturday at Waynesburg High School. Flooding at the West Greene High School football field forced the changes.

— O-R Sports (@sportsOR) September 12, 2018
UPDATE (2:14 PM)-
"He was like, Yeah, man, it's your turn. It's your time to shine."https://t.co/WwOBQILeXP

— Ken Sugiura (@ksugiuraajc) September 12, 2018
UPDATE (2:05 PM)-
👀 | Check out Kizza's first half goal that led to Pitt's victory over VCU!#H2P pic.twitter.com/UTSocHATOv

— Pitt Men's Soccer (@Pitt_MSOC) September 12, 2018
UPDATE (1:29 PM)-
Location, time changed for game between Imani Christian, Valley #WPIAL #TribHSSN @ICAFOOTBALL @imaniathletics https://t.co/MnJSq2K5X9

— TribLive HSSN (@TribLiveHSSN) September 12, 2018
UPDATE (1:13 PM)-
7' Mohamed Sylla'19 of @PSAhoops & @NYJayhawks earned an offer from University of Arkansas-Little Rock. Has Cleveland St, Virginia Tech, East Carolina & Pittsburgh interest pic.twitter.com/9csFRyLgpb

— 𝒜𝓃𝒹𝓇ℯ𝓌 𝒮𝓁𝒶𝓉ℯ𝓇 (@Andrew__Slater) September 12, 2018
UPDATE (10:50 AM)-
Bills Starting Rookie QB Josh Allen In Week 2 https://t.co/BFlXzMYiD5 pic.twitter.com/1S6LgPsSJR

— NFLTradeRumors.co (@nfltrade_rumors) September 12, 2018
UPDATE (9:23 AM)-
Panther fans! Due to Hurricane Florence, we will now be hosting the Pitt Invite this weekend featuring @CofCVolleyball, @HPUVB & @LibertyWVB. ⬇️

Friday, Sept. 14
🔸7 PM • College of Charleston

Saturday, Sept. 15
🔸7 PM • High Point#OwnIt • #H2Phttps://t.co/XmXdlKfMpx

— Pitt Volleyball (@Pitt_VB) September 12, 2018
UPDATE (9:17 AM)-
Brush Highschool 2020 6'9 PF John Hugley is on an unofficial visit at The University of Pittsburgh pic.twitter.com/xmFfDdVXh7

— chet mason (@ChetMason32) September 8, 2018