Weed Man USA/PSN Recruiting Notebook: September 13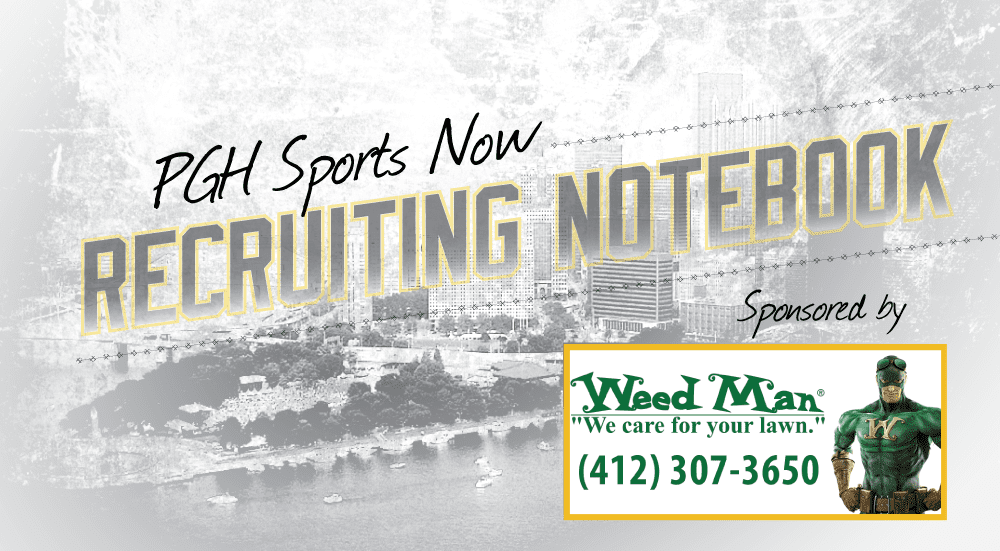 The PSN Recruiting Notebook, your home for the latest recruiting news on Pitt, Duquesne, Robert Morris and the WPIAL, is sponsored by Weed Man USA Lawn Care. For more than 45 years, the team at Weed Man Lawn Care have safely and effectively cared for your lawn, so you and your family can experience it at its best. Contact them for a free online quote for any of your lawn issues. Weed Man Lawn Care will transform your lawn from a burden into a paradise.
UPDATE (8:00 PM)-
DRIVE HIGHLIGHT | The Dukes use a punishing ground attack to push into the red zone, then cap a six-play, 51-yard drive with a 15-yard strike from Ben DiNucci to Kyndel Dean! pic.twitter.com/Pbm61YUZsQ

— JMU Football (@JMUFootball) September 13, 2018
HIGHLIGHT | Ben DiNucci picks up his career-high fourth touchdown of the night to cap a six-play, 49-yard drive with this 17-yard score! pic.twitter.com/jFhLyLuLhk

— JMU Football (@JMUFootball) September 13, 2018
UPDATE (6:26 PM)-
Duquesne is hosting 2019 @ITPSwildcats guard Maceo Austin this weekend for an official visit, a source tells @Rivals. Austin is a top-50 2-guard prospect in his class nationallyhttps://t.co/JlprJ7aIUF

— Corey Evans (@coreyevans_10) September 13, 2018
UPDATE (4:17 PM)-
Here at @step_basketball where Rutgers, Providence, GW and LIU-Brooklyn are among those on hand for 2021 AJ Griffin and 20 RJ Davis.

Seton Hall, Pitt, Maryland and St. John's have also been through. Villanova and UVA coming soon. pic.twitter.com/x6p4PKfgxZ

— Adam Zagoria (@AdamZagoria) September 13, 2018
UPDATE (3:43 PM)-
Pitt visits Gaige Garcia, a Southern Columbia junior. 67-6 career record with 5th and 3rd state finishes. Also a football star approaching 5000 career rushing yards and 80 touchdowns https://t.co/ZaBpr21Zck

— Stephen Patrick (@stevepatrickPT) September 13, 2018
UPDATE (1:41 PM)-
#Greenville QB Davis Beville passed for 210 yards, rushed for 119 yards and caught a TD pass in the Red Raiders' loss at #SouthPointe. @Pitt_FB https://t.co/H9PWrTt0F9

— Bob Castello (@BobCastello) September 13, 2018
UPDATE (10:28 AM)-
**Tiawan Mullen  is making his decision today at 2 PM. Pitt is one of his 4 finalists but word is Nebraska could be the pick. Stay tuned.
Commitment announcement today at 2 ❗️

— Tiawan Mullen (@Mullen_7era) September 13, 2018
UPDATE (10:00 AM)-
Pitt's 2019 ACC opener: a noon tip-off at home on Jan. 5, a Saturday, against Cam Johnson and North Carolina.

— Craig Meyer (@CraigMeyerPG) September 13, 2018
UPDATE (9:45 AM)-
**Keith Dambrot and Duquesne have their eyes on a young, talented player from Ohio. The Dukes have offered a scholarship to sophomore guard EJ Farmer (6-4, 160) from Cleveland, Ohio. We'll have more on this offer later today.
UPDATE (8:57 AM)-
**2020 safety Teagan Wilk from Berwick, PA will be attending Pitt's game this Saturday. Wilk is looking for his first offer and is getting interest from
UPDATE (8:49 AM)-
Rice is the 2nd FBS offer for 2019 Shady Side Academy QB/CB Skyy Moore.

The Indians are visiting Steel Valley in our Week 3 WPIAL Game of the Week. https://t.co/9MOIwjedM1

— Alan Saunders (@ASaunders_PGH) September 13, 2018