Weed Man USA/PSN Recruiting Notebook: September 17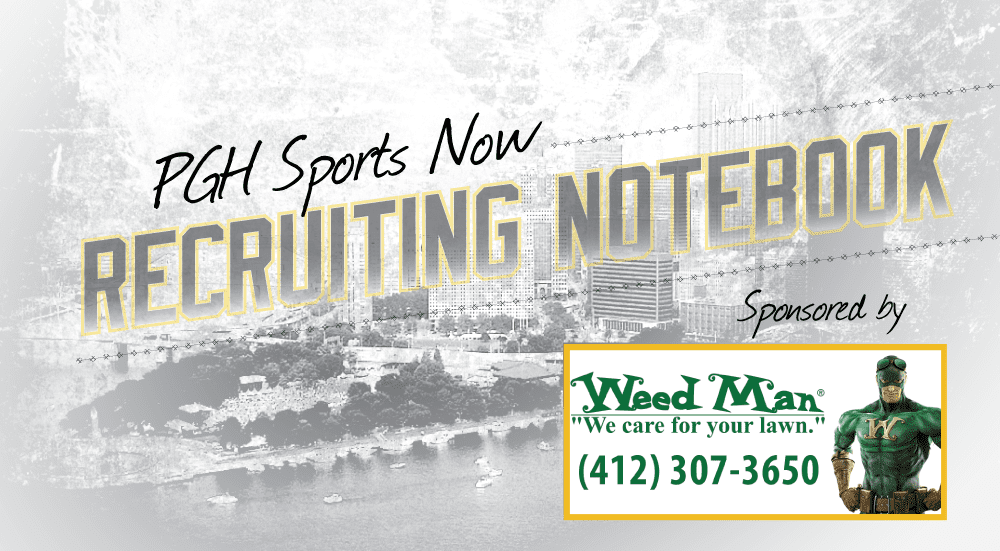 The PSN Recruiting Notebook, your home for the latest recruiting news on Pitt, Duquesne, Robert Morris and the WPIAL, is sponsored by Weed Man USA Lawn Care. For more than 45 years, the team at Weed Man Lawn Care have safely and effectively cared for your lawn, so you and your family can experience it at its best. Contact them for a free online quote for any of your lawn issues. Weed Man Lawn Care will transform your lawn from a burden into a paradise.
UPDATE (7:13 PM)-
3️⃣0️⃣ was a BEAST on Saturday‼️#H2P 🔒 #LockTheGates pic.twitter.com/PMaofFYnn7

— Pitt Football (@Pitt_FB) September 17, 2018
UPDATE (7:10 PM)-
**Adrian Griffin Jr. is a 5-star 2021 shooting guard from New York.
Pittsburgh has offered 2021 forward Adrian Griffin Jr @adriangriffin21 of @step_basketball & @PSACardinals

— Julius Kim (@JuliusKim_) September 17, 2018
UPDATE (4:45 PM)-
**Karim Coulibaly (6-8, 230) is 2019 3-star forward from Scotland School in Scotland, Pennsylvania. Along with Pitt, Coulibaly holds offers from George Washington, Georgia Tech, Providence, Rhode Island, Rutgers, St. John's, Cincinnati, Boston College and Virginia.
Pitt's Jeff Capel and Milan Brown and St. Joe's Phil Martelli and an asst were in today for 2019 F Karim Coulibaly pic.twitter.com/MZNaMnMABp

— Adam Zagoria (@AdamZagoria) September 17, 2018
UPDATE (3:38 PM)-
Thoughts and prayers go out to my hometown, Fayetteville, NC, as well as everyone affected by this awful storm! #staystrong #helpothers #daville https://t.co/ljg0kiWIXg

— Jeff Capel (@jeffcapel) September 17, 2018
UPDATE (3:10 PM)-
Florida & Pitt have assistants on hand today for four-star junior Ethan Morton@GatorsTerritory @PantherLair https://t.co/ab5zgIDFaP

— Corey Evans (@coreyevans_10) September 17, 2018
UPDATE (1:50 PM)-
**Andrew Slater is reporting that 2019 center Jon Bol Ajak will make an unofficial visit to Pitt on October 7. This weekend, he'll make an official visit to Syracuse and the following weekend will be at TCU. Bol Ajak (6-10, 200) is a 3-star center from Exton, Pennsylvania and holds offers from Pitt, UConn, Georgetown, Rutgers, Seton Hall, Syracuse, Villanova and Wake Forest.
UPDATE (1:45 PM)-
**It was announced today that Pitt's game on September 29 at Central Florida will kickoff at 3:30 PM and will be televised by either ESPN2 or ESPNU.
UPDATE (1:42 PM)-
**The Pitt basketball coaches will be in New York tomorrow evaluating the Champagnie twins. Justin and Julian Champagnie,, who are both forwards, are from Brooklyn, New York and starting to get a lot of interest. Rivals rates Justin (6-6, 205) as a 3-star recruit while Julian interested rated yet but appears to be equally as talented. Both have 16 offers and a lot of the same schools like Seton Hall, Rutgers, Rhode Island, UMass, Dayton and Cincinnati.
**Pitt coaches will also be seeing 2019 Rivals 4-star center Qudus Wahab from Flint Hill School in Oakton, Virginia. Wahab, who's rated as a Top 100 prospect, also holds offers from UConn, Georgetown, LSU, Louisville, Miami, Ohio State, Rhode Island, Syracuse, VCU, Virginia Tech, Clemson and St. John's. Per Adam Zagoria, Wahab will also be visited on Tuesday by Georgetown, UConn, VCU with Louisville visiting him on Thursday.