Weed Man/PSN Recruiting Notebook: February 21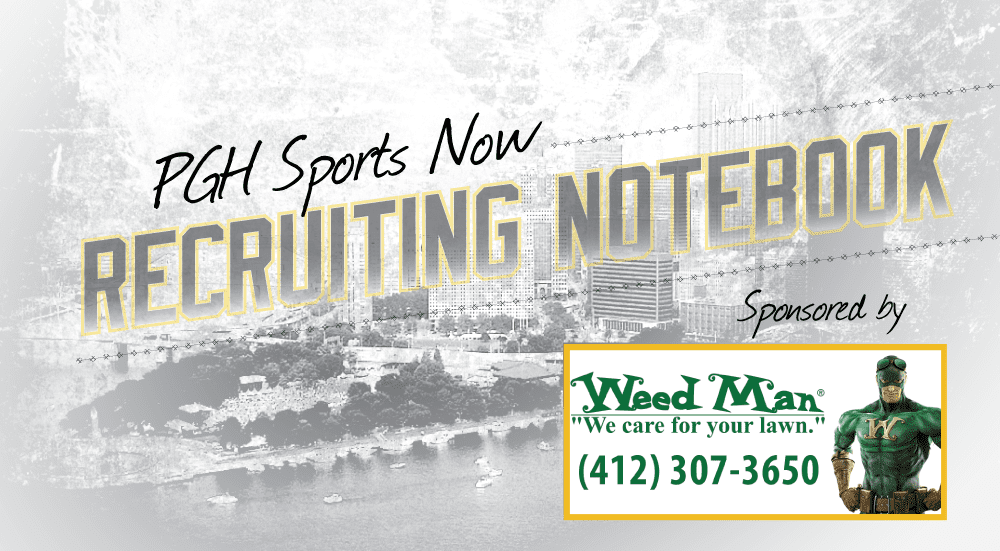 Stay updated on the news and notes of the day concerning Pitt, Duquesne, Robert Morris and the WPIAL in the Weed Man Recruiting Notebook. Spring is approaching and there's no better time than now to call Weed Man Pittsburgh at 412-307-3650 for all your lawn care services. Transform your lawn from a burden into a paradise with Weed Man.
UPDATE (4:13 PM)-
**While on a visit today, New Jersey sophomore OT Geno VanDeMark received an offer from Pitt which was big because it was his first D-1 offer.
UPDATE (3:28 PM)-
**Congrats to McKeesport 2020 WR Deamontae Diggs who received an offer from Youngstown State, which is his first D-1 offer.
Check out my highlight – https://t.co/uPvzlQv7H0 junior season 🔥🔥

— deamontae diggs (@D_diggs23) November 10, 2018
UPDATE (3:23 PM)-
NFL's Batch, Gradkowski, Lee, Posluszny among 2019 WPIAL Hall of Fame class #TribHSSN https://t.co/4SMZPau4VT

— Chris Harlan (@CHarlan_Trib) February 21, 2019
UPDATE (3:06 PM)-
**Two more Power 5 offers for Central Catholic's AJ Beatty: Rutgers and Boston College. These are offers 25 and 26 for Beatty.
UPDATE (1:45 PM)-
**2020 Central Catholic defensive tackle A'meer Allen picks up his biggest offer to date.
Blessed to receive an offer from Cincinnati🙏🏾💪🏾 @wpialsportsnews @flem021 @PCC_FOOTBALL @210ths @PA_FBRecruiting @WPAFootball pic.twitter.com/ugXUzQROK9

— A'meer Allen (@Twinno_4) February 21, 2019
UPDATE (1:12 PM)-
Extremely blessed to receive my 24th offer from Air Force. @210ths @flem021 pic.twitter.com/aJlX9spFBX

— Aj Beatty🎥 (@ajbeatty88) February 21, 2019
UPDATE (1:08 PM)-
I am truly thankful to receive an offer from MARSHALL UNIVERSITY!❇️⚫️@210ths @WHCOACHWalker23 @Evolve2tenths @CoachTomaselli1 @WhCoachTim pic.twitter.com/Tp5IJKm8Aa

— Joshua J. Rawlings (@jraw089) February 21, 2019
UPDATE (10:38 AM)-
Good morning welcome to scoreboard-watching szn.@DuqWBB and @DuqMBB are both tied for 5th in the conference at 8-5 and only a game back of 3rd.

We'll see you Saturday afternoon #GoDukes pic.twitter.com/rhGylgN6xM

— The Red & Blue Crew (@duq_thecrew) February 21, 2019
UPDATE (10:09 AM)-
Congrats @JamesConner_ on your well-deserved Dapper Dan Man of the Year award. Really proud of what you have overcome and accomplished. Great to have @AaronDonald97 on hand to help honor James. pic.twitter.com/fgPHAy7WDm

— Mike Tomlin (@CoachTomlin) February 21, 2019
UPDATE (9:48 AM)-
**Offer #22 is in for talented Woodland Hills TE Josh Rawlings. Last night, he received one from Iowa State. Along with a bunch of MAC offers, Rawlings holds Power 5 offers from Pitt, Virginia, Syracuse and Rutgers.
UPDATE (9:39 AM)-
**Another offer for Central Catholic DE AJ Beatty, this is #23 for him. Yesterday, he got one from Purdue, which was his second Power 5 offer.
Extremely blessed to receive my 23rd offer from Youngstown state. @210ths @flem021 pic.twitter.com/HHv7QAnPv6

— Aj Beatty🎥 (@ajbeatty88) February 21, 2019