Weed Man/PSN Recruiting Notebook: February 27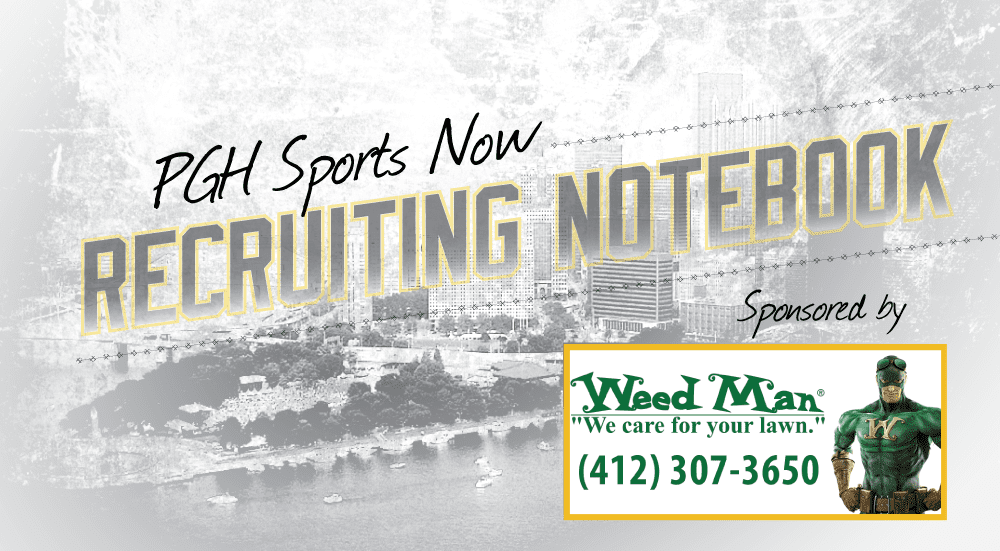 Stay updated on the news and notes of the day concerning Pitt, Duquesne, Robert Morris and the WPIAL in the Weed Man Recruiting Notebook. Spring is approaching and there's no better time than now to call Weed Man Pittsburgh at 412-307-3650 for all your lawn care services. Transform your lawn from a burden into a paradise with Weed Man. 
UPDATE (9:23 PM)-
Halftime Pine-Richland leads Butler 32-26. Indiana coach Archie Miller in the house to see Ethan Morton. pic.twitter.com/q6qBkWMUwT

— Mike White (@mwhiteburgh) February 28, 2019
UPDATE (8:50 PM)-
**Spotted an out of town recruit tonight. Sitting with Andre Powell and Aaron Mathews is Ahmed Bailey, a 3-star 2020 OLB from Friendship Collegiate Academy in DC. Has Rutgers & WVU offers
UPDATE (8:50 PM)-
**Pitt wide receiver Aaron Mathews with Mars athlete Khori Fusco (formerly from Clairton).
UPDATE (8:39 PM)-
**The most famous person in the building tonight is the NFL Defensive Player of the Year and Pitt legend Aaron Donald.
UPDATE (8:29 PM)-
**Two more local recruits at tonight's basketball game: Baldwin sophomore DE Dorien Ford and Hempfield Junior OL Fintan Brose.
UPDATE (7:45 PM)-
Chillin courtside with @AaronDonald97 & crew! 😸#H2P #ZooEra #BeatClemson pic.twitter.com/fD4XGRRxQM

— ROC (@ROCthePanther) February 28, 2019
UPDATE (7:33 PM)-
**The Pitt football program is hosting local recruits at tonight's basketball game. First picture is North Allegheny 2020 OT Jake Lugg. Second picture is Mars 4-star OT Michael Carmody.
UPDATE (7:25 PM)-
This is what it looks like when you're heading to the #WPIAL Championship for the first time in 39 years. @TJHSJaguars has carved their #PathToThePete! They defeat Oakland Catholic 68-55. @TribLiveHSSN @TribHSInsider pic.twitter.com/2gtwZJVwwf

— Brandon Rossi (@Ross__Eye) February 28, 2019
UPDATE (7:03 PM)-
**A big Power 5 offer for former North Catholic linebacker Nikhai Hill-Green as he gets offer from Scott Frost and Nebraska.
https://twitter.com/nshg22/status/1100883164027858944?s=21
UPDATE (9:33 AM)-
CHARGERS WIN! Defeat South Side 70-55 to advance to a 3rd straight WPIAL Championship! #wpial #olshchargers #goingtothepete pic.twitter.com/iiqLefoE7Z

— OLSH Athletics (@olshsports) February 27, 2019
UPDATE (9:11 AM)-
**Congrats to the Rochester girls basketball program who are playing in the girls championship game for the first time in school history.
WE GOING TO THE PETE!!!! pic.twitter.com/8YYTuurPw7

— Brad Verrico (@verrico17) February 27, 2019
UPDATE (9:02 AM)-
**Despite being committed to Arkansas, Pitt has extended an offer to 2020 wide receiver Ze'Vian Capers from Alpharetta, Georgia. Capers (6'4″, 200) is a 3-star recruit with offers from Clemson, Florida, Georgia Tech, Louisville, Michigan State, Purdue, South Carolina, Syracuse and Virginia.
UPDATE (7:30 AM)-
Future #Pitt linebacker Kyi Wright is an amazing multi-sport athlete. #H2P https://t.co/Tzp62XeBLy

— Harry G. Psaros (@PittGuru) February 27, 2019
UPDATE (7:25 AM)-
**Junior wide receiver Jordan Addison (Frederick, Maryland) picks up an offer from Pitt this morning. Addison (6'0″, 160) is a 247 Sports 2-star recruit with offers from Maryland, Temple, UMass and East Carolina. Addison received the offer from Andre Powell.