Weekend Weed Man/PSN Recruiting Notebook: March 2 & 3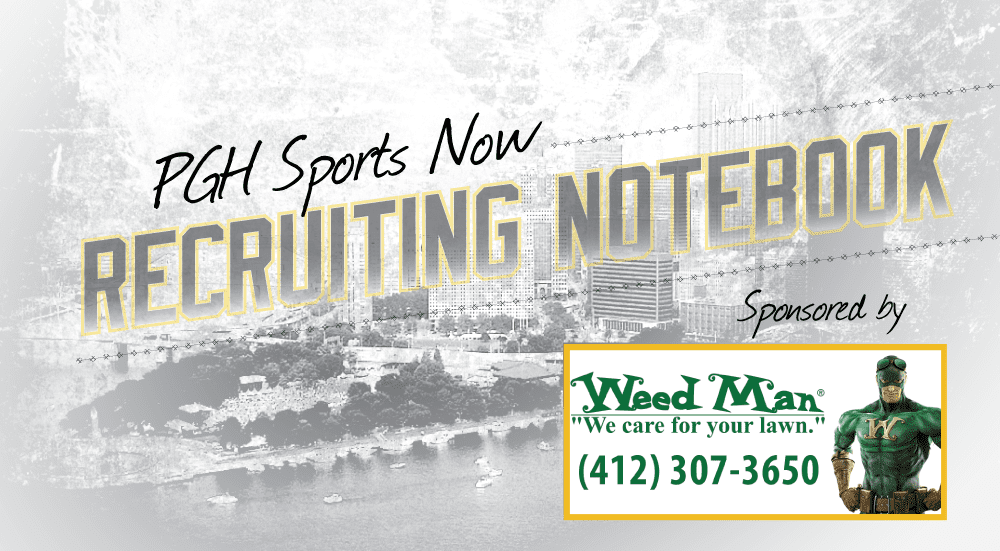 Stay updated on the news and notes of the day concerning Pitt, Duquesne, Robert Morris and the WPIAL in the Weed Man Recruiting Notebook. Spring is approaching and there's no better time than now to call Weed Man Pittsburgh at 412-307-3650 for all your lawn care services. Transform your lawn from a burden into a paradise with Weed Man.  
UPDATE (5:52 PM)-
https://twitter.com/hhsredskinsfb/status/1102025620169650176?s=21
UPDATE (2:20 PM)-
I am excited and honored to announce that I am embarking on a new found journey within my coaching career.
Happy to be joining the Football Staff at the University of Pittsburgh #H2P @Pitt_FB #2ManyLights0n pic.twitter.com/rBgommHrRQ

— Dr. Cornelius Coleman (@CoachColemanDL) March 3, 2019
UPDATE (2:13 PM )-
https://twitter.com/nextuprecruits/status/1102270093889806341?s=21
SATURDAY 
UPDATE (9:01 PM)-
Pitt's Jeff Capel in the house at the Pete for Butler-Mt. Lebanon. He's hoping Ethan Morton will be playing here many more times. #WPIAL

— Brad Everett (@BREAL412) March 3, 2019
UPDATE (8:37 PM)-
**Hempfield 2020 OL/DL Fintan Brose receives another D-1 offer.
Honored and thankful to receive an offer from the United States Naval Academy!⚓️ pic.twitter.com/VTV5aGMS4u

— Fintan Brose (@brose_fintan) March 3, 2019
UPDATE (7:30 PM)-
**While on a visit, Westinghouse junior DE Dayon Hayes receives an offer from Syracuse. His first Power 5 offer came from Pitt.
I am blessed to receive an offer from Syracuse 🍊💙🧡@210
@XYD412 @YungOGenius @RivalsFriedman @CoachLustig @CoachReynolds81 #syracuse pic.twitter.com/t3j1YsFyfJ

— DayonHayes (@HayesDayon) March 3, 2019
UPDATE (7:23 PM)-
PITTSBURGH confirms attendance to the MASSILLON TIGER COLLEGE SHOWCASE May 1st #TIG pic.twitter.com/2wnyHG1JWw

— Nate Moore (@CoachNMoore) March 2, 2019
UPDATE (7:17 PM)-
OLSH becomes just the 3rd school in WPIAL history to win the football, girls basketball and boys basketball titles in the same year; joining Blackhawk and Aliquippa.

— OLSH Athletics (@olshsports) March 2, 2019
UPDATE (7:15 PM)-
**Another offer for Seneca Valley 2020 center Josh Kaltenberger.
Blessed to receive my 8th offer from Buffalo! I had a great Junior Day thanks to @CoachFuchs @taiwonatolu! pic.twitter.com/mM24tBDoFE

— Josh Kaltenberger (@jkalt54) March 2, 2019
UPDATE (7:05 PM)-
NEC Tournament quarterfinal matchups for next Wednesday are set:

#8 Bryant at #1 Saint Francis U
#7 Wagner at #2 FDU
#6 LIU Brooklyn at #3 Sacred Heart
#5 St. Francis Brooklyn at #4 Robert Morris

— Ryan Peters (@pioneer_pride) March 2, 2019
UPDATE (6:46 PM)-
**Central Catholic 2020 QB/SS Gusty Sunseri made an unofficial visit to Lafayette this weekend.
https://twitter.com/g_moneyy12/status/1101901437909561344?s=21
UPDATE (6:20 PM)-
**2020 wide receiver Marcus Clarke gets an offer from Pitt. Clarke (5'11", 175) is from Winter Park, Florida and holds two Power 5 offers from Florida State and West Virginia. Clarke currently isn't rated by 247 Sports. Clarke tells PNS that he received the offer from Tim Salem.
https://t.co/K9fynYmKml Updated: Post and Retweet🏝🔅

— MC28 (@marcusclarkej01) February 18, 2019
UPDATE (6:15 PM)-
**Michigan 2020 TE/WR/OLB Tommy Guajardo receives an offer from Pitt. Guajardo (6'3′, 230) is rated as a 3-star recruit by 247 Sports and holds Power 5 offers from Michigan State, Boston College, Indiana, Minnesota, Iowa State, Kansas State, NC State and West Virginia.
UPDATE (6:10 PM)-
**A number of WPIAL junior and sophomores attended Junior Day at Buffalo: Seton LaSalle WR/OLB James Yanders, Washington DL Chase Mitchell, Seneca Valley sophomore OL Don Kreisberg II, Avonworth OL/DL Josh Elm, Seneca Valley Junior LB Evan Smith, Thomas Jefferson junior WR/DB Daniel Deabner, Jr, Blackhawk linebacker Marques Watson-Trent, Shaler LB/FB Jake Miller.
UPDATE (5:59 PM)-
**Offer #30 is in for Central Catholic's A.J. Beatty and it's a big one as he receives an offer from West Virginia while making an unofficial visit. Beatty now holds Power Five offers from Pitt, West Virginia, Boston College, Indiana, Purdue, Rutgers and Syracuse.
UPDATE (5:51 PM)-
**This afternoon, Pitt offered Cliff Omoruyi, one of the top juniors centers in the country. Omoruyi (6'11", 210) is a 4-star recruit from Roselle, New Jersey. 247 Sports rates Omoruyi as one of the Top 10 centers and one of the Top 60 overall juniors. Currently, Omoruyi holds offers from UConn, Florida, Illinois, UMass, Miami, NC State, Rutgers, Seton Hall, Syracuse and West Virginia.