Weed Man/PSN Recruiting Notebook: March 11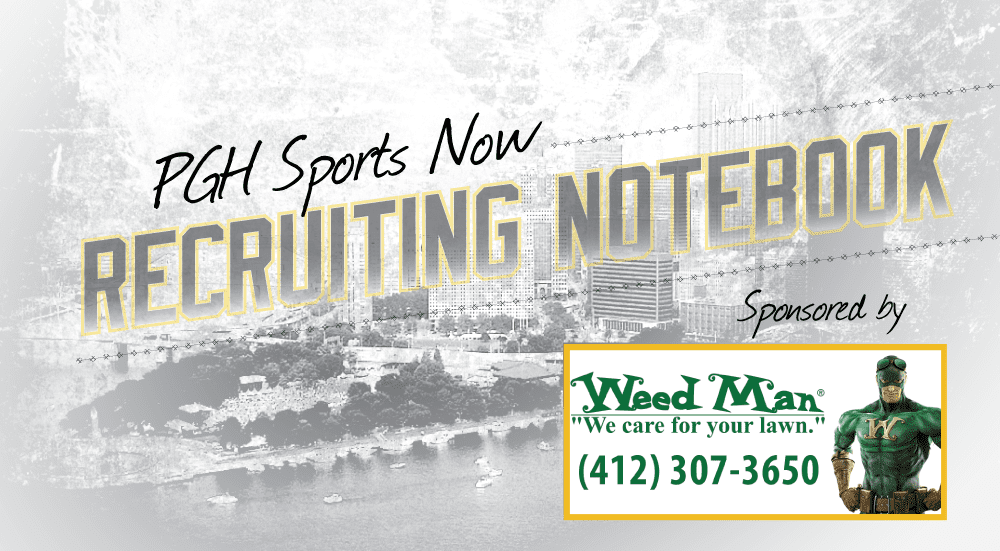 Stay updated on the news and notes of the day concerning Pitt, Duquesne, Robert Morris and the WPIAL in the Weed Man Recruiting Notebook. Spring is approaching and there's no better time than now to call Weed Man Pittsburgh at 412-307-3650 for all your lawn care services. Transform your lawn from a burden into a paradise with Weed Man. 
UPDATE (9:11 PM)-
**Thomas Jefferson 2020 OT Mac Duda picks up an offer tonight from Cornell.
https://twitter.com/mduda72/status/1105266477698072576?s=21
UPDATE (3:08 PM)-
**Another visit to a Power 5 school for Seneca Valley 2020 center Josh Kaltenberger.
I had a great visit at Rutgers! Thank you @CoachChrisAsh @AdamCalt @CoachKDobes @CoachRossomando pic.twitter.com/INMymaV1Rg

— Josh Kaltenberger (@jkalt54) March 11, 2019
UPDATE (2:30 PM)-
**Aliquippa's 3-star linebacker Zuriah Fisher has received his 3rd Power Five offer. Today, Fisher picked up an offer from Indiana and how holds offers from Minnesota, Syracuse, Temple, UMass, Ball State and Ohio.
UPDATE (1:43 PM)-
Ej Farmer offers and recruitment has really pick up!! @ej_farmer has put in so much work, now it's time to take it to ANOTHER LEVEL!!! #EJF #NOPOLITICS #JUSTWORK 🙏🏽📚🏀 @AOR2021 @all_ohio @highmajorscoop @McDAAG @john_stovall @LEFalconsHoops @sammybball87 pic.twitter.com/Sbj7JSRpri

— Jonathan Burge (JB) (@JB_ANOTHERLEVEL) March 11, 2019
UPDATE (12:07 PM)-
It's a new season. #ZooEra | #H2P pic.twitter.com/IVtkNbfFFE

— Pitt Basketball (@Pitt_MBB) March 11, 2019
UPDATE (12:02 PM)-
Some names for Niagara that make sense: Pat Beilein, Gerry McNamara, Tobin Anderson.

Fairfield could look at all those guys too, plus Andy Toole, Scott Spinelli, and Luke Murray (who is the name that makes most sense).

— Kevin Sweeney (@CBB_Central) March 11, 2019
UPDATE (11:25 AM)-
Most PIAA Tournament BBB Wins in PA History:
1) Chester-114
2) Kennedy Catholic-102
3) Aliquippa-83
4) Farrell-78
5) Williamsport-61
6) Lower Merion-60
7) Beaver Falls-59
7) Cathedral Prep-59

— Bob Greenburg (@BobGreenburg) March 10, 2019
UPDATE (10:10 AM)-
The 2️⃣0️⃣1️⃣9️⃣ ⛹️‍♀️ Brenda Reilly COACH OF THE YEAR is… @RMUWBasketball's Charlie Buscaglia

En-route to his third straight COTY honor, Buscaglia guided RMU to another first-place finish while boasting the No. 1 defense on the circuit. #NECelite pic.twitter.com/dVhTBUWbrb

— Northeast Conference (@NECsports) March 11, 2019
Her 3️⃣rd All-@NECsports selection comes after averaging 12.2 points and 7.6 rebounds per game, with 6️⃣ double-doubles and 2️⃣ new milestones (500 rebounds, 100 steals) to her name.

Congrats @nnekaezeigbo on your All-NEC First Team selection! 🥇#ColonialPride | #HoopTownship pic.twitter.com/QDxvVzfssn

— RMU Basketball (@RMUWBasketball) March 11, 2019
UPDATE (7:41 AM)-
**Over the weekend, Virginia 2020 athlete LaMareon James made his commitment while on a visit to North Carolina. Previously, James told PSN that he planned on making an upcoming visit to Pitt.
C O M M I T T E D ! UNC'24 #RUDEBOYZ #GDTBATH 🐏@drebly_32 @CoachMackBrown @TarHeelFootball pic.twitter.com/UFKdk49RIq

— 𝐿𝒶𝑀𝒶𝓇𝑒𝑜𝓃 𝒟. 𝒥𝒶𝓂𝑒𝓈⁴ ✨ (@lamareon_james) March 10, 2019