Weed Man/PSN Recuiting Notebook: March 26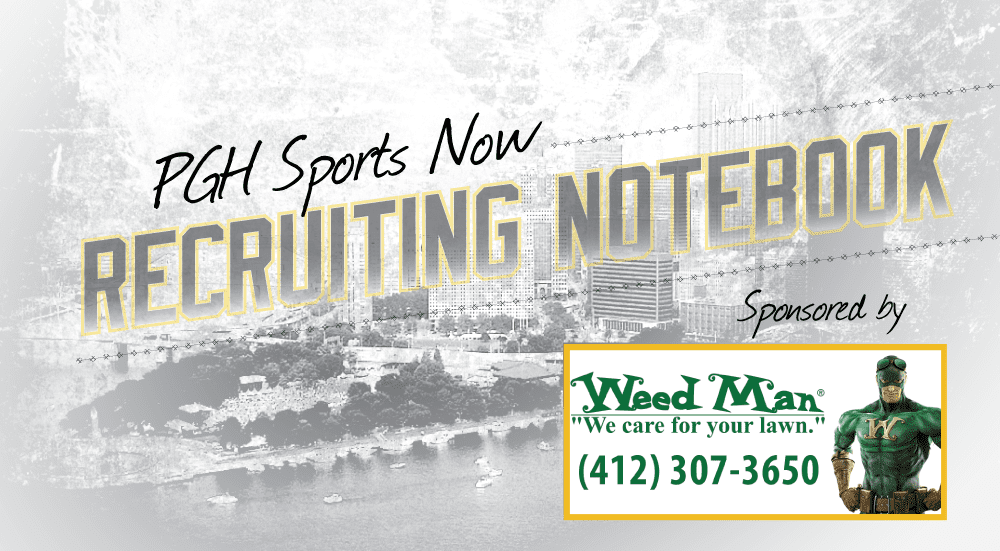 Stay updated on the news and notes of the day concerning Pitt, Duquesne, Robert Morris and the WPIAL in the Weed Man Recruiting Notebook. Spring is approaching and there's no better time than now to call Weed Man Pittsburgh at 412-307-3650 for all your lawn care services. Transform your lawn from a burden into a paradise with Weed Man.
UPDATE (9:35 PM)-
Bethel Park hires @BDeLallo as new football coach #TribHSSN https://t.co/3wgNCz5D2w

— Chris Harlan (@CHarlan_Trib) March 27, 2019
UPDATE (8:00 PM)-
**2020 Central Catholic DE AJ Beatty receives another Power 5 offer.
EXTREMELY blessed to receive my 33rd offer from North Carolina @210ths @flem021 pic.twitter.com/1I4nrWTU3K

— Aj Beatty🎥 (@ajbeatty88) March 26, 2019
UPDATE (4:20 PM)-
**Penn State assistant coach Jim Ferry is visiting 2020 First Love Christian Academy guard D.J. Gordon today, a source told PSN.
Gordon, a 6-foot-4 shooting guard, does not hold a Penn State offer, but has high-major offers from Arizona State, DePaul, South Florida, TCU, Virginia Tech and Wichita State, along with Central Connecticut State, Dayton, Eastern Michigan, Hofstra, Kent State, Monmouth and VCU.
Gordon has also taken multiple visits to Pitt.
UPDATE (4:12 PM)-
**Central Catholic 2020 DE AJ Beatty will be a busy man the next 3 weekends.
Penn State🦁 3/30
South Carolina🐔 4/6 WVU💙💛 4/13

— Aj Beatty🎥 (@ajbeatty88) March 26, 2019
UPDATE (1:09 PM)-
**Penn Hills 2020 athlete Aakeem Snell receives an offer from Buffalo.
Blessed to receive an offer from The University of Buffalo #HornsUp 🔵⚪️ pic.twitter.com/0dW35J67SX

— Aakeem snell (@8_bigslime) March 26, 2019
UPDATE (12:51 PM)-
**Pitt extends an offer to 4-star sophomore athlete Kamonte Grimes from Naples, Florida. Grimes (6'2", 185) also holds offers from Arkansas, North Carolina, Ohio State, Utah and Virginia.
UPDATE (11:53 AM)-
Wasn't that long ago! Can't wait to get this program back to this level! #H2P #ZooEra https://t.co/SB2G8GbPCW

— Jeff Capel (@jeffcapel) March 26, 2019
UPDATE (11:42 AM)-
Oklahoma State, Pitt, TCU, Northwestern, Nevada, Rice, SMU and Cincinnati have all been in contact with Cal transfer Darius McNeill; sit one, play two guard that averaged over 11 points last season

— Corey Evans (@coreyevans_10) March 26, 2019
UPDATE (10:34 AM)-
**PSN's Alan Saunders reports that Pitt had two visitors at practice this morning.
—2020 OT Patrick Matan from Gonzaga High School in Washington DC. Matan holds offers from Pitt, Syracuse and East Carolina.
—2020 TE Steve Mahar (6'6", 220) from Rochester, NY. No D-1 offers.
UPDATE (9:22 AM)-
Rams take RB Miles Sanders in 1st round of Peter Schrager's mock draft https://t.co/nKoD2Igljn

— Touchdown Wire (@TheNFLWire) March 26, 2019
UPDATE (9:19 AM)-
**Jeannette 2020 MLB Justin Cramer will attend Pitt practice on Thursday.
https://twitter.com/justincramer_48/status/1110333521594408961?s=21