Weed Man/PSN Recruiting Notebook: March 28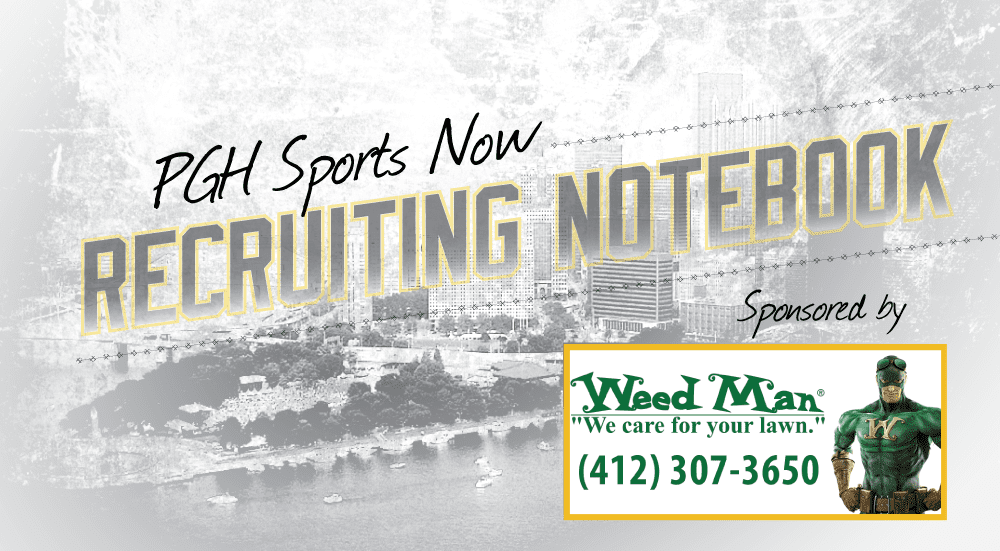 Stay updated on the news and notes of the day concerning Pitt, Duquesne, Robert Morris and the WPIAL in the Weed Man Recruiting Notebook. Spring is approaching and there's no better time than now to call Weed Man Pittsburgh at 412-307-3650 for all your lawn care services. Transform your lawn from a burden into a paradise with Weed Man.  
UPDATE (9:44 PM)-
**2020 Florida athlete Kristoff Pollas visits Pitt today.
Had a great time at Pitt #H2P🔷🔶 @CoachDuzzPittFB pic.twitter.com/u4N0Deezy9

— Kristoff Pollas (@KristoffPollas) March 28, 2019
UPDATE (4:49 PM)-
**Sam Williams is a 2020 DE from Fort Lauderdale, Florida.
Appreciate the love 🔥💯 @Pitt_FB @CoachPartridge @CoachDuzzPittFB #H2P pic.twitter.com/uD7YMSL9yM

— Sam Williams (@SaWilliams_46) March 28, 2019
UPDATE (2:00 PM)-
**Mars 2020 4-star OT Michael Carmody reels in another major offer.
Thrilled to receive an offer from Texas A&M! #GigEm 👍🏼 pic.twitter.com/t4qb47II2n

— Michael Carmody (@michaeltcarmody) March 28, 2019
UPDATE (1:49 PM)-
**Thomas Jefferson 2020 lineman Mac Duda received an offer today from John Peterson and Youngstown State.
https://twitter.com/mduda72/status/1111086874528047104?s=21
UPDATE (1:38 PM)-
**Florida 2020 athlete Tyler Mackey (5'10, 165) from American Heritage High School in Fort Lauderdale was in Pittsburgh making an unofficial visit. Mackey is looking for his first Power 5 offer.
UPDATE (1:31 PM)-
**Gateway 2020 athlete Tui Brown becomes latest recruit from the WPIAL to receive an offer from Buffalo.
Blessed to receive an offer from the University at Buffalo!!! #HornsUp 🔵 pic.twitter.com/WeheuFOcLk

— Tui Brown (@Tbrown_5) March 28, 2019
UPDATE (10:54 AM)-
**2020 4-star running back Arian Smith (6'1", 170) from Mulberry, Florida gets an offer from Pitt. Smith has a big-time list of offers from schools such as Alabama, Florida, Florida State, Auburn, Georgia, LSU, Miami, Notre Dame, South Carolina, Nebraska and Tennessee.
Mulberry ATH @ArianSmith2 Boys 100M meet yesterday . He finished with a 10.34.. Yes that's the #1 RB in the state @Bowman_22 in 2nd. Wow talk about speed 🔥🔥🔥 pic.twitter.com/pV3jghkv7j

— PolkWay (@polk_way) March 17, 2019
UPDATE (9:35 AM)-
**Earlier this month, Pitt extended an offer to 2020 offensive tackle Jeffrey Persi from San Juan Capistrano, California. Persi has an extensive list of offers that includes Arizona State, Auburn, California, Duke, Michigan, Nebraska, Northwestern, Oklahoma, UCLA  USC, Vanderbilt, Washington and Washington State. PSN asked Persi last night if a visit to Pitt is a possibility.
"I'm very interested in visiting Pitt. My parents and I are working on putting together one last trip that would include Pitt, Boston College, Vandy and Duke. Just not sure when this date will be between summer football and an advancement class I'm looking to take in the summer."
UPDATE (9:03 AM)-
**Former Pitt offensive line coach John Peterson extends an offer this morning to Seneca Valley 2020 center Josh Kaltenberger.
Thankful to receive my 9th offer from Youngstown State University! @coachjpete pic.twitter.com/hIdSOhn4Em

— Josh Kaltenberger (@jkalt54) March 28, 2019
UPDATE (8:51 AM)-
**Pitt extended an offer last night to 2020 Guard Drake Metcalf from Bellflower, California. The 3-star lineman also holds offers from Arizona State, Florida State, Indiana, Iowa State, Kansas, Louisville, North Carolina, Oregon, Penn State, Stanford and USC. Metcalf received the offer from Tim Salem. PSN got Metcalf's reaction to the offer from Pitt.
"Pitt found out about me during the season but began recruiting me harder after I won the Offensive Line MVP's at The Nike Opening LA and the Offensive Line MVP at the Adidas Rivals LA Camp as well," said Metcalf.
"I was not surprised with the offer as I had been talking to Coach Salem for the past month or so. I am planning on visiting soon!"