Weed Man/PSN Recruiting Notebook: March 30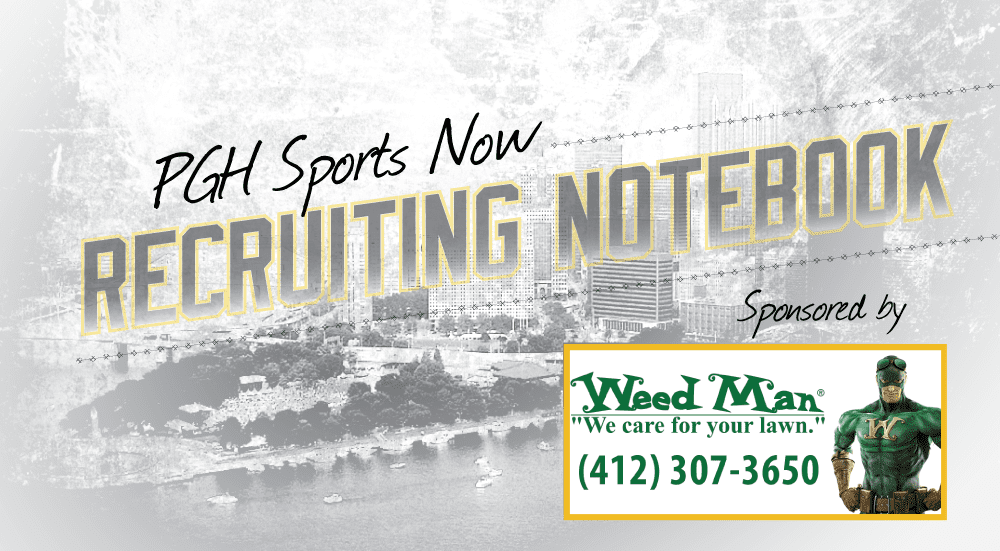 Stay updated on the news and notes of the day concerning Pitt, Duquesne, Robert Morris and the WPIAL in the Weed Man Recruiting Notebook. Spring is approaching and there's no better time than now to call Weed Man Pittsburgh at 412-307-3650 for all your lawn care services. Transform your lawn from a burden into a paradise with Weed Man.
UPDATE (7:28 PM)-
**2020 Virginia cornerback Joseph Johnson, who visited Pitt last weekend, made a verbal commitment today to NC State. Pitt was the first school to offer Johnson.
C O M M I T T E D lets go Wolfpack nation #1Pack1Goal pic.twitter.com/NWSBMyxYcc

— J3 (@joseph_johnson7) March 30, 2019
UPDATE (7:18 PM)-
**Hempfield 2020 defensive tackle Fintan Brose takes an unofficial visit to Vanderbilt, a school that he holds an offer from.
Had a great visit @VandyFootball thanks for having me down! #AnchorDown pic.twitter.com/nzDuhcluzo

— Fintan Brose (@brose_fintan) March 30, 2019
UPDATE (5:58 PM)-
**2020 LB/TE Brandon Lanier (6'3", 220) from Cincinnati, Ohio made an unofficial visit to Pitt. Lanier is still waiting for his first Power 5 offer.
Great Visit at Pitt today ! @CoachTimSalem @PittRecruiting pic.twitter.com/MPquf0CWm9

— Brandon Lanier (@BrandonLanier1) March 30, 2019
https://t.co/nigJOo1b6A Defensive highlights starts @ 6:30 💪🏽

— Brandon Lanier (@BrandonLanier1) November 10, 2018
UPDATE (5:48 AM)-
**Maryland 3-star 2020 defensive end Kendron Wayman (6'4", 215) visited Pitt today. Wayman holds offers from Pitt, Maryland and Temple.
UPDATE (5:25 PM)-
**Another Pitt target gets an offer from Penn State.
@Pitt_FB target from Ohio https://t.co/Wfyn7MpJO0

— Pittsburgh Sports Now (@PghSportsNow) March 30, 2019
UPDATE (4:49 PM)-
**Westinghouse 2020 DE/LB Dayon Hayes received a visit from Wake Forest while visiting this weekend. Hayes received his first offer from Pitt.
Truly blessed and thankful to receive a offer from Wake Forest University#GoDeacs @CoachCohenWake @210ths @WakeFB @RivalsFriedman #Hardwork #Focus pic.twitter.com/HMj8jUTzZd

— DayonHayes (@HayesDayon) March 30, 2019
UPDATE (4:43 PM)-
**Earlier this week, Aliquippa 2020 linebacker Zuriah Fisher received an offer from Pitt. Today, he gets another big one: Penn State.
Blessed to receive an offer from Penn State🔵⚪️🦁 #WeAre pic.twitter.com/cl11O12QbD

— Zuriah Fisher🦍 (@Zfish84) March 30, 2019
UPDATE (4:28 PM)-
Speedy Chester, VA cornerback Antonio Webb Jr. (2020 prospect) has informed me he will be making a return visit to #Pitt as soon as next week. @PghSportsNow

— Harry G. Psaros (@PittGuru) March 30, 2019
UPDATE (10:42 AM)-
**Look for Virginia 2020 cornerback Antonio Webb to come out with a Top 5 on Tuesday. We're very confident that Pitt will be included on this list.
who can make me an edit by tuesday ?

— Antonio Webb Jr (@Young11Hope) March 30, 2019
UPDATE (9:23 AM)-
Scrimmage #1 At Heinz field. There is no better place to be #H2P pic.twitter.com/lbSQA0uOBT

— Phil DeCapito (@CoachPDeCapito) March 30, 2019
UPDATE (9:16 AM)-
Getting ready for the post scrimmage snack….! #H2P pic.twitter.com/WfWPiz3JWG

— Tim Salem (@CoachTimSalem) March 30, 2019
UPDATE (9:07 AM)-
**Robert Morris is a finalist for a talented junior college player. AJ Bramah (6'7″, 185) from Sheridan College announced that he's down to a final two of Robert Morris and Loyola Marymount. Bramah is actually on his official visit to Robert Morris this weekend. He's a native of San Leandro, California and also holds offers from Arkansas, Nevada, Buffalo, East Carolina, Florida International, Iona, Missouri State and Stephen F. Austin.