The Frank Walker Law/PSN Daily Notebook: June 15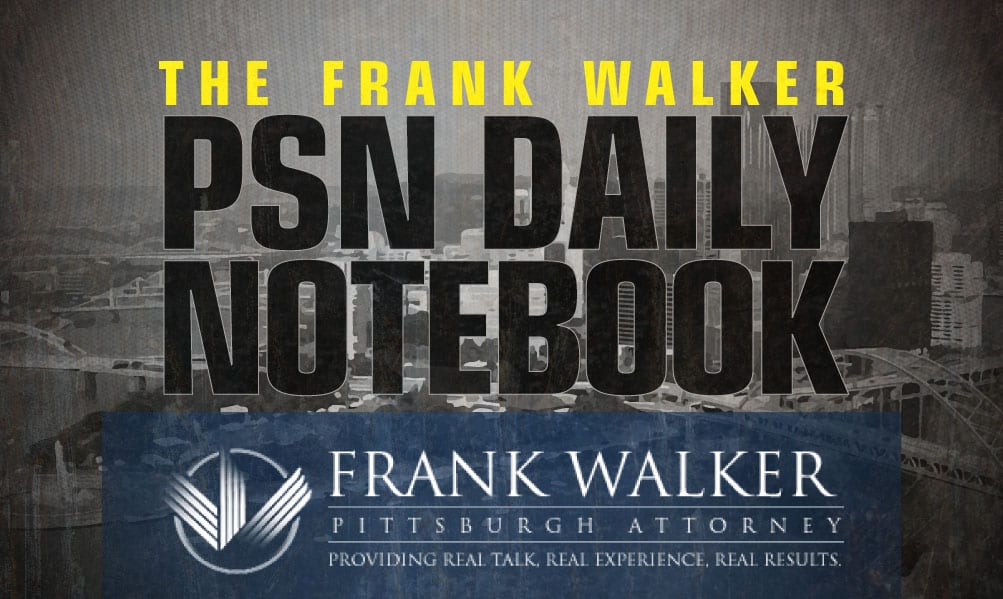 We're happy to announce that the PSN Daily Notebook is now being sponsored by Frank Walker, one of Pittsburgh and West Virginia's most respected criminal defense and injury lawyers. Mr. Walker has offices in Pittsburgh and Morgantown and has been named one of Top 100 National Trial Lawyers and is rated a perfect 10.0 Superb by Avvo for ethics, experience and results. To reach Mr. Walker, you can call 412-532-6805 or go to his website frankwalkerlaw.com.  For real talk, real experience and real results, contact Frank Walker Law.       
UPDATE (9:32 PM)-
6'4" SG Mark Armstrong @markarmstr0ng1 of @NY_Lightning & St. Peter's Prep
has heard from today:
Rutgers
Creighton
Seton Hall
VCU
Bryant
*Villanova
*Stanford
UVA
PENN
*Duquesne
Ohio State
*UCONN
Hofstra
Holy Cross
Dayton
Auburn
Miami
Kent State
Penn State
Xavier pic.twitter.com/lfkcT7aEGl

— 𝒜𝓃𝒹𝓇ℯ𝓌 𝒮𝓁𝒶𝓉ℯ𝓇 (@Andrew__Slater) June 16, 2020

UPDATE (9:12 PM)- 
**Pitt extends an offer tonight to 2022 4-star guard Chance Westry from Trinity High School in Camp Hull, Pennsylvania. 247 Sports rates Westry as one of the Top 20 sophomores in the country with offers from Syracuse, Florida, Georgetown, DePaul, Louisville, LSU, Michigan, Penn State, VCU and Virginia Tech.
Pittsburgh and Miami have now offered 4⭐️ 6'5" Chance Westry'22 @chancewestry1 of @NYRhoops pic.twitter.com/90byjIxKm0

— 𝒜𝓃𝒹𝓇ℯ𝓌 𝒮𝓁𝒶𝓉ℯ𝓇 (@Andrew__Slater) June 16, 2020

UPDATE (6:05 PM)- 
**2022 center Matthew Filipowski (6'10", 215) from Westtown, New York gets a call today from Pitt. Filipowski doesn't hold any power offers.
2022 center Matthew Filipowski just received a call from Pittsburgh. @MattFlip54

— Jacob Polacheck (@JacobPolacheck) June 15, 2020

UPDATE (5:55 PM)-
**On the day of their move to the Horizon League, Andy Toole and RMU offer two players in the Class of 2022: Guard Shane Lancaster from Bowie, Maryland and power forward AJ Clayton Roseville, Ohio. This is Lancaster's third D-1 offer, while Clayton holds offers from Saint Joseph's, Kent State, Cleveland State and Ohio U.
UPDATE (5:18 PM)-
Top 💯 Chisom Okpara'22 @chizokpara of @VermontAcademy & @NYRhoops Chisom got calls from Virginia Tech, Georgia, Vanderbilt, Pittsburgh, Brown (offered), Providence (previously offered), Seton Hall & ECU

Texts from Elon, BYU, Columbia, & Charlotte

Quintessential student-athlete pic.twitter.com/NVRMNc8ub6

— 𝒜𝓃𝒹𝓇ℯ𝓌 𝒮𝓁𝒶𝓉ℯ𝓇 (@Andrew__Slater) June 15, 2020

UPDATE (5:16 PM)-
Source: One ACC head men's basketball coach is set to make proposal this week to the rest of the coaches that all ACC schools play against HBCU's on Martin Luther King Day (Jan. 18, 2021) this season. Would be a very cool idea.

— Jeff Goodman (@GoodmanHoops) June 15, 2020

UPDATE (5:08 PM)-
Pitt and Providence are the latest programs to reach out to 2022 4⭐️ Christian Watson.

The 6'7 Wing's recruitment has exploded today with offers from:

Xavier
Georgetown
LaSalle
Rhode Island
Bryant pic.twitter.com/nZqATqXVZV

— Endless Motor Sports (@endless_motor) June 15, 2020

UPDATE (3:55 PM)-
**Pitt reaches out today to 2022 4-star shooting guard Judah Mintz (6'4″, 170) from Gonzaga High School in Washington DC. Mintz currently holds offers from Wake Forest, Virginia Tech, Maryland, Penn State, Georgetown, George Mason and Florida.
UPDATE (3:45 PM)-
**A second call from Duquesne to a player from St. Mary's Prep in Detroit as this time it's 2022 point guard Jason Drake. Per Endless Motor Sports.com, Drake was also contacted by Michigan, Toledo, Loyola (IL), Air Force, Belmont, LIU and Central Michigan.
UPDATE (3:11 PM)-  
**Detroit has been a place the Duquesne has had success recruiting and today they called a sophomore point guard from St. Mary's Prep in Detroit, Michigan.
2022 Kareem Rozier out of Orchard Lake St Marys HS has been contacted by the following programs since the direct contact period commenced:

Michigan
MSU
Miami (OH)
Duquesne
Loyola (IL)
CMU
Toledo
Grand Valley

Undervalued Guard is one of the premier playmakers in the Midwest pic.twitter.com/DdzzyIF4MU

— Endless Motor Sports (@endless_motor) June 15, 2020
UPDATE (2:40 PM)-  
**Josiah Harris is a talented sophomore forward from Cleveland, Ohio with offers from Duquesne, West Virginia, Ohio State, Akron, Cleveland State, Eastern Michigan, Kansas State, SMU and Wichita State.
2022 small forward Josiah Harris has heard from Appalachian State, Cincinnati, Ohio State, West Virginia, Dayton, Xavier, Arizona State, Iowa, Duquesne, Michigan and Virginia Tech since midnight. @Jojo_bean0730

— Jacob Polacheck (@JacobPolacheck) June 15, 2020
UPDATE (1:00 PM)- 
**Sophomore point guard Donald Hand Jr. (Virginia Beach, Virginia) received a call today from Keith Dambrot and Duquesne. Hand (6'5", 180) holds offers from Clemson, James Madison, Penn State, Hampton, TCU and VCU.
UPDATE (12:43 PM)-  
**Jeff Capel reaches out this morning to 2022 4-star forward Tyler Nickel from Elkton, Virginia per Jamie Shaw. Nickel (6'7", 200) holds offers from VCU, Penn State, James Madison, Virginia Tech and Old Dominion. Rivals rates Nickel as one of the Top 75 sophomores in the country.
UPDATE (12:20 PM)-  
**2022 SG Chris Moncrief from Kiski Prep picks up an offer today from Mount St. Mary's. Moncrief (6'5", 190) also holds offers from Robert Morris and Bryant.
UPDATE (10:49 AM)-
#PITT2L1TT 🟡🔵 pic.twitter.com/zarYM9XEt9

— 56 Nightmares🦍💪🏾 (@FugarMarco) June 15, 2020
UPDATE (10:10 AM)-
**PSN has learned that 2022 5-star point guard Jaden Bradley from the Cannon School in Concord, North Carolina received a call last night from Pitt head coach Jeff Capel. Bradley (6'2″, 160) is rated by 247 Sports as one of the Top 10 sophomores in the country with offers from North Carolina, Alabama, Auburn, Florida, Florida State, Kansas, Louisville, Michigan, Tennessee, Texas Tech, Wake Forest and Xavier.
UPDATE (9:08 AM)- 
**Pitt was able to land 3-star wing Noah Collier from Westtown High School last recruiting class and have their eyes on one of that schools top underclassman. PSN confirmed that the Pitt staff reached out at midnight to Derreck Lively. Per 247 Sports, Lively (6'11", 200) is already ranked as one of the Top 40 sophomores in the country with offers from Miami, Ohio State, Penn State, Providence, SMU, San Diego State, Temple, UCLA and Xavier.
UPDATE (8:55 AM)-
**Last night at Midnight, college basketball coaches were able to reach out to players in the Class of 2022 for the first time. We'll be mentioning local players and national players that received contact from Pitt, Duquesne and Robert Morris.
One of the local players that will be receiving national attention over the next couple of years is 2022 3-star point guard Mason Manning. Last night, Manning received an offer from Maryland, to go along with ones he previously received from LSU, Ole Miss, Baylor, Penn State, Bryant, Mississippi State, TCU and South Florida. Manning has also been receiving interest from Jeff Capel and Pitt. Along with the offer from Maryland, Manning also heard last night from Georgia Tech, Marquette, Ohio State, NC State, Maryland, Cincinnati, Florida State, St. John's and Virginia Tech.