The Frank Walker Law/PSN Daily Notebook: June 17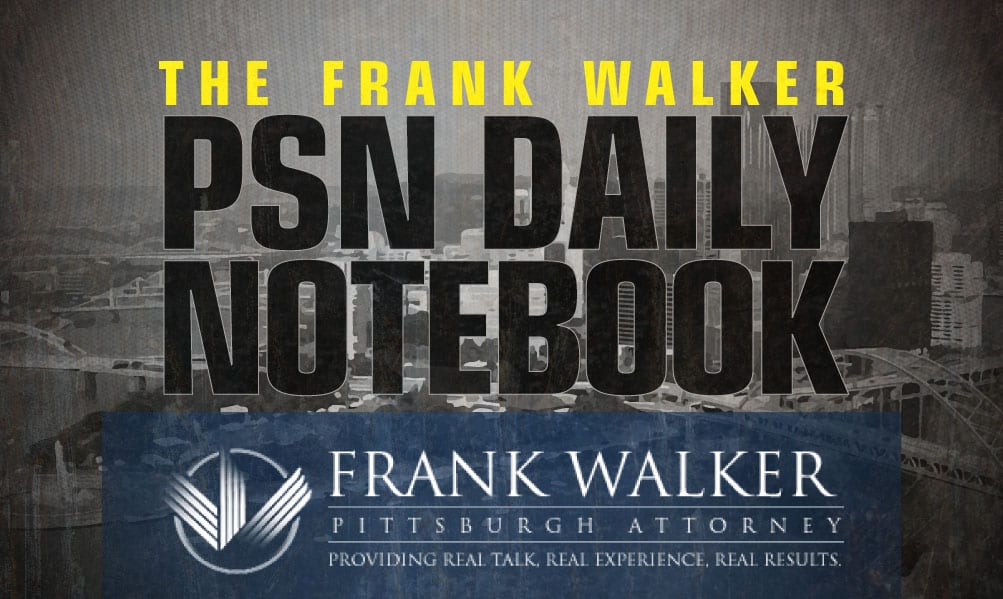 The PSN Daily Notebook is sponsored by Frank Walker, one of Pittsburgh and West Virginia's most respected criminal defense and injury lawyers. Mr. Walker has offices in Pittsburgh and Morgantown and has been named one of Top 100 National Trial Lawyers and is rated a perfect 10.0 Superb by Avvo for ethics, experience and results. To reach Mr. Walker, you can call 412-532-6805 or go to his website frankwalkerlaw.com. For real talk, real experience and real results, contact Frank Walker Law.
UPDATE (8:25 PM)- 
**Pine-Richland 2021 DE Miguel Jackson releases his Top 9.
Thank you again to all the schools who offered me.
Now it's time to focus…
Top 9‼️ pic.twitter.com/c49yjGplQ5

— Migo Jacks🧑🏿‍🎤 (@_mjjacks) June 18, 2020

UPDATE (7:50 PM)- 
**Jeff Capel extends an offer tonight to 2021 4-Star forward Samson Johnson (6'9", 195) from The Patrick School in Elizabeth, New Jersey. Johnson holds offers from UConn, Marquette, Miami, St. John's, Syracuse, Cincinnati and Xavier. Rivals rates Johnson as one of the Top 100 juniors in the country.
UPDATE (1:33 PM)- 
Updated odds to win ACC via @SuperBookUSA:

Clemson 1/6
Miami, UNC 12/1
FSU, Louisville, Virginia Tech 25/1
Pitt 60/1
NC State, Virginia 80/1
Duke, Georgia Tech, Wake Forest 200/1
BC, Syracuse 300/1

— Brett McMurphy (@Brett_McMurphy) June 17, 2020
UPDATE (1:25 PM)- 
**Robert Morris extends an offer to 2022 combo guard Devin Carney from Butler High School. Carney also holds offers from Bryant and St. Francis (PA).
2020 Season Highlights
@WPIALBasketball @StellarHoops https://t.co/ES9Zq0uz1P

— Devin Carney (@devin24carney_) April 2, 2020
UPDATE (1:07 PM)-
**An interesting development as Virginia 2021 safety Shawn Asbury receives an offer from in-state school Virginia Tech. If his offer from Pitt is committable, it should be an interesting battle for this talented safety.
UPDATE (11:30 AM)- 
** Pitt has offered Class of 2023 athlete Aaron Gates from Trinity Christian High School in Sharpsburg, Georgia. Gates is 6-foot, 155 pounds and also has offers from Kentucky, FIU and UNLV. Gates is also a baseball prospect.
Aaron Gates (2023 GA) showed some really athletic movements in the box today. Lots of confidence and easy barrel speed with his flat swing. Smoked a liner into LCF here. #PGDeepSouth pic.twitter.com/XL4U8APdoI

— Perfect Game Tournaments (@PG_Tourney) June 4, 2020
UPDATE (11:08 AM)- 
**Pitt becomes the first school to offer freshman wide receiver Takare Lipscomb (6'2", 170) from Carrollton, Georgia. Lipscomb received the news from Archie Collins.
UPDATE (10:08 AM)- 
**2021 3-star cornerback Kani Walker makes a commitment this morning to Louisville. The Georgia native is someone that had been in recent contact with Archie Collins and Pitt.
https://twitter.com/kaniwalker9/status/1273253989161852934?s=21

UPDATE (9:55 AM)- 
**Congrats to Chartiers Valley 2022 guard Aislin Malcolm for receiving an offer today from Columbia.
So grateful to receive an offer from Columbia University @CULionsWBB pic.twitter.com/DCdkZRMIba

— Aislin Malcolm (@AislinMalcolm) June 17, 2020
UPDATE (9:41 AM)-
Lil bro what's good!!!!!!💛💙 @Pitt_MBB get him on board, I'll look after him. #Pitt nation show some love, let him see how we get down in the Burgh. #H2P #SteelCity https://t.co/jTxT1AbmVA

— VD (@VeeDee_II) June 17, 2020

UPDATE (8:40 AM)-
**The offers continue to come in for First Love 2022 point guard Mason Manning, a day after receiving ones from Pitt and Georgia Tech, Manning's last offer comes from Illinois.

UPDATE (7:40 AM)-
**Per RHoops Recruiting, Pitt has contacted 2022 6'3″ PG Denver Anglin from Gill St. Bernards in Montclair, New Jersey. Anglin holds offers from SMU, Siena, Ole Miss, New Mexico, George Washington and a few Ivy League schools.

UPDATE (7:35 AM)-
**Per college basketball Insider Andrew Slater, Pitt, along with a number of other programs, have reached out to 2022 shooting guard Jaquan Sanders from Our Savior Lutheran School in Bronx, New York. Sanders holds early offers from UConn, Seton Hall, St. John's and Hofstra.