The Frank Walker Law/PSN Daily Notebook: June 18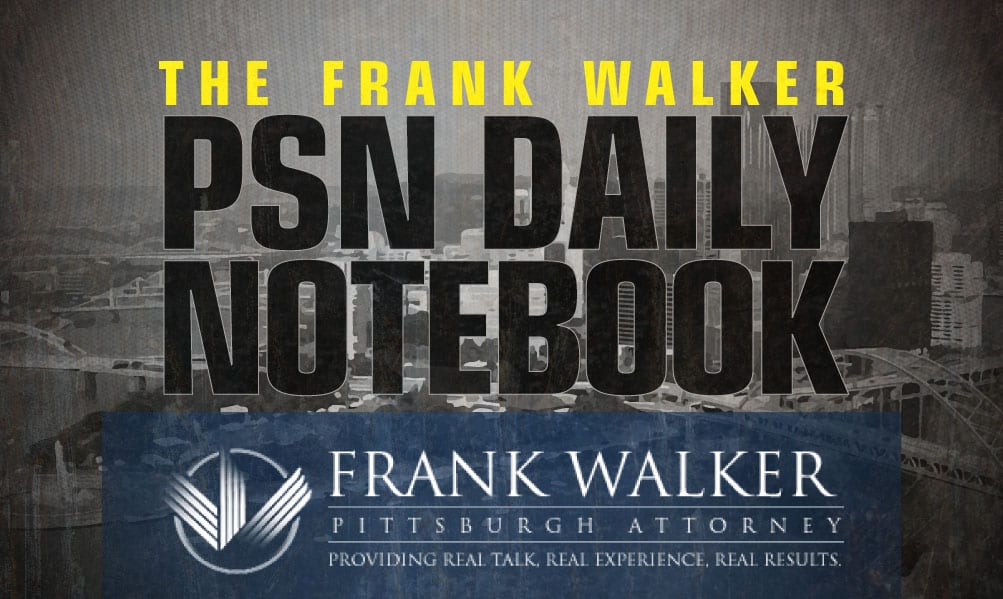 The PSN Daily Notebook is sponsored by Frank Walker, one of Pittsburgh and West Virginia's most respected criminal defense and injury lawyers. Mr. Walker has offices in Pittsburgh and Morgantown and has been named one of Top 100 National Trial Lawyers and is rated a perfect 10.0 Superb by Avvo for ethics, experience and results. To reach Mr. Walker, you can call 412-532-6805 or go to his website frankwalkerlaw.com. For real talk, real experience and real results, contact Frank Walker Law.
UPDATE (8:48 PM)-
2022 Post Houston Emory of @BlueRidgeHoops/@TeamLoadedBBall tells me that Air Force, Cincinatti, Elon, Holy Cross, Lehigh, Liberty, Navy, Pitt, Princeton, Richmond, and URI have reached out so far. Bryant & Wake Forest have both offered him this week.

6'10 with a solid skillset.

— Tom Keller (@_TomKeller) June 18, 2020
UPDATE (6:40 PM)-
https://twitter.com/dorienford_21/status/1273741874554122241?s=21

UPDATE (4:14 PM)-
2022 4⭐️ Josiah Harris tells me Appalachian State, Cincinnati, Ohio State, West Virginia, Dayton, Xavier, Arizona State, Iowa, Duquesne, Michigan, Kansas State, and Virginia Tech have all reached out to him.

Expect more schools to start getting involved. pic.twitter.com/Nu1hjqGi35

— College Basketball and Recruiting (@EditsRecruiting) June 18, 2020

UPDATE (4:00 PM)- 
**Pitt makes the Top 6 for 2021 3-star OT Delfin Castillo (6'5", 340) from St. Frances Academy in Baltimore, Maryland.
Top 6 🙏 pic.twitter.com/sYMDsmnca5

— Delfin X. Castillo (@DelfinCastillo_) June 18, 2020

UPDATE (12:06 PM)-
The UPMC Cooper Fieldhouse is really coming along! Exterior brick work being revealed, view from the top, new weight room, and full exterior view. This will be an amazing addition to campus. #GoDukes pic.twitter.com/pnb60Yo8ED

— Mike Scerbo (@CompliantMike) June 18, 2020
UPDATE (10:03 AM)-
Duke's Mayo Bowl is new name for Belk Bowl. The Charlotte bowl will feature ACC team vs. either SEC or Big Ten team

— Brett McMurphy (@Brett_McMurphy) June 18, 2020
UPDATE (9:58 AM)- 
When you become lazy,it's disrespectful to those who believe in you 😤💪🏾……. @CoachHarriott @STA_Football @Nate_Garner_75 @Pitt_FB @CoachDuzzPittFB @CoachPartridge @CoachBorbs pic.twitter.com/PsZtJ3ZSxE

— 56 Nightmares🦍💪🏾 (@FugarMarco) June 16, 2020
UPDATE (9:33 AM)-
ACC will not hold football media days in Charlotte next month, instead opting for a virtual media days format, sources told @Stadium. None of the 10 FBS conference football media days will be held in person this summer

— Brett McMurphy (@Brett_McMurphy) June 18, 2020
UPDATE (8:40 AM)-
*The Duquesne men's basketball staff have reached out to 2022 shooting guard Kyler Vanderjagt from Northview High School in Grand Rapids, Michigan. Per @Endless_Motor, Vanderjagt (6'5″, 190) has a great stroke from the outside. On Monday, Vanderjagt received his first two offers: Grand Valley State and the University of Denver.