The Frank Walker Law/PSN Daily Notebook: July 9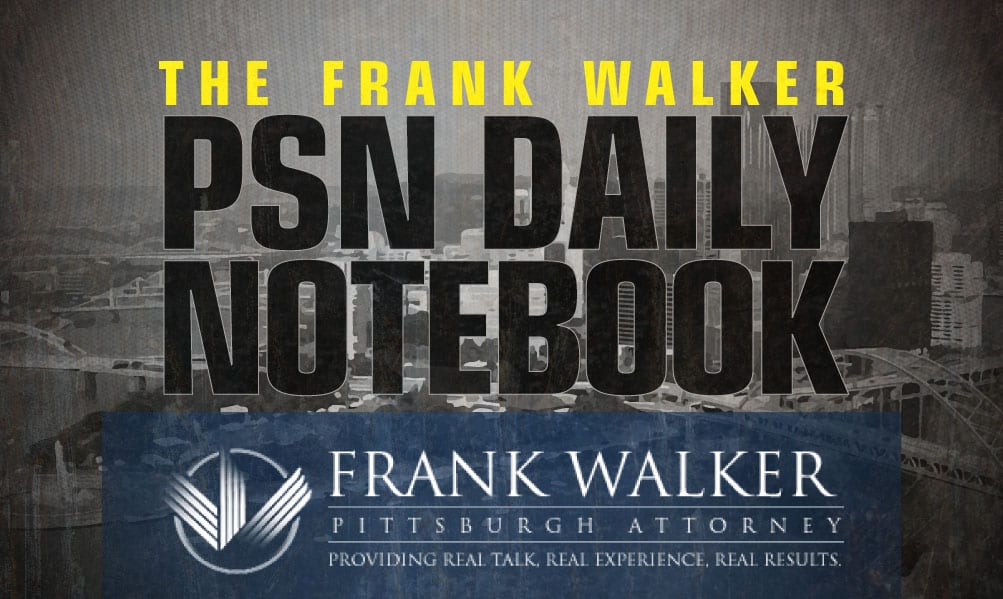 The PSN Daily Notebook is sponsored by Frank Walker, one of Pittsburgh and West Virginia's most respected criminal defense and injury lawyers. Mr. Walker has offices in Pittsburgh and Morgantown and has been named one of Top 100 National Trial Lawyers and is rated a perfect 10.0 Superb by Avvo for ethics, experience and results. To reach Mr. Walker, you can call 412-532-6805 or go to his website frankwalkerlaw.com. For real talk, real experience and real results, contact Frank Walker Law.
UPDATE (4:53 PM)- 
**The latest offer for Avonworth 2021 TE Trevor Faulkner comes from Lehigh.
Very excited to receive an offer from @LehighFootball ! @Coach_DiMike @wpialsportsnews @PaFootballNews pic.twitter.com/DO45LCYegj

— Trevor Faulkner (@_TrevorFaulkner) July 9, 2020
UPDATE (4:01 PM)-
#ACC commissioner John Swofford has said that if league adopts an all-conference football schedule for 2020, Notre Dame likely will be in mix. Irish already have six ACC opponents on docket.

— David Teel (@ByDavidTeel) July 9, 2020

UPDATE (2:51 PM)-
Urban Meyer: 'No chance' college football moves to spring https://t.co/eYpFqSVsbq

— FootballScoop (@FootballScoop) July 9, 2020
UPDATE (2:37 PM)-
Extremely blessed and excited to announce my commitment to further my baseball and academic career at the University of Pittsburgh! I want to thank my family, friends, and coaches for the support! @AndersonMonarch @Pitt_BASE @MLBRBI @MLBDevelops @ftrstarsseries @SCHBlueDevils pic.twitter.com/s03y8jmCGu

— Jonathan Bautista (@Jonathan5_15) July 9, 2020

UPDATE (2:33 PM)-
BREAKING: Frisco (Texas) CB Chase Lowery has chosen #Arkansas over Michigan State, Texas Tech, Pitt, Purdue, others.

FREE STORY: https://t.co/26rVOa8vyC #HawgSports #Razorbacks #WPS pic.twitter.com/0j3QuDBoOQ

— Danny West (@DannyWest247) July 9, 2020
UPDATE (2:28 PM)-
Franck Kepnang will remain in Class of 2021 and won't reclass
https://t.co/n92v1ty3S3 @kep_dunker @PSACardinals @Westtownhoops

— Adam Zagoria (@AdamZagoria) July 9, 2020
UPDATE (11:44 AM)-
Big shout out to South Fayette Football/Ivy League legend and @Buccaneers wide receiver @jwat05 for working with me and @josh_casilli these past 2 days. Nothing like learning from the best. #NextGen @wpialsportsnews @rossisfcoach pic.twitter.com/FltvRMnzA9

— Charley Rossi (@CharleyRossi1) July 9, 2020
UPDATE (10:14 AM)-
Helmet fittings this year!
-stools are 6ft apart marked w/ tape
-after each fitting stools are wiped w/ Zoom wipes from @DuffysTriC
-we sanitize our hands before & after each fitting
-inside labeled w/ @HealyAwards decals
-SA's & staff wear a mask 😷
-4 SA's at a time #H2P pic.twitter.com/OG3KmKKGJa

— PITT Football Equip (@PITTequipment) July 9, 2020
UPDATE (10:03 AM)-
Congrats to Gary Satterwhite, Farrell (Pennsylvania) C/DT on making the @scoutSMART_ High School Football America Academic All-American Watch List. https://t.co/8MeZS8yQa5 pic.twitter.com/Tfz2Sb5c1k

— High School Football America (@HSFBamerica) July 9, 2020
UPDATE (9:55 AM)-

How many linemen could do @FloydMayweather sit-ups? 🤯

(via @210ths | @AaronDonald97) pic.twitter.com/XlWvbljSVG

— B/R Gridiron (@brgridiron) July 8, 2020
UPDATE (9:13 AM)-
I'll gladly take @CoachDuzzPittFB ! https://t.co/hmYCRoUjO9

— Trevion Stevenson (@tjstevenson11) July 9, 2020
UPDATE (7:38 AM)-
https://twitter.com/tjstevenson11/status/1280912043181330437?s=21