The Frank Walker Law/PSN Daily Notebook: July 10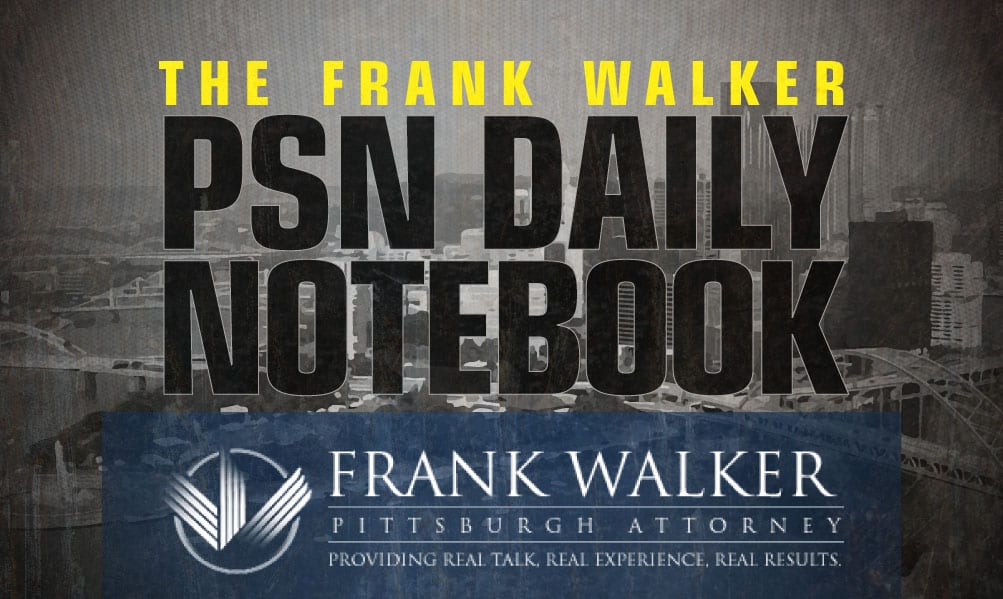 The PSN Daily Notebook is sponsored by Frank Walker, one of Pittsburgh and West Virginia's most respected criminal defense and injury lawyers. Mr. Walker has offices in Pittsburgh and Morgantown and has been named one of Top 100 National Trial Lawyers and is rated a perfect 10.0 Superb by Avvo for ethics, experience and results. To reach Mr. Walker, you can call 412-532-6805 or go to his website frankwalkerlaw.com. For real talk, real experience and real results, contact Frank Walker Law.
UPDATE (8:28 PM)-
One sleeper QB that will gain traction after NFL scouts dig into tape is Pitt's Kenny Pickett. Tough & instinctive guy that plays the QB position well. @seniorbowl has been fan of Pickett since seeing him at Manning Camp last year. He'll play on Sundays. #TheDraftStartsInMOBILE pic.twitter.com/UzeszcYgCd

— Jim Nagy (@JimNagy_SB) July 10, 2020
UPDATE (8:00 PM)- 
**Class of 2022 Mount Lebanon wing Ashleigh Connor has earned an offer from Xavier, her first Division I offer.
I am so excited to receive and offer from @XavierWBB. Thank you @moore_mel @C_Finley @CoachLesterRowe pic.twitter.com/jEzdiIEIWa

— Ashleigh Connor (@aashleighconnor) July 10, 2020
UPDATE (4:09 PM)- 
**Pitt baseball reportedly add former Cincinnati Reds catcher Devin Mesoraco to its coaching staff as a volunteer assistant.
COACHING NEWS: @Pitt_BASE will hire former big league catcher Devin Mesoraco as its newest volunteer assistant, sources tell @d1baseball. Mesoraco is certainly a really nice pickup for #Pitt in a volunteer role. #ACC

— Kendall Rogers (@KendallRogers) July 10, 2020

UPDATE (4:02 PM)-
#BlackLivesMatter https://t.co/4jwY2Kxxzm

— Jeff Capel (@jeffcapel) July 10, 2020
UPDATE (3:59 PM)-
The ACC says they will announce their Fall athletics plan in late July https://t.co/VC9dEEbA5w

— FootballScoop (@FootballScoop) July 10, 2020
UPDATE (3:50 PM)- 
**Former Sharpsville 4-star offensive tackle Ja'Quay Hubbard has announced he's transferring from Virginia. Before committing to Virginia, Hubbard held an offer from Pitt.
After a genuine and considerate conversation with my close family, I have decided to enter my name in the NCAA Transfer Portal with 4 Years of eligibility. UVA is a remarkable program and is Hardworking, this is the best thing for me be to great. My Recruitment is now open✍🏽🤟🏽❤️ pic.twitter.com/eYIbYWv0hw

— Ja'Quay hubbard (@Jhubb3366) July 10, 2020
UPDATE (1:45 PM)-
**2021 Seneca Valley athlete Ethan West received an offer from Lafayette.
Very blessed to receive an offer from Lafayette!! Big thanks to @CoachJMGarrett @coachtmcentire @CoachRickyBrown and the rest of the staff for this great opportunity! pic.twitter.com/QIci1enekG

— Eᴛʜᴀɴ Mᴀʟᴀᴄʜɪ Wᴇsᴛ (@ethanwest21) July 10, 2020
A 6-foot-3, 220-pound hybrid linebacker/safety, West also has offers from Army, Colgate, Duquesne, New Hampshire and Richmond.
UPDATE (11:07 AM)-
#PITT2L1TT 💛💙 @CoachDuzzPittFB #Hail2Pitt 🐆❗️ pic.twitter.com/X5atQ3Qrfb

— Khalil Anderson ✞ (@_KhalilAnderson) July 10, 2020
UPDATE (10:57 AM)- 
**Pitt 2021 commitment CB Khalil Anderson continues to pick up Power 5 offers, this time from Minnesota.
✞
Blessed and Humbled for the Offer @Haynes_Gophers @GopherFootball #Gophers 〽️ pic.twitter.com/UoIilt5XYm

— Khalil Anderson ✞ (@_KhalilAnderson) July 10, 2020

UPDATE (10:15 AM)-
The ACC has put tickets on sale for the 2020 ACC Championship Game in Charlotte.
They're offering refunds if the game is not played or played without fans, but not if the game is rescheduled.
https://www.ticketmaster.com/acc-football-championship-game/event/2D0058E1817F16CD?mc_cid=d9036ddbf7&mc_eid=28c2aab6a4
UPDATE (8:10 AM)-
Darrelle Revis (Jets), Aaron Donald (Rams) and Larry Fitzgerald (Cardinals) have all been named Player of the Decade for those teams by ESPN. #PITT #WPIAL pic.twitter.com/jeXRRZdKRI

— Brad Everett (@BREAL412) July 10, 2020
UPDATE (8:08 AM)-
Here's a look at my top 5 @ACCFootball Centers going into the 2020 season @jimbo_slice123 @alindstrom7070 @BrockHoffman76 #ZachTom@JackWohlabaugh

Who did I miss? pic.twitter.com/6e6OOhseAt

— Eric Mac Lain (@EricMacLain) July 9, 2020