The Frank Walker Law/PSN Daily Notebook: July 11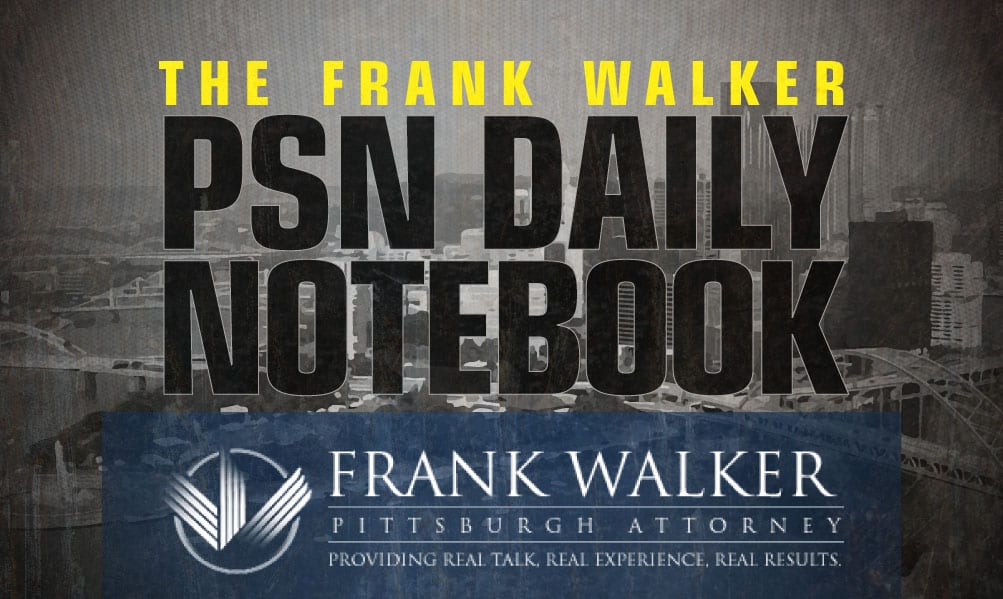 The PSN Daily Notebook is sponsored by Frank Walker, one of Pittsburgh and West Virginia's most respected criminal defense and injury lawyers. Mr. Walker has offices in Pittsburgh and Morgantown and has been named one of Top 100 National Trial Lawyers and is rated a perfect 10.0 Superb by Avvo for ethics, experience and results. To reach Mr. Walker, you can call 412-532-6805 or go to his website frankwalkerlaw.com. For real talk, real experience and real results, contact Frank Walker Law.
UPDATE (9:28 PM)-
PITT2L1TT! H2P! CAN'T WAIT TO GET THERE!! @CoachDuzzPittFB @CoachTimSalem @CoachBorbs @Pitt_FB pic.twitter.com/ETMU3Akabp

— Trey Andersen (@TreyAndersen87) July 12, 2020

UPDATE (5:37 PM)- 
**Gateway 2021 4-star athlete Derrick Davis will reduce his long list of offers tomorrow.
Top 7 tomorrow !!

— Derrick Davis™🎬 (@D_Dav1s) July 11, 2020
UPDATE (4:04 PM)-
Amiyah Reynolds (@Amiyah_Reynolds) of @MICROSSOVER 16U had herself a game yesterday making play after play.

She's only about to be a sophomore and holds offers from Xavier, Purdue, Maryland, Illinois, Penn, Yale, Michigan, Missouri, & Pittsburgh. 👏🏿 pic.twitter.com/fdL6AHXYNq

— BROLYLEWISMEDIA (@brolymedia) July 11, 2020

UPDATE (10:55 AM)-
New Scouting Report Add: Bryce Hargrove (@BryceDeenie), OG | @Pitt_FB

~Consistent staple of OL
~Tremendous power to move defenders
~Immense lower body strength
~Good spatial awareness & FBI
~All-@ACCFootball selection

Get The 2021 Virtual #NFLDraft Bible https://t.co/iPZimnEln4 pic.twitter.com/JpmapoTGqQ

— NFL Draft Bible on Sports Illustrated (@NFLDraftBible) July 10, 2020
UPDATE (10:38 AM)-
One sleeper QB that will gain traction after NFL scouts dig into tape is Pitt's Kenny Pickett. Tough & instinctive guy that plays the QB position well. @seniorbowl has been fan of Pickett since seeing him at Manning Camp last year. He'll play on Sundays. #TheDraftStartsInMOBILE pic.twitter.com/UzeszcYgCd

— Jim Nagy (@JimNagy_SB) July 10, 2020
UPDATE (9:17 AM)-
PIAA Executive Director Bob Lombardi has a message for everyone….. https://t.co/4BxTh2Pg6I pic.twitter.com/cjquefBksT

— Pa Football News (@PaFootballNews) July 11, 2020
UPDATE (9:14 AM)- 
**Pitt freshman wide receiver Jaylon Barden.
Grinding #H2P💙💛 pic.twitter.com/Dp6j1GlkDg

— Ben 10♻️ (@jbden10) July 10, 2020