The Frank Walker Law/PSN Daily Notebook: August 8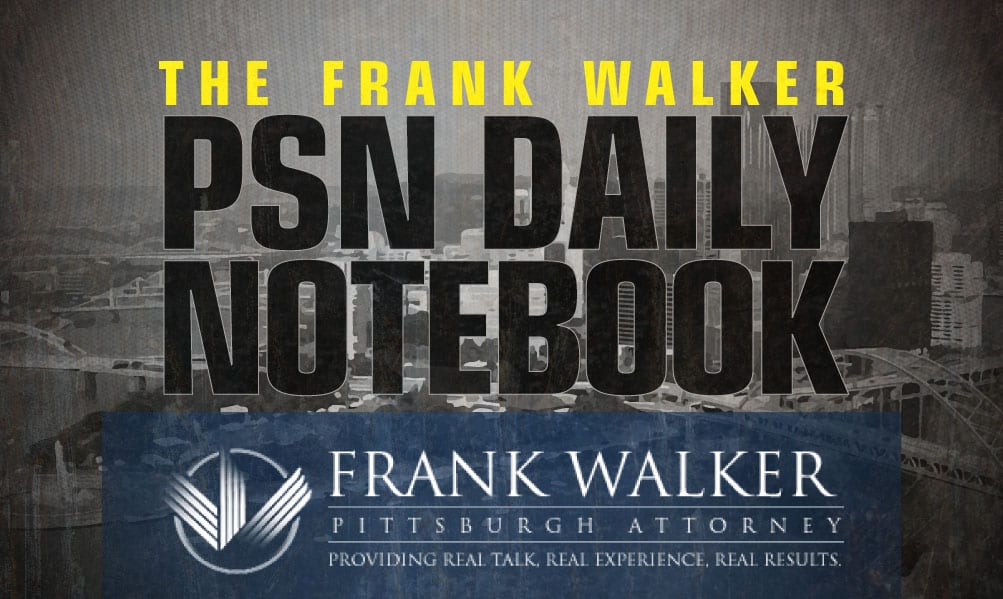 The PSN Daily Notebook is sponsored by Frank Walker, one of Pittsburgh and West Virginia's most respected criminal defense and injury lawyers. Mr. Walker has offices in Pittsburgh and Morgantown and has been named one of Top 100 National Trial Lawyers and is rated a perfect 10.0 Superb by Avvo for ethics, experience and results. To reach Mr. Walker, you can call 412-532-6805 or go to his website frankwalkerlaw.com. For real talk, real experience and real results, contact Frank Walker Law.
UPDATE (1:37 PM)-
Hardest worker on the planet 🐐 https://t.co/m0y2j5YMRA

— Todd Sibley Jr. (@T_Sib23) August 8, 2020

UPDATE (1:25 PM)-
Was an honor big bro 🤞🏽 You paved the way man, thank you‼️ https://t.co/KgZfkXmIVy

— Tyler Bentley (@Tbcheese45) August 8, 2020
Love you 4L like my fathers kid!🖤🤞🏾 https://t.co/Cf0zbMFBzf

— JPinny🦈 (@Jason_Pinnock) August 8, 2020
UPDATE (1:22 PM)-
One of the hardest workers I know. Preciate you teaching me more about the game and making me a better player. Good luck brotha 💪🏼 @JaylenTwyman https://t.co/3Eggfbo6MH

— Noah Palmer (@noahpalmer_45) August 8, 2020
UPDATE (1:17 PM)-
Love you JT. Always will. https://t.co/BzmMQG3Png

— Charlie Partridge (@CoachPartridge) August 8, 2020
UPDATE (1:09 PM)-
New Season 🔄 New Numbers

2020 Pitt Football Camp Rosterhttps://t.co/HHS62dR7pe#H2P pic.twitter.com/C7xvzH4gb2

— Pitt Football (@Pitt_FB) August 7, 2020
UPDATE (10:05 AM)- 
**Congrats to Plum 2021 LB/TE Max Matolcsy for verbally committing this morning to Penn.
Committed #GoQuakers 🔴🔵 @CoachDupont @CoachPriore pic.twitter.com/q5ErdwxNp7

— Max Matolcsy (@MaxMatolcsy) August 8, 2020
Year 3💫
(Repost because it got deleted) pic.twitter.com/98h0wxo8cc

— Max Matolcsy (@MaxMatolcsy) April 3, 2020
UPDATE (9:59 AM)-
Pittsburgh Panthers safety Paris Ford is a difference maker https://t.co/mfyMYEXGzj

— Pro Football Network (@PFN365) August 8, 2020

UPDATE (9:57 AM)-
⚪ DT Spotlight ⚪

Keyshon Camp – Pittsburgh

• Camp excels vs the run, he clogs up running lanes and does more than the stats will show. In his career he has 34 Tackles, 4 Tackles for Loss, 2.5 Sacks and 4 Pass Breakups. pic.twitter.com/vJcvWfB8mu

— NCAAF Nation (@NCAAFNation247) August 7, 2020
UPDATE (9:26 AM)-
Love being back around our Defense! https://t.co/Satyk7PqDU

— Dave Plungas (@CoachPlungasRMU) August 8, 2020