The Frank Walker Law/PSN Daily Notebook: October 20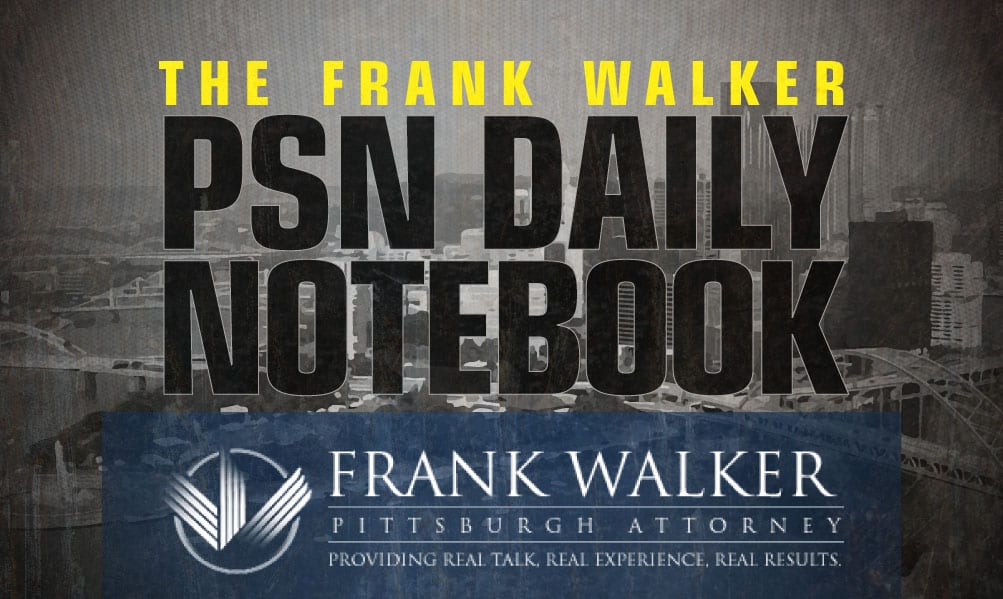 The PSN Daily Notebook is sponsored by Frank Walker, one of Pittsburgh and West Virginia's most respected criminal defense and injury lawyers. Mr. Walker has offices in Pittsburgh and Morgantown and has been named one of Top 100 National Trial Lawyers and is rated a perfect 10.0 Superb by Avvo for ethics, experience and results. To reach Mr. Walker, you can call 412-532-6805 or go to his website frankwalkerlaw.com. For real talk, real experience and real results, contact Frank Walker Law.
Update (9:21 PM)-  
**Former Central Valley star Robert Foster has a new home as he's moving from the Green Bay practice squad to Washington's 53 man roster.
Source: The Washington Football Team is expected to sign former Alabama wide receiver Robert Foster.

Will be signed to the team's active roster. He'd spent the beginning part of this season on the Packers practice squad after two seasons with the Bills.

— Matt Zenitz (@mzenitz) October 21, 2020
Update (8:33 PM)-
Fact🤞 https://t.co/GuzMuWxKow

— Ben 10♻️ (@jbden10) October 21, 2020
Update (5:24 PM)-  
**Former Pitt DE Jabaal Sheard is back on an NFL 53 man roster.
Giants signed Jabaal Sheard off Jaguars' practice squad

— Aaron Wilson (@AaronWilson_NFL) October 20, 2020
Uodate (2:53 PM)-
Highest-graded pass-rushers

1. Elijah Ponder, Cincinnati – 92.1
2. Nik Bonitto, Oklahoma – 90.5
3. Tarron Jackson, Coastal – 90.4
3. Rashad Weaver, Pitt – 90.4 pic.twitter.com/1ZNf1TTrlt

— PFF College (@PFF_College) October 20, 2020
Update (12:00 PM)- 
**Once again, a national NFL Mock Draft has two Pitt Panthers getting selected in the 1st Round.
Latest 2021 NFL Mock Draft includes run on playmakers: https://t.co/yxWKpMTMec pic.twitter.com/WRTQ6JpRCR

— 247Sports (@247Sports) October 20, 2020
Update (10:31 AM)-
Pitt offers North Allegheny sophomore point guard Jasmine Timmerson. She was impressive as a freshman when she helped NA win the WPIAL Class 6A title. https://t.co/XpwppkW1ne

— Brad Everett (@BREAL412) October 19, 2020

Update (9:47 AM)-
Why isn't @LRiddickESPN a GM Running a @nfl franchise!!!!! He's smart,well respected,he's well connected and he's played the game. 🤷🏾🤷🏾🤷🏾🤷🏾🤷🏾🤷🏾🤷🏾🤷🏾🤷🏾🤷🏾🤷🏾

— COACH PRIME (@DeionSanders) October 20, 2020
Update (9:42 AM)- 
**Offers continue to come in for First Love 2021 forward Mustapha Amzil as the latest comes this morning from Kansas State.
'21 Mustapha Amzil(@MustaphaAmzil_ ) has received an offer from Kansas State #TheLoveWayy #BestIntheBurgh pic.twitter.com/wmMd11yn6Z

— First Love Hoops (@Firstlove_hoops) October 20, 2020

Update (8:52 AM)- 
**ICYMI, last night South Fayette 2021 OT Ryan O'Hair received his first FBS D-1 offer.
After a great conversation with @GreenWaveFB @CoachWEFritz @CoachCKennedy , I am honored to announce that I have received my first FBS Division 1 offer from Tulane University!! Thank you for the opportunity!!!@CoachP_eterson @American_FB #Good2Great #RollWave pic.twitter.com/vzJqwgv7UJ

— Ryan O'Hair (@ryan_ohair) October 20, 2020