The Frank Walker Law/PSN Daily Notebook: October 21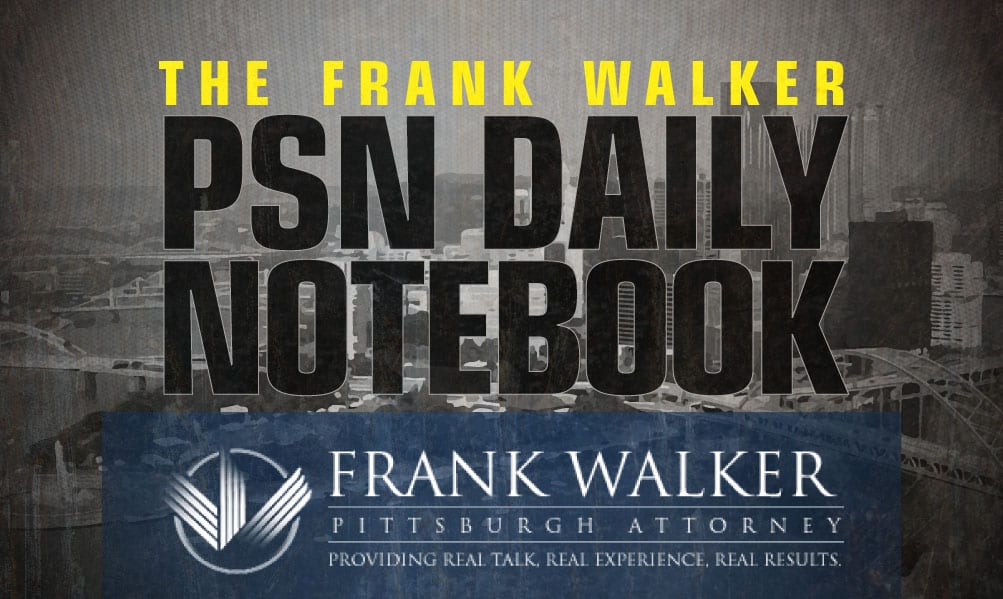 The PSN Daily Notebook is sponsored by Frank Walker, one of Pittsburgh and West Virginia's most respected criminal defense and injury lawyers. Mr. Walker has offices in Pittsburgh and Morgantown and has been named one of Top 100 National Trial Lawyers and is rated a perfect 10.0 Superb by Avvo for ethics, experience and results. To reach Mr. Walker, you can call 412-532-6805 or go to his website frankwalkerlaw.com. For real talk, real experience and real results, contact Frank Walker Law.
Update (8:31 PM)- 
**Shenango High School 2021 RB/MLB Reis Watkins receives a PWO offer from Pitt.
First 4 games:
800 rushing yards, 13 touchdowns
(Only played the first half of 3 games)@Cover3_ATH @KeystoneRecruit @Mark61Ross @Mark61Ross @WPAFootball @wpialsportsnews @WPIAL_Blitz https://t.co/HYpgmyBwEn

— watkins_4 (@rwatkins644) October 4, 2020
Blessed to receive a PWO from Pitt!! pic.twitter.com/WiPU4Vkz0y

— watkins_4 (@rwatkins644) October 21, 2020

Update (8:05 PM)- 
**Congrats to Belle Vernon 2022 LB Cole Weightman who was raised to a 3-star recruit by 247 Sports.
https://twitter.com/cole_weightman/status/1319055582666653700?s=21

Update (7:55 PM)- 
**Nik McMillan is a 2022 wide receiver from Canisius High School in Buffalo, New York. McMillan (6'1", 175) holds offers from Akron, Buffalo, Central Michigan, UMass and Toledo.
https://twitter.com/nikmcmillan2/status/1319062425166139394?s=21
https://twitter.com/nikmcmillan2/status/1319063924638126080?s=21
Update (6:50 PM)-
Pitt will not allow public ticket sales for its volleyball games at Fitzgerald Field House this weekend, despite being permitted to have a total of 824 people at the facility, according to the 10% of capacity rule for sports venues under 10,000-seat total capacity in Pennsylvania Governor Tom Wolf's current COVID-19 mitigation plan.
The Panthers will allow guests of student-athletes and the university to attend, according to a release on Wednesday.
The No. 10 Panthers are hosting No. 6 Louisville for a pair of matches this weekend, at 7 p.m. on Friday and 3:30 p.m. on Sunday. They will be the final two matches of the fall season for the Panthers, with more competition expected in the spring.
Update (5:48 PM)-
Mustapha Amzil, a 6'10 SF/PF playing for @Firstlove_hoops (PA) just picked up an offer from DePaul.

— THE MILLER REPORT ™️ (@Miller_Report) October 21, 2020
Update (4:48 PM)-
15 emerging college football stars it's time to pay attention to.

Via @bmarcello https://t.co/3t7cLDbplQ pic.twitter.com/QkVZZZceEL

— 247Sports (@247Sports) October 21, 2020

Update (4:13 PM)-
Pitt has canceled its women's soccer match scheduled for Sunday at Syracuse, a team spokesperson told PSN.
The ACC recently voted to reduce the number of competitions for the 2020-1 season from 20 to 16. Pitt had 15 scheduled, meaning they would have only had one to play in the spring.
Update (1:36 PM)-
Pine-Richland and North Allegheny still 4-5 in USA Today's regional rankings. #WPIAL pic.twitter.com/vWs2O0PRKA

— Brad Everett (@BREAL412) October 21, 2020
Update (1:13 PM)- 
**Despite the current 3 game losing streak and a challenging remaining schedule, CBS Sports Jerry Palm still has Pitt heading to a bowl game over the holidays. Palm has Pitt heading to the newest bowl game to take on a familiar name.
CBS Sports reveals new bowl projections: https://t.co/5sb2G2PNqp pic.twitter.com/hcE0p6aTzd

— 247Sports (@247Sports) October 21, 2020
Update (10:52 AM)-
— Tom Loy (@TomLoy247) October 21, 2020
Update (10:46 AM)-
10. Ian Book, Notre Dame
6. Kenny Pickett, Pittsburgh@PFF_Anthony ranks all 15 ACC starting quarterbacks⬇️https://t.co/qRyzGf9qqp

— PFF College (@PFF_College) October 21, 2020
Update (6:30 AM)-
Future #Pitt QB Nate Yarnell and his mother. #H2P https://t.co/Z4yDnkzXhW

— Harry G. Psaros (@PittGuru) October 20, 2020
Update (6:21 AM)- 
**Two Pitt Panthers projected to go in the 1st round, including one in the Top 10.
Bailey's First Round 2021 NFL Mock Draft https://t.co/W1qMqNsMYa

— Pro Football Network (@PFN365) October 21, 2020