The Frank Walker Law/PSN Daily Notebook: October 22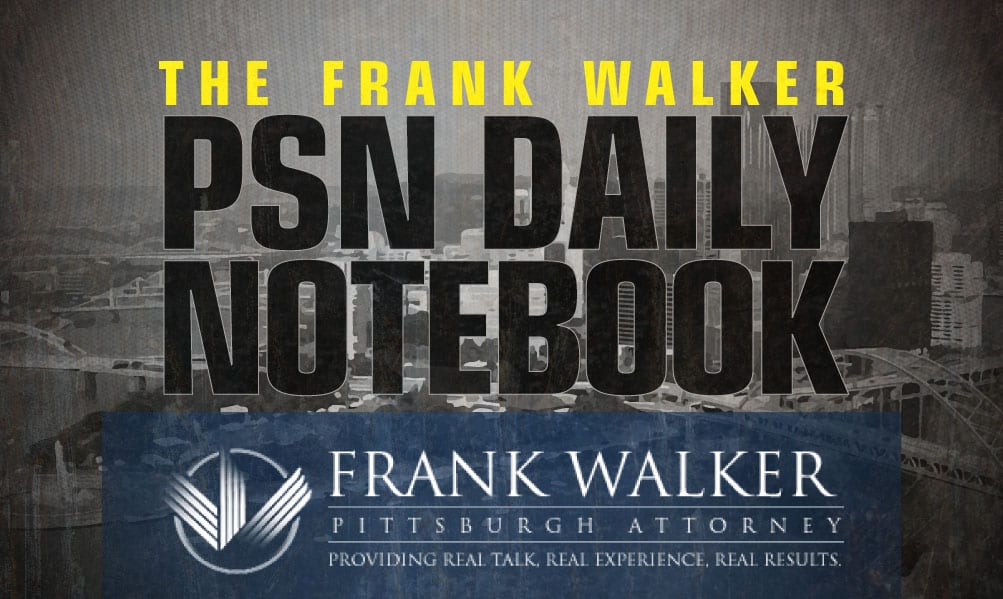 The PSN Daily Notebook is sponsored by Frank Walker, one of Pittsburgh and West Virginia's most respected criminal defense and injury lawyers. Mr. Walker has offices in Pittsburgh and Morgantown and has been named one of Top 100 National Trial Lawyers and is rated a perfect 10.0 Superb by Avvo for ethics, experience and results. To reach Mr. Walker, you can call 412-532-6805 or go to his website frankwalkerlaw.com. For real talk, real experience and real results, contact Frank Walker Law.
Update (7:05 PM)-
Mustapha Amzil, a 6'10 SF/PF playing for @Firstlove_hoops (PA) just picked up an offer from Illinois.

— THE MILLER REPORT ™️ (@Miller_Report) October 22, 2020

Update (2:52 PM)- 
**More national recognition for Pitt freshman wide receiver Jordan Addison.
Here are the freshmen breakout stars of the early CFB season from @chris_hummer https://t.co/Y1BRLigAZJ

— Barton Simmons (@bartonsimmons) October 22, 2020
Update (1:01 PM)-
Brian Kelly talks for the final time ahead of the #NotreDame vs. Pittsburgh game on Saturday.

*An OL will miss the game, while a WR returns
*BK not focused on who starts at QB for Pitt
*Young OL to know for the Irish

So much more…

Story: https://t.co/JS2mTWfxzi@247Sports pic.twitter.com/4DB9zDmryB

— Tom Loy (@TomLoy247) October 22, 2020

Update (9:53 AM)-
Highest-graded redzone defense:

1. Cincinnati – 83.4
2. Pittsburgh – 80.7
3. Notre Dame – 75.1 pic.twitter.com/rstIKCedmU

— PFF College (@PFF_College) October 22, 2020
Update (9:45 AM)- 
**Another WPIAL football game is canceled because of COVID-19 issues.
Avonworth High School is shut down through Sunday because of COVID-19 cases. That means Avonworth will NOT play Central Valley in football tomorrow night.

Central Valley will play Burrell instead tomorrow. Burrell game against Derry was postponed because of COVID case at Derry.

— Mike White (@mwhiteburgh) October 22, 2020
Update (9:34 AM)- 
**Former Blackhawk and Pitt basketball star Sean Miller reportedly will find out today the punishment his Arizona basketball program will be receiving from the NCAA.
Sources: Arizona's long-awaited NCAA Notice of Allegations expected to arrive today. How harsh will it be? https://t.co/hcAqEjxKo6

— Pat Forde (@ByPatForde) October 22, 2020