The Frank Walker Law/PSN Daily Notebook: October 26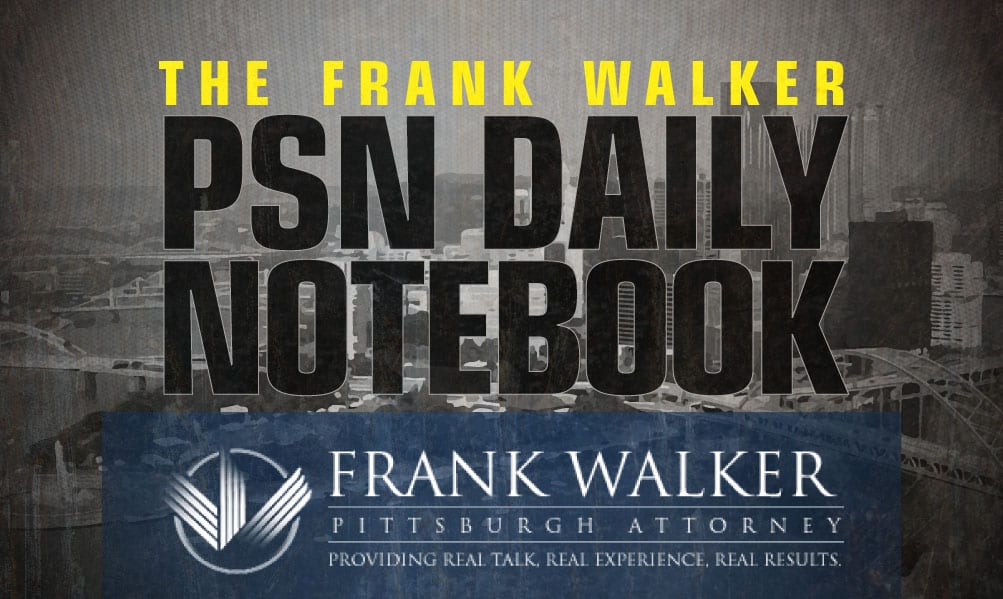 The PSN Daily Notebook is sponsored by Frank Walker, one of Pittsburgh and West Virginia's most respected criminal defense and injury lawyers. Mr. Walker has offices in Pittsburgh and Morgantown and has been named one of Top 100 National Trial Lawyers and is rated a perfect 10.0 Superb by Avvo for ethics, experience and results. To reach Mr. Walker, you can call 412-532-6805 or go to his website frankwalkerlaw.com. For real talk, real experience and real results, contact Frank Walker Law.
Update (9:00 PM)- 
**Tonight Tim Salem and Pitt extend an offer to 2022 TE/DE Darren Agu from Rabun Gap, Georgia. Agu (6'7", 235) also holds offers from Georgia Tech, Akron and Coastal Carolina.
Check out this highlight! https://t.co/9kTdeWpDxx @CoachSturdivan1 @RecruitGeorgia

— Darren Agu (@agu_darren) October 19, 2020
First Game 🏈, First Win ✅, First Catch 🔥 pic.twitter.com/zkeqSIBs8k

— Darren Agu (@agu_darren) September 26, 2020
Update (8:25 PM)-
Notice:
He's wearing his red and gold!!#pennhillspride https://t.co/VAA0Q66FPS

— PENN HILLS INDIANS FOOTBALL (@phqbclub) October 26, 2020
Update (12:04 PM)- 
**Another week means more offers for First Love 2021 forward Mustapha Amzil, the latest coming from SMU. Over the weekend, he had his second Zoom call with the coaches from DePaul.
Mustapha Amzil'21 @MustaphaAmzil_ of @Firstlove_hoops has been offered by SMU#PonyUp pic.twitter.com/DCveZuYGDH

— 𝒜𝓃𝒹𝓇ℯ𝓌 𝒮𝓁𝒶𝓉ℯ𝓇 (@Andrew__Slater) October 26, 2020

Update (10:52 AM)- 
**Check out the regular season highlights for Pitt 2021 commitment Central Valley safety Stephon Hall.
Show Love👀
– https://t.co/rJ9w3J7YNN

— Stephon Hall (@flueysteph25) October 26, 2020
Update (10:16 AM)- 
**Robert Morris basketball coach Andy Toole gets some recognition from Jon Rothstein from CBS Sports.
12 head coaches on the rise entering the 20-21 season.https://t.co/RwrMzZXmWI

— Jon Rothstein (@JonRothstein) October 26, 2020

Update (8:12 AM)-
Columnist @Steigerworld: A case could be made for firing Pitt coach Pat Narduzzi, but maybe the Panthers never should have gotten rid of Dave Wannstedt. https://t.co/hxYP6UiX03

— Tribune-ReviewSports (@TribSports) October 26, 2020
Update (8:06 AM)-
Letsssssss Goooooooooooo https://t.co/hYUJonbX1E

— JT (@JaylenTwyman) October 25, 2020