The Frank Walker Law/PSN Daily Notebook: February 25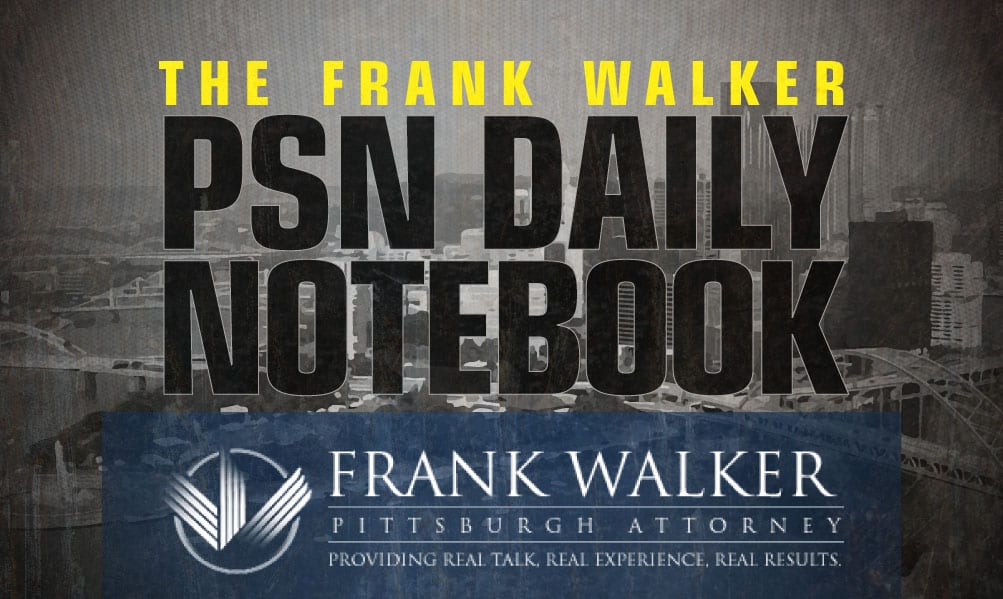 The PSN Daily Notebook is sponsored by Frank Walker, one of Pittsburgh and West Virginia's most respected criminal defense and injury lawyers. Mr. Walker has offices in Pittsburgh and Morgantown and has been named one of Top 100 National Trial Lawyers and is rated a perfect 10.0 Superb by Avvo for ethics, experience and results. To reach Mr. Walker, you can call 412-532-6805 or go to his website frankwalkerlaw.com. For real talk, real experience and real results, contact Frank Walker Law.
Update (9:20 PM)- 
**Congrats to North Catholic 2022 athlete Carson Laconi for receiving his first D-1 offer.
BLESSED to receive my 1st Division 1 offer from Bucknell University!! 🧡 #therange @CoachBracken @Coach_Redd @DaveCecchini @Isaac_Collins @CoachJasonMiran @NCtrojansFB pic.twitter.com/ilHpABAt2E

— Carson Laconi (@Carson_Laconi) February 26, 2021
‼️ JUNIOR YEAR HIGHLIGHTS‼️https://t.co/rg8tCGqnp3 pic.twitter.com/Ola21fbIvm

— Carson Laconi (@Carson_Laconi) November 30, 2020

Update (9:15 PM)- 
**Congrats to Serra 2022 defensive back Pharoh Fisher for receiving an offer tonight from Navy. Fisher also holds offers from Columbia and Bowling Green.
https://twitter.com/fisher_pharoh/status/1338626032388231168?s=21

Update (9:02 PM)- 
**Pitt extends an offer to 2023 athlete Rohan Davy from St. John's College High School in Silver Springs, Maryland. Davy received his first offer two days ago from Maryland.
Freshman season in da books✍🏽….. #44outhttps://t.co/FhFxhCv4Ab pic.twitter.com/EvcOqnE9Mb

— Rohan Davy💭 (@DavyRohan) December 6, 2019

Update (8:50 PM)-
NCAA announces how it will handle scenarios related to withdrawals in the NCAA tournament.
– No reseedings or bracket changes once it's released
– No replacement teams after the tournament begins
– Replacement teams introduced within 48 hours of the field, no time thereafter https://t.co/Yvl4q6crLY

— Jeff Borzello (@jeffborzello) February 25, 2021
#NotreDame has offered fast-rising class of 2022 QB Drew Allar from Medina (Ohio) High. https://t.co/IrdbuB11Q4 https://t.co/KdHbnLuzYb

— Mike Singer (@Rivals_Singer) February 25, 2021

Update (8:40 PM)-
**Brennan Marion and Pitt extend an offer to sophomore wide receiver Trealyn Porchia from from United High School in Beaumont, Texas. This is Porchia's first Power Five offer. The 6-foot-5, 200 wideout is also a basketball standout.
Update (11:25 AM)-
LeSean McCoy: I still have more highlights to give out https://t.co/GFB6PPFRKl

— ProFootballTalk (@ProFootballTalk) February 25, 2021

Update (11:02 AM)-
If you give a Cat a GoPro…📹

…you get a travel vlog!

Here's a little #TBT to our first win of spring season💪

Shoutout to freshman Cat Flood behind the lens!#H2P pic.twitter.com/WuWP42fBY9

— Pitt Volleyball (@Pitt_VB) February 25, 2021
NEW SEASON. HERE. WE. GO.

🏁: #HLMBB Tournament
🆚: Detroit Mercy
📍: Detroit, Mich.
⌚: 7:00 p.m.
🏟️: Calihan Hall
📺: ESPN+
🔗: https://t.co/vGwu0RymYu
🎙️: https://t.co/vLgYY9By0r
📊: https://t.co/yQ9dyGjx3n
📱: https://t.co/oThk7VDdbV#RMUnite | 🔵🏀🔴 | #GRIT pic.twitter.com/0kdJ1kpDfw

— RMU Basketball (@RMUMBasketball) February 25, 2021