The Frank Walker Law/PSN Daily Notebook: February 28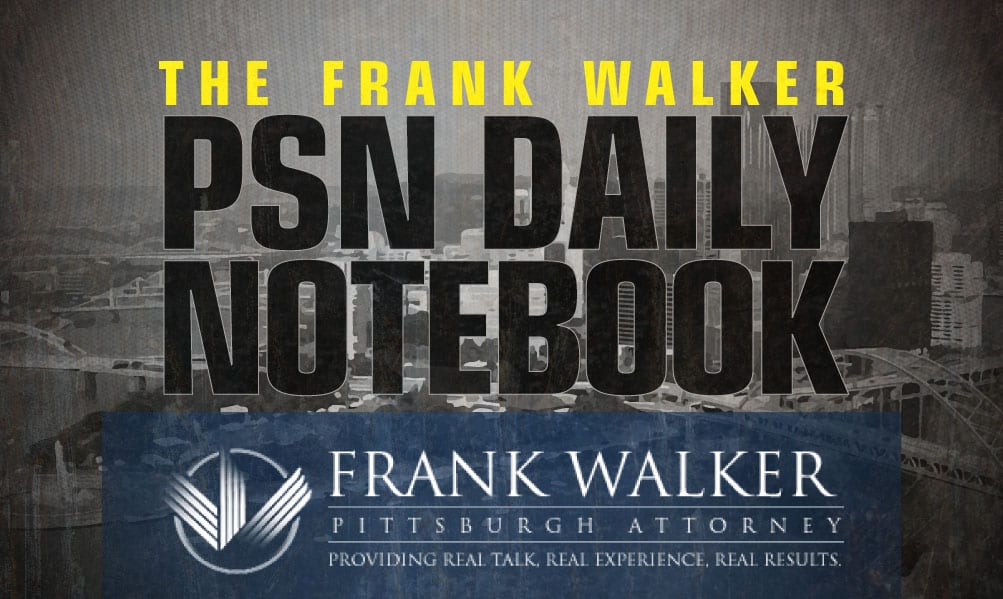 The PSN Daily Notebook is sponsored by Frank Walker, one of Pittsburgh and West Virginia's most respected criminal defense and injury lawyers. Mr. Walker has offices in Pittsburgh and Morgantown and has been named one of Top 100 National Trial Lawyers and is rated a perfect 10.0 Superb by Avvo for ethics, experience and results. To reach Mr. Walker, you can call 412-532-6805 or go to his website frankwalkerlaw.com. For real talk, real experience and real results, contact Frank Walker Law.
Update (6:49 PM)-
**Another player receives their first D-1 offer from Pat Narduzzi and Pitt. 2023 WR/CB Justin Williams (6-foot-4, 180) from MacArthur High School in Cypress, Texas. Williams received the news from Brennan Marion. Williams is also a standout basketball player.
Update (4:27 PM)-
**Brennan Marion is going after another national recruit as he extends an offer to 2022 4-star offensive tackle Kiyaunta Goodwin (6-foot-8, 305 pounds) from Charlestown, Indiana. Goodwin is ranked by Rivals as the #54th ranked overall player in the Class of 2022. Goodwin holds over 50+ offers and yesterday named a Top 13 of Alabama, Ohio State, Clemson, Oregon, USC, Miami, Michigan, Michigan State, Florida State, Indiana, Arizona State, Kentucky and Lousiville.
Update (2:07 PM)-
**Pitt extends an offer to 2022 4-star wide receiver Jadyn Marshall from St. Mary's High School in Stockton, California. Marshall is rated as one of 247's Top 159 players. Marshall received the offer from Brennan Marion and also holds offers from Arizona, Arizona State, Auburn, California, Nebraska, Oregon, Oregon State, Tennessee and UCLA.
Update (1:09 PM)-
The @A10MBB quietly just changed the semifinals game times from 11 & 2 to now be 6 & 9 on Saturday on CBSSN. It moved so the MVC can be on CBSSN at 1 & 4.

— Daniel Frank (@n1a2v3y4) February 28, 2021

Update (12:58 PM)-
As we try to get our first-ever sweep of No. 9 Florida State, here's highlights from last night that put us in position to do so!#H2P pic.twitter.com/YaYtTeZeM0

— Pitt Baseball (@Pitt_BASE) February 28, 2021

Update (12:56 PM)- 
Former Hopewell pitcher Joe Rock, who's now at Ohio University, pitched a seven-inning no-hitter Friday in a win over Morehead State. One MLB mock draft rates him the 56th best prospect in this year's draft. #BCTsports #wpial pic.twitter.com/tXt2bCAsTz

— Mike Bires (@mikebires) February 28, 2021