The Frank Walker Law/PSN Daily Notebook: March 1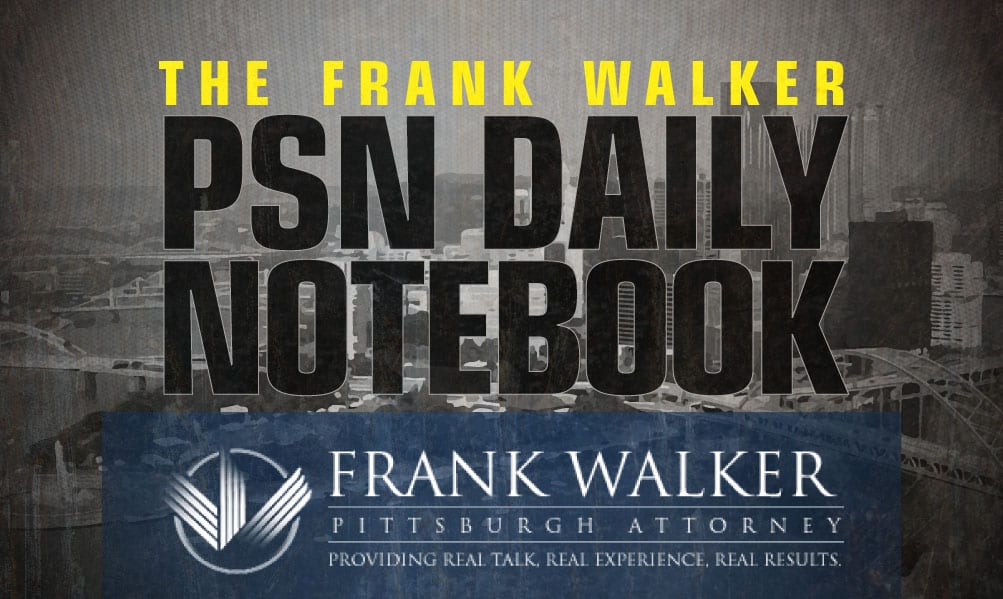 The PSN Daily Notebook is sponsored by Frank Walker, one of Pittsburgh and West Virginia's most respected criminal defense and injury lawyers. Mr. Walker has offices in Pittsburgh and Morgantown and has been named one of Top 100 National Trial Lawyers and is rated a perfect 10.0 Superb by Avvo for ethics, experience and results. To reach Mr. Walker, you can call 412-532-6805 or go to his website frankwalkerlaw.com. For real talk, real experience and real results, contact Frank Walker Law.
Update (8:46 PM)- 
**Robert Morris extends an 2023 guard Spence Joyner from Arts High School in Newark, New Jersey. Joyner (6-foot-4, 185) also holds offers from Arkansas Little-Rock, Howard, LSU, Fairfield, Rider, Seton Hall and Texas A&M.
Just Some of Arts High's 6'4 Sophomore SG @SpencerJoyner25 Highlights Vs Glen Ridge High School on @Hudl https://t.co/XKXDuPBEhR #hudl

— Arts High School Boys Basketball (@artsbball) February 26, 2021
Arts High sophomore backcourt was offered by Robert Morris University this evening. @SpencerJoyner25 @ElijonNix5 pic.twitter.com/pHk4W448b2

— Arts High School Boys Basketball (@artsbball) March 2, 2021
Update (8:30 PM)- 
**The big offers continue to come in for 2022 4-star Perry DE Tyreese Fearbry as he receives one from Miami (FL). A couple days ago, Fearbry picked one up from Auburn. This elite recruit also holds offers from Pitt, West Virginia, Penn State, Cincinnati, Boston College, Kentucky, Michigan State, South Carolina and Syracuse.
Update (8:18 PM)-  
**Another offer from Brennan Marion to a player from Texas. Tonight, 2023 wide receiver Jonah Wilson from Dekaney High School in Houston gets an offer from Pitt. Wilson (6-foot-3, 200) also holds offers from Texas A&M, Houston, LSU and North Texas.
Soph season 7 Games:
18 rec
522 yards (29 YPC)
8 TDS@CoachMXKelly @CoachFilaTTU @KU_EJones @coachjstepp @leg12tim @RashaadSamples @BCarringtonUT @Coach_Naivar @TyronCarrier @BnanceBU @CoachDickey1 @brianhartline @CoachSark @coachtee17 @CoachBmac_ https://t.co/WKrZJEytB9

— Jonah Wilson (@JonahWilson_) December 21, 2020
Update (8:07 PM)-
Can't wait for pro day !👀👀 pic.twitter.com/2HjLNXUMRq

— DJ (@_DjTurner1) March 2, 2021

Update (7:06 PM)- 
**Pine-Richland 2022 linebacker Jeremiah Hasley receives an offer tonight from Harvard. Hasley also holds offers from Army, Navy, Columbia and Penn.
After an awesome conversation with @CoachKKennedy, I'm blessed and excited to receive an offer from Harvard University!! @HarvardFootball @PRRamsFootball @CoachKasper pic.twitter.com/dRIZtN8SOe

— Jeremiah Hasley (@jeremiahasley) March 1, 2021

Update (7:00 PM)- 
**Thomas Jefferson 2022 OL/DL Nick Bryan receives an offer from  Jerry Schmitt and Duquesne. Bryan also holds offers from Ball State, Old Dominion, UMass and Kent State.
After a great conversation with @CoachFarisonDUQ I have received my 5th Division 1 offer. Thank you for this amazing opportunity. @GoDuquesne @DuqFB pic.twitter.com/JaSmjukkx9

— Nick Bryan (@NickBry46357328) March 1, 2021

Update (6:00 PM)-
**2022 3-star running back Sam Martin from Paramus, New Jersey announced his Top 7 and it included Pitt. Along with the Panthers, Martin listed California, Purdue, Rutgers, Syracuse, West Virginia and UMass.
https://t.co/EG3Nil1zEQ Share ! 💯

— 𝒮𝒶𝓂 𝑀𝒶𝓇𝓉𝒾𝓃 𝒿𝓇 (@sam_martinjr) February 1, 2021
Update (3:47 PM)-
**The offers from Pitt to high school freshman continue as Brennan Marion offers 2024 wide receiver Xavier Filsaime (5-foot-11, 170 pounds) from McKinney High School in McKinney, Texas. Filsaime also holds a Power Five offer from Kansas.
keep it cool ✌🏾@TeamGrind pic.twitter.com/VMFf36uXvF

— Xavier Filsaime🇭🇹 (@XEF_19) March 1, 2021
Update (3:40 PM)-
**Charlie Partridge and Pitt extend an offer today to 2022 3-star OT Daughtry Richardson from Miami Central High School in Miami, Florida. Richardson (6-foot-5, 280 pounds) also holds offers from Arizona State, Florida State, Georgia Tech, Kentucky, Missouri, South Carolina, South Florida, Tennessee, Utah and West Virginia.
Update (3:28 PM)-
📰 Duquesne has announced its attendance policy for the upcoming 2021 spring football season: #GoDukes • #NECFBhttps://t.co/bOJJByak38

— Duquesne Football (@DuqFB) March 1, 2021

Update (2:54 PM)- 
**Pitt extends an offer to 2023 OT/OG Cooper Young (6'5", 280) from Downington, Pennsylvania. Young received the offer from Cory Sanders. Young also holds offers from Maryland and Virginia.
Check out my Sophomore Year Highlights❗️❗️https://t.co/wA8bSh21Oz @carymoyer @rivalsfriedman @edobrienCFB @coachjayuconn @writerleader247 @sportsbyblinder @pafootballnews @briandohn247

— Cooper Young (@CooperYoung44) November 23, 2020

Update (2:31 PM)- 
**Pitt extends an offer to a player in a state that they traditionally don't recruit. 2023 wide receiver Morgan Pearson (6'2", 220) from Plainview High School in Ardmore, Oklahoma gets the offer today from Brennan Marion. Pearson also holds offers from Oklahoma State and Iowa State.
year 2. https://t.co/9UtjLfFccB

— morgan pearson (@pearsonmorgan_) December 10, 2020
Update (2:28 PM)-
#Pitt RHP Mitch Myers is the #ACC pitcher of the week after striking out 13 Seminoles in six shutout innings on Friday night.

— Alan Saunders (@ASaunders_PGH) March 1, 2021
Update (9:54 AM)-
Odds to win the Atlantic 10 Conference Tournament (Bovada):

VCU +225
Saint Louis +250
St. Bonaventure +350
Richmond +375
Davidson +850
Dayton +1200
Rhode Island +2800
Massachusetts +3500
Duquesne/G. Mason +10000
G. Washington +30000
Fordham +40000
La Salle/St.Joseph's +50000

— Odds Shark (@OddsShark) March 1, 2021

Update (9:25 AM)-
**Freshman wide receiver Jeremiah Smith from Monsignor Pace High School in Opa Locka, Florida picks up an offer from Brennan Marion and Pitt. Smith also holds early offers from Miami and Georgia.
Update (9:06 AM)-
**The offers from Pitt to freshman continue with this one going to wide receiver Chance Robinson from St. Thomas Aquinas in Fort Lauderdale, Florida. Robinson (6-foot-1, 180) received the news from Brennan Marion. Robinson's first D-1 offer came from Miami (FL).
Single leg work! @larryblustein @CoachHarriott @Rivalsfbcamps @Rivals @coachRon18 @Dbrave_8 @TheCribSouthFLA @247Sports pic.twitter.com/A1LHOuIYjM

— Chance J Robinson (@ChanceJRobinso1) February 20, 2021
Update (8:50 AM)-
**The offers continue to come in for Penn-Trafford 2022 defensive back/running back Cade Yacamelli. The latest offer came last night from Dartmouth.
🚨Junior Year🚨

1st Team All Conference✅https://t.co/Y36nZMjGfa

— Cade Yacamelli (@cyacamelli) November 29, 2020
Update (8:45 AM)-
**Brennan Marion and Pitt extend an offer to freshman wide receiver Joshisa Trader from Monsignor Pace High School in Opa Locka, Florida. Trader also holds offers from Miami (FL) and Georgia.
Game winner pick👐🏾 @SouthFLExpress pic.twitter.com/MAo7XMdOnX

— Joshisa"jojo"Trader ¹² (@joshisathe1) January 28, 2021
Update (8:25 AM)-
**Central Valley 2022 linebacker Matt Merritt received an offer Sunday night from Lehigh. This is Merritt's second D-1 offer, with the other coming from Army.
🚨 Jr Year 🚨
90 tackles, 40 Solo, 3 sacks, 2 FR, 1INT, 1 TD
Wpial and PIAA champs @CoachLyonsCVfb @Coach__Reda https://t.co/2L5cgFzanb pic.twitter.com/XrSknbT6tH

— Matt Merritt (@matt_merritt17) December 2, 2020