The Frank Walker Law/PSN Daily Notebook: March 2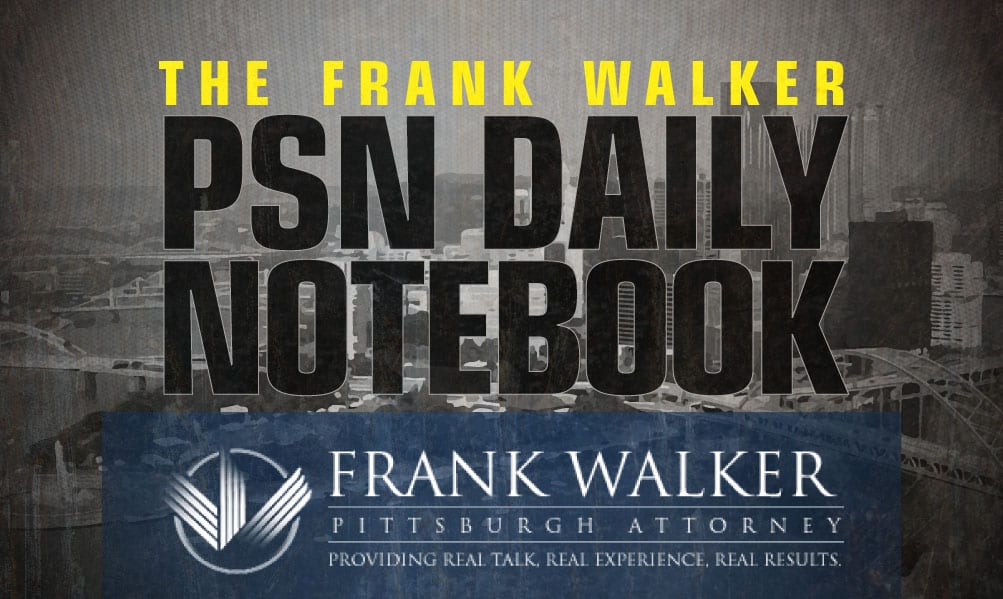 The PSN Daily Notebook is sponsored by Frank Walker, one of Pittsburgh and West Virginia's most respected criminal defense and injury lawyers. Mr. Walker has offices in Pittsburgh and Morgantown and has been named one of Top 100 National Trial Lawyers and is rated a perfect 10.0 Superb by Avvo for ethics, experience and results. To reach Mr. Walker, you can call 412-532-6805 or go to his website frankwalkerlaw.com. For real talk, real experience and real results, contact Frank Walker Law.
Update (10:15 PM)- 
**Tonight Archie Collins extends an offer to 2022 3-star safety Quavian Carter (6-foot-4, 200) from Lee County High School in Leesburg, Georgia. Carter also holds offers from Boston College, Cincinnati, Georgia Tech, Michigan, Michigan State, Ole Miss, Penn State, Tennessee and Vanderbilt.
Update (8:33 PM)-
**Tonight Brennan Marion extends an offer to 2023 athlete Tory Johnson, Jr. from Oscar Smith High School in Chesapeake, Virginia. This was big because it was Johnson's first D-1 offer. Hours after Pitt offered him, Johnson picked up offers from Maryland and Penn State.
Update (7:02 PM)-
**Charlie Partridge and Pitt extends an offer to freshman RB/S Semaj Jackson from Western High School in Davie, Florida. Jackson also holds an offer from Syracuse.
"Broward County Freshman Defensive Player of The Year" by @JerryRecruiting!! My Sophomore year will be will be even better!!https://t.co/860OpT2Kk8@CoachNJ_Monroe @CuseCoachTW @UNCLELUQ @ChadSimmons_ @247Sports @larryblustein @CoachPopovich @CoachVenables

— Semaj Jackson (@Nolimitmaj__) February 10, 2021
Update (4:06 PM)-
**Pitt extends an offer to 2023 quarterback Marco Lainez III from the Hun School in Skillman, New Jersey. Lainez (6-foot-3, 215) received the offer from Tim Salem. Along with Pitt, he also holds early offers from Iowa, Michigan State, West Virginia and UMass.
Great first year as a raider! Season highlights below. @Red_Zone75 @Tonyrazz03 https://t.co/lTKzbEacxH

— Marco (@MarcoLainez5) November 11, 2020
Update (9:16 AM)-
Congrats to junior @jayla_dianne4 on being named to the All-ACC Honorable Mention Team‼️

✅ 2nd All-ACC honoree in program history
✅ 15.1 ppg (9th in the ACC)
✅ 49 three-pointers (team-high)#H2P // #GoBeyond pic.twitter.com/6aUeljAtG1

— Pitt Basketball (@Pitt_WBB) March 2, 2021
Update (8:28 AM)-
**Once again Pitt is attempting to get in early with a young player as Brennan Marion extends an offer to freshman wide receiver Chanz Wiggins from King George, Virginia. This becomes Wiggins (6-foot-3, 180 pounds) second D-1 offer with the offer one coming from Maryland.
Update (8:25 AM)-
A-10 CHAMPIONSHIP BRACKET ANNOUNCED
Dukes to face Richmond Thursday at 11am#GoDukes | #A10MBB https://t.co/Q5p4evc2Nz

— Duquesne Basketball (@DuqMBB) March 2, 2021
AROUND THE NETWORK
Pittsburgh Hockey Now: Fans back at PPG for tonight's Pens game!
Nittany Sports Now: Some interesting names popping up for Penn State's next basketball coach.
Steelers Now: J.J. Watt to Cardinals; joining forces with Fitz for one last chance at a ring?
WV Sports Now: Mountaineers lose Tshiebwe and suddenly they're a top 10 team.
Pittsburgh Soccer Now: Pitt Takes out Duquesne in soccer city game.