The Frank Walker Law/PSN Daily Notebook: March 3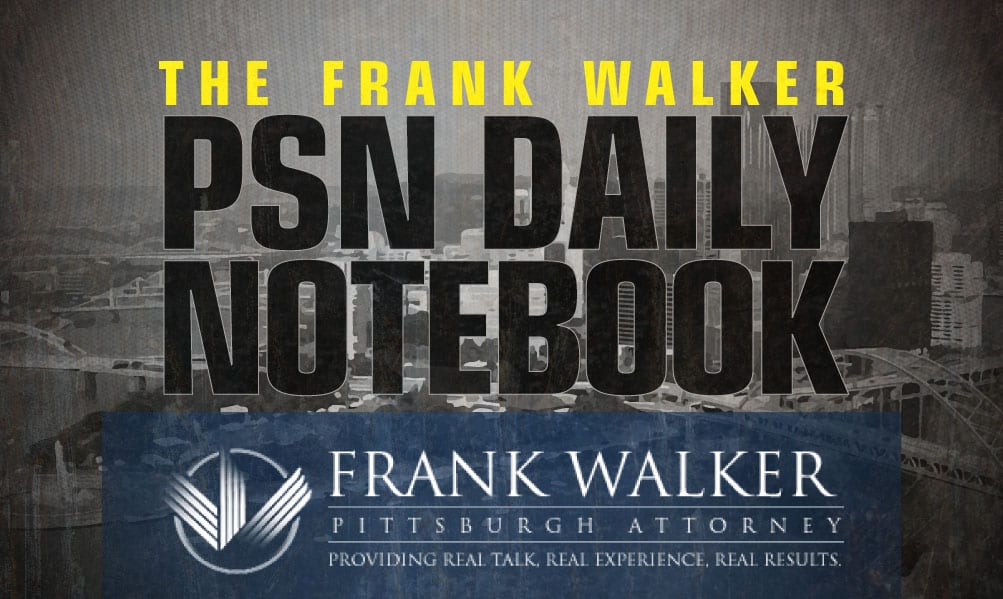 The PSN Daily Notebook is sponsored by Frank Walker, one of Pittsburgh and West Virginia's most respected criminal defense and injury lawyers. Mr. Walker has offices in Pittsburgh and Morgantown and has been named one of Top 100 National Trial Lawyers and is rated a perfect 10.0 Superb by Avvo for ethics, experience and results. To reach Mr. Walker, you can call 412-532-6805 or go to his website frankwalkerlaw.com. For real talk, real experience and real results, contact Frank Walker Law.
Update (9:49 PM)- 
**Pitt recruiting younger players has added another chapter. Tonight, Brennan Marion extends an offer to 8th grader Dakorien Moore from Dallas, Texas. The 2025 WR/DB received his first D-1 offer back in December from Kansas.
Off-season work💪🏾@Duncanville_Fb @Mike2Will pic.twitter.com/JtfAPRuEFP

— Dakorien Moore (@thereal_kori2x) February 24, 2021
I am BLESSED & HONORED to announce I have received my 2nd D1 offer to @PittTweet @BrennanMarion4 @simplyCoachO @drobalwayzopen pic.twitter.com/NdhaazLiOh

— Dakorien Moore (@thereal_kori2x) March 4, 2021

Update (8:36 PM)-
TJ McConnell making history. … a guy that few thought would ever play in the NBA. Just the ultimate grinder and team guy. https://t.co/8kQhOQahkA

— Jeff Goodman (@GoodmanHoops) March 4, 2021
How about T J McConnell. NINE STEALS in the first half. #NBA Record!!! Two off the all time single game record. In Cleveland tonight. WOW pic.twitter.com/SxLu6y2yMO

— Bob Pompeani (@KDPomp) March 4, 2021

Update (7:14 PM)-
**Pitt continues their recruitment of California players as today they extend an offer to 2023 wide receiver/safety Rico Flores Jr. from Sacramento. Flores (6-foot-2, 190 pounds) also holds offers from Arizona, Arizona State, Colorado, Oregon State and UNLV.
Check it out finally got it updated (FR YEAR- WR /FS/ Varsity 2023) on @Hudl https://t.co/KGWoOc3XEU #hudl

— Rico Flores Jr🕴🏽 (@lil_reek_) December 2, 2020
Update (4:53 PM)-
Cardinals giving Larry Fitzgerald time to decide his future https://t.co/8s08Kb64wJ

— ProFootballTalk (@ProFootballTalk) March 3, 2021

Update (3:08 PM)-
We take on RIT in the first round of the CHA Tournament tomorrow at 2:00 p.m.! #RMUnite | 🔴🏒🔵https://t.co/AeZGYvIiaB

— RMU Women's Hockey (@RMUWHockey) March 3, 2021

Update (11:16 AM)-
Congrats to @_dharris1 for being named to the All-ACC Academic Team for the second straight season!#H2P // #GoBeyond

— Pitt Basketball (@Pitt_WBB) March 3, 2021

Update (10:15 AM)- 
**A big day for 2023 defensive end Zakaih Saez from Lake Worth, Florida as he receives an offer from Charlie Partridge and Pitt. This is Saez's first D-1 offer.
Check out ZAKAIH SAEZ SOPH. FILM by Zakaih Saez on @hudl https://t.co/xhLxPuyZvt #hudl

— Zakaih Saez (@Zakaih_15) February 19, 2021
Update (8:34 AM)-
**Pitt extends an offer to 2023 wide receiver Makai Donaldson (6-foot-4, 200) from Isidore Newman School in New Orleans, Louisiana. Donaldson also holds offers from Virginia and Florida State. Donaldson's high school quarterback at Newman School in Arch Manning. Donaldson received the offer from Brennan Marion.
Update (8:30 AM)-
Morning Headlines:@USLChampionship's 2021 alignment has @RiverhoundsSC's in 8-team Atlantic Division@Pitt_MSOC's Bryce Washington earns honors@RMUWSoccer in action today (vs Purdue-FW 1 pm at SouthPointe)

+ Pt. 2 of @soccer_rabbi's Owner that Strangled His Own Club pic.twitter.com/MiX2AekiKc

— Pittsburgh Soccer Now (@pghsoccernow) March 3, 2021

Update (7:00 AM)-
Football recruiting observations (new trends for #Pitt): 1. The staff is expanding the map (California, Texas, Utah) and 2. Handing out 'ships to a myriad of sophomores and freshmen. IMO, more than usual. Early offer = true belief in their talent. #H2P

— Harry G. Psaros (@PittGuru) March 3, 2021

Update (6:45 AM)-
**The theme of Pitt football recruiting the last couple of weeks has been offering freshman and that continued last night as Brennan Marion (6'0″, 170 lbs.) extended an offer from the Panthers to 2024 cornerback/athlete Jayden Coleman from Phenix City, Alabama. This becomes Coleman's 4th D-1 offer with the others from Indiana, Syracuse and Maryland.
It's Me vs Me 💯 let's goooo 💪🏽 #ThePressure pic.twitter.com/oX1xNmCeB0

— Jayden Coleman (@j_coleman2024) February 12, 2021