The Frank Walker Law/PSN Daily Notebook: March 5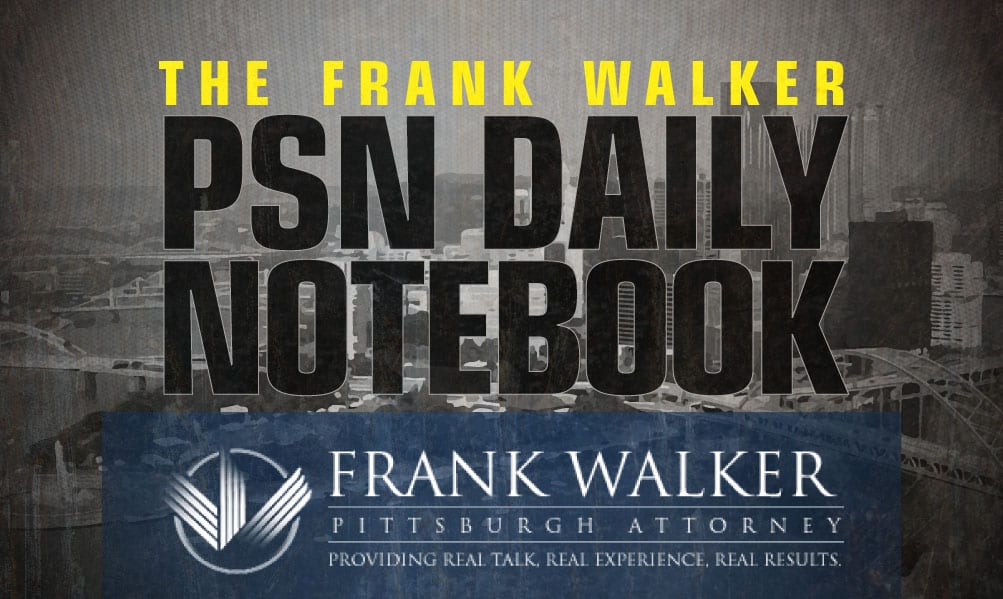 The PSN Daily Notebook is sponsored by Frank Walker, one of Pittsburgh and West Virginia's most respected criminal defense and injury lawyers. Mr. Walker has offices in Pittsburgh and Morgantown and has been named one of Top 100 National Trial Lawyers and is rated a perfect 10.0 Superb by Avvo for ethics, experience and results. To reach Mr. Walker, you can call 412-532-6805 or go to his website frankwalkerlaw.com. For real talk, real experience and real results, contact Frank Walker Law.
Update (10:02 PM)-
What a fantastic OT finish tonight for @RMUWHockey Congratulations! Now rest up for tomorrow's title game! https://t.co/dX1ubuOWOz

— Andrew Stockey (@astockeyWTAE) March 6, 2021

Update (8:43 PM)- 
**An interesting offer tonight by Pitt. Last week, Brennan Marion offered Utah 2022 wide receiver Dominique McKenzie. Tonight, Marion offered his twin brother Marcus, who's being recruited as a 2022 athlete. Marcus McKenzie (6-0, 160) also holds offers from BYU, Utah State, Colorado State, UNLV and Princeton.
Broke TWO State records today in the 60m (6.77) and 200m (21.22). And my twin brother @dom_mckenz was right with me! @pvxctrack @HamiltonESPN #TeamMckenzie #PALA @DHill39 pic.twitter.com/A7yCVTqIDL

— Marcus McKenzie (@9marcusmckenzie) February 20, 2021
Update (7:45 PM)-
Devin Carney, boys and girls. His 3-pointer at the buzzer gives Butler a 58-55 overtime win against Penn-Trafford. Wow! #WPIAL pic.twitter.com/RkdhVlwUtm

— Brad Everett (@BREAL412) March 6, 2021

Update (7:01 PM)- 
**Today, Charlie Partridge and Pitt extend an offer to 2023 safety King Mack (5-foot-11, 185 pounds) from St. Thomas Aquinas in Fort Lauderdale, Florida. Mack also holds offers from Maryland, Ole Miss, Syracuse and Texas A&M.
Blessed to receive an offer from the University of Pitt🟡🔵 @CoachHarriott @larryblustein @JasonTaylor @J_Nelson1 @JO7_era @TwanRussell @OLIE_7 @Rivalsfbcamps @STA_Football @Pitt_FB @CoachPartridge @YancyPorter pic.twitter.com/nDsEPUXfv2

— King Mack (@kingmack2004) March 5, 2021
Update (1:31 PM)-
NEWS: RMU Releases Joe Walton Stadium Attendance Policy

📰: https://t.co/CHGOsCfNyZ#RMUnite | 🔵⚪🔴 pic.twitter.com/6UorxwrvAf

— RMU Athletics (@RMUAthletics) March 5, 2021
Update (12:39 PM)-
After exploring college options, #WPIAL to keep basketball finals in high school gyms #HSSN https://t.co/33HthZKmsV

— Chris Harlan (@CHarlan_Trib) March 5, 2021

Update (11:19 AM)-
**2023 Defensive End Jalen Thompson (6-foot-5, 240 pounds) from Cass Tech in Detroit, Michigan picks up an offer from Archie Collins and Pitt. Thompson already holds offers from Notre Dame, Michigan, Michigan State, Kentucky, Miami (OH), Central Michigan and Akron.
Jalen Thompson
6"5 240 DE/DT
8 sacks 15 tackles 2 FF
C/O 23'
🃏
Sophomore Śzn highlights!https://t.co/wFDF0tH9u6 pic.twitter.com/MjETgLdBuP

— Jalen Thompson ✞ (@D1jay_) December 13, 2020
Update (11:10 AM)-
Our March 21 game at Marshall has been cancelled. We're actively planning for a replacement game (DM's are open 😉). We're still on for this Sunday at home for the City Game!#H2P https://t.co/cdNLibFEoM

— Pitt Women's Soccer (@Pitt_WSOC) March 5, 2021

Update (8:50 AM)-
THURSDAY'S BEST:

Best Win: Texas at Oklahoma, 69-65.

Next Best: Duquesne vs. Richmond, 67-62 (A-10 tourney)

Best Performance: Scottie Pippen Jr., Vanderbilt: 36 pts

— Jeff Goodman (@GoodmanHoops) March 5, 2021