The Frank Walker Law/PSN Daily Notebook: March 6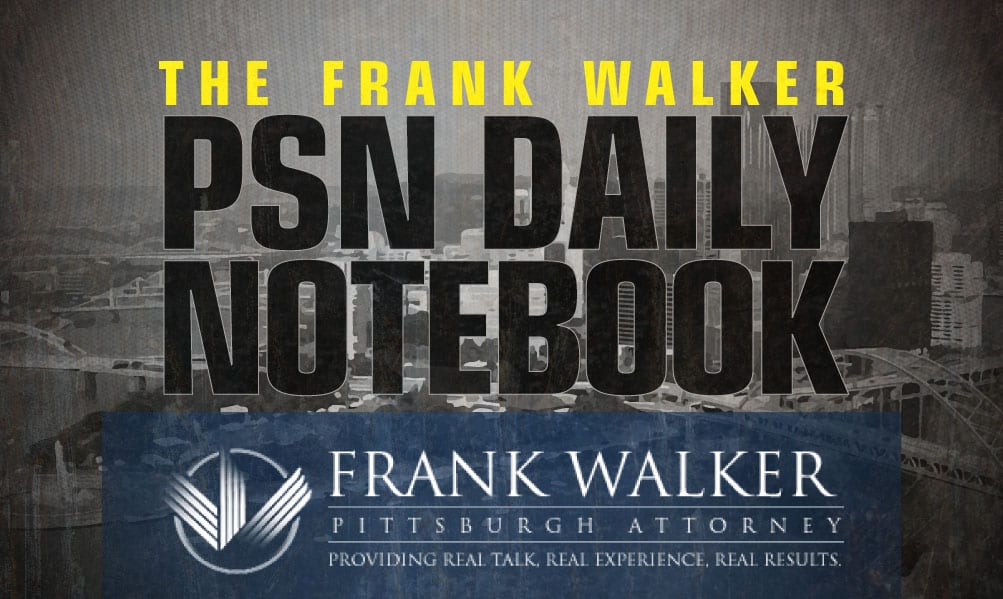 The PSN Daily Notebook is sponsored by Frank Walker, one of Pittsburgh and West Virginia's most respected criminal defense and injury lawyers. Mr. Walker has offices in Pittsburgh and Morgantown and has been named one of Top 100 National Trial Lawyers and is rated a perfect 10.0 Superb by Avvo for ethics, experience and results. To reach Mr. Walker, you can call 412-532-6805 or go to his website frankwalkerlaw.com. For real talk, real experience and real results, contact Frank Walker Law.
Update (8:29 PM)-
And your 2021 CHA Tournament Champions…the Colonials of @RMUWHockey!

RMU will await to see their NCAA Tournament opponent tomorrow, but until then, they get to celebrate a bit with the trophy.

Congratulations to Coach Colontino and his Colonials! pic.twitter.com/m2Kd7bQszW

— CHA (@CHAWomensHockey) March 7, 2021
Update (8:07 PM)-
🚨 @CHAWomensHockey CHAMPS! 🚨

Congrats to @RMUWHockey on beating Syracuse in the @CHAWomensHockey Championship! NCAA Tournament bound! #RMUnite ⭕🏒🔴 pic.twitter.com/knbvrWft0M

— Chris King (@ChrisKingAD) March 7, 2021
Update (7:05 PM)-
**2023 wide receiver Ashton Cozart from Richland High School in North Richland Hills, Texas picks up an offer today from Brennan Marion. Cozart (6'2″, 170) also holds offers from Arizona State, Kansas, Maryland, Miami (FL), Mississippi State and Virginia.
Update (6:50 PM)-
Congrats to @RMUMSoccer on first @HorizonLeague win in program history and @okeefej9 on his first win as @RMUMSoccer Head Coach! 👏👏👏 #RMUnite ⭕⚽️🔴 https://t.co/S6j8rk9UOs

— Chris King (@ChrisKingAD) March 6, 2021
Update (6:40 PM)-
**Now that their season is over with, Andy Toole is trying to fill up his Class of 2021. Today, Robert Morris extends an offer to shooting guard Denver Jones (6-foot-4, 175 pounds) from Garden City Community College. Jones is originally from New Market, Alabama. Along with Robert Morris, Jones also holds offers from Central Michigan, Towson, Stetson, Jacksonville State, New Orleans, Nicholls State, Alabama State and Kennesaw State.
Update (6:15 PM)-
**The third offer of the day from Pitt to a player in Texas goes to Johntay Cook II from DeSoto High School in DeSoto, Texas. Cook (6-0, 170) is a big-time talent that holds early offers from schools like Alabama, Arizona State, Arkansas, Auburn, Baylor, Florida State, Maryland, Miami (FL), Nebraska, Oklahoma, Oklahoma State, South Carolina, Texas, Texas A&M, Texas Tech and Central Florida.
Update (5:40 PM)-
**The offers in Texas for Pitt continue as Brennan Marion offers 2023 wide receiver Mikal Harrison-Pilot (6-0, 185) from Temple High School in Temple, Texas. Harrison-Pilot holds offers from Arkansas, Baylor, Houston, Maryland, Oregon State, TCU and Tulsa. As a sophomore, he caught 38 catches for 502 yards and 7 TD's.
2023 Athlete Sophomore SZN Highlights! 38 catches, 502 yards, 7 Tds plus 1 on the ground and 1 in the air! #MHP7 https://t.co/Ic8pePlp3u

— Mikal Harrison-Pilot (@MikalPilot) December 29, 2020
Update (2:52 PM)- 
**Brennan Marion and Pitt extend an offer today to 2023 wide receiver Braylon James (6-3, 175) from Del Valle, Texas. James also holds offers from Arizona State, California, Colorado, Kansas, Marshall and Miami (FL).
Update (11:06 AM)- 
**Check out the big hit last night from future Pitt 4-star linebacker Naquan Brown.
REAL GRAVE DIGGER AND SOUL STEALER 🦅⚰️🩸 pic.twitter.com/acvzo1hFUU

— Naquan Brown™ (@quanbrown_4) March 6, 2021
Future #Pitt Panther Naquan Brown. A player that will be hard to keep off the field. Potential OLB or DE. #H2P 🟡🔵 https://t.co/KdXdAMOS0q

— Harry G. Psaros (@PittGuru) March 6, 2021
BOOM! 💥

NAQUAN BROWN WITH AUTHORITY
(And the forced fumble)

Ocean Lakes ball. pic.twitter.com/EawdcZIVnM

— Ray Nimmo (@Ray_Nimmo) March 6, 2021

Update (9:28 AM)-
Former #Terps WR DJ Turner solidified himself as a legitimate #NFLDraft prospect thanks to a strong 2020 season with @Pitt_FB. "I've always had to prove a lot of people wrong," Turner said. "The team that drafts me will get a versatile playmaker." https://t.co/cqyTzguwjb

— PressBox (@PressBoxOnline) March 5, 2021