The Frank Walker Daily Notebook: March 7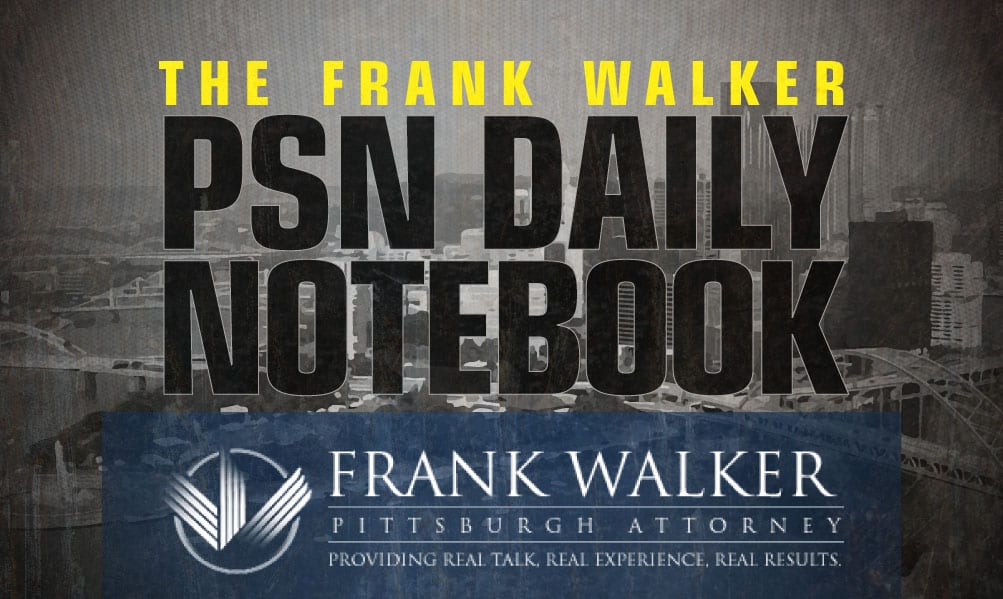 The PSN Daily Notebook is sponsored by Frank Walker, one of Pittsburgh and West Virginia's most respected criminal defense and injury lawyers. Mr. Walker has offices in Pittsburgh and Morgantown and has been named one of Top 100 National Trial Lawyers and is rated a perfect 10.0 Superb by Avvo for ethics, experience and results. To reach Mr. Walker, you can call 412-532-6805 or go to his website frankwalkerlaw.com. For real talk, real experience and real results, contact Frank Walker Law.
Update (7:15 PM)-
**Tonight, Andy Toole and Robert Morris extend an offer to 2022 6-foot-6 shooting guard Tom House from Centerville, Ohio. This was House's first D-1 offer but he's also currently getting recruited by Florida State, South Carolina and Davidson.
Northmont & Springfield highlights
*Season averages*
Ppg – 20.1
Apg – 2.3
Rpg – 4.1 https://t.co/pnhXCAlp3j

— Tom House (@tjhouse03) January 4, 2021
Update (7:04 PM)-
By far the most difficult all-ACC ballot I can recall filling out. Very few obvious picks anywhere.

POY: Justin Champagnie
ROY: Scottie Barnes
COY: Mike Young
DPOY: Manny Bates
MIP: Moses Wright
6th Man: Barnes

All-ACC: Champagnie, Wright, Matthew Hurt, Carlik Jones, Sam Hauser

— Alan Saunders (@ASaunders_PGH) March 7, 2021
Update (6:57 PM)- 
**Congrats to Julian Champagnie, brother of Pitt's Justin Champagnie for being honored today.
BREAKING: Julian Champagnie has been named All-Big East first-team.

Champagnie has also won the Big East scoring title, averaging 19.9 PPG.

Let's go! ⛈ pic.twitter.com/uavrv9lCBD

— Barstool St. John's (@SJUBarstool) March 7, 2021

Update (6:18 PM)-
**2022 3-star cornerback Ryland Gandy from Buford High School in Buford, Georgia made a first cutdown in his recruitment as he announced a Top 12 of Pitt, Notre Dame, West Virginia, Oregon State, Virginia Tech, Central Florida, Liberty, Nebraska, Auburn, Indiana, Michigan State and Boston College.
Update (5:45 PM)-
**Pitt makes the Top 10 for one of the top cornerbacks in the country. 2022 4-star cornerback Keenan Nelson Jr. from St. Joseph's Prep School in Philadelphia released a Top 10 of Pitt, Notre Dame, South Carolina, Maryland, Wisconsin, Penn State, Tennessee, West Virginia, Virginia Tech and Rutgers. Nelson is rated by Rivals as the #2 junior in Pennsylvania and one of the Top 100 overall juniors in the country.
Update (2:03 PM)-
Non-conf✔️ACC season✔️ both are in the📚It didn't end the way we wanted but we do appreciate our guys mental toughness & effort. Now it's time for our 3rd season… everyone is 0-0. 🏀 in March is always special! Let's 👀if we can be special. #H2P #weappreciatethesupport pic.twitter.com/eHsEYuwHiL

— Milan Brown (@coachmbrown) March 7, 2021

Update (1:58 PM)-
One week til Spring Ball. Let's keep working ‼️🔥😈🏈 pic.twitter.com/dooYoZJgrq

— Pat Narduzzi (@CoachDuzzPittFB) March 7, 2021
Update (11:00 AM)-
North Allegheny and Peters Township, two of the area's larger high school gyms, are expected to host all 12 WPIAL basketball championship games this season.https://t.co/rgJB7BDdd7

— Tribune-ReviewSports (@TribSports) March 7, 2021
Update (9:12 AM)-
It will be a renewal of the 'City Game' between @Pitt_WSOC & @DuqWSoccer as they meet for the first time since 2018 on Sunday at Ambrose Urbanic Field.

Here's our match preview. (Kickoff 1 p.m.) https://t.co/sWZCXJ5CnP

— Pittsburgh Soccer Now (@pghsoccernow) March 7, 2021

Update (8:03 AM)-
— DJ (@_DjTurner1) March 6, 2021