The Frank Walker Law/PSN Daily Notebook: March 15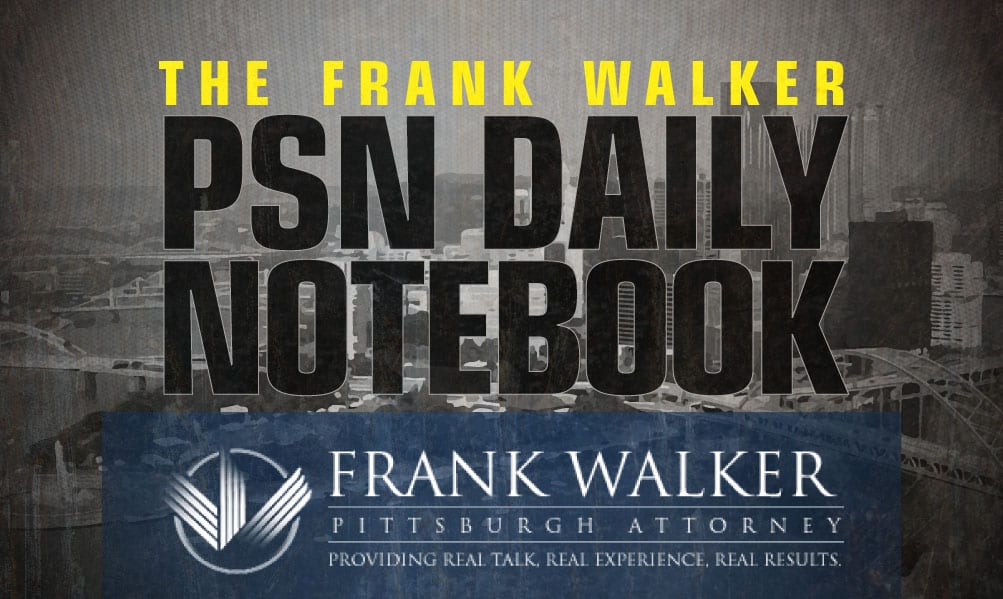 The PSN Daily Notebook is sponsored by Frank Walker, one of Pittsburgh and West Virginia's most respected criminal defense and injury lawyers. Mr. Walker has offices in Pittsburgh and Morgantown and has been named one of Top 100 National Trial Lawyers and is rated a perfect 10.0 Superb by Avvo for ethics, experience and results. To reach Mr. Walker, you can call 412-532-6805 or go to his website frankwalkerlaw.com. For real talk, real experience and real results, contact Frank Walker Law.
Update (6:49 PM)- 
**Pitt makes the Top 12 for Class of 2022 athlete A'khoury Lyde (5'10", 170) from DePaul Catholic in Wayne, New Jersey. Lyde also listed Boston College, Maryland, Wisconsin, Michigan State, Syracuse, Duke, Wake Forest, Indiana, Virginia Tech, Virginia and Liberty.
Update (4:21 PM)-
**Pitt will be getting an official visit from 2022 3-star DE/LB Keon Wylie from Imhotep Charter School in Philadelphia. Wylie will be visiting Pitt June 11-13. Wylie previously announced that Pitt was in his Top 6 along with Michigan, Oklahoma, Ole Miss, Penn State and Texas A&M. Cory Sanders is the chief recruiter for Wylie. Along with Pitt, he's also scheduled an official visit at Penn State.
Update (4:14 PM)-
we are 🔙 in the @AVCAVolleyball Top 20, y'all 👏👏👏

🆙 three spots this week!#H2P pic.twitter.com/B8T42EkEi1

— Pitt Volleyball (@Pitt_VB) March 15, 2021
Update (12:23 PM)- 
**Former Blackhawk star Archie Miller is out after four seasons as head coach at Indiana.
Indiana parts ways with basketball coach Archie Miller after four seasons. Story with details. #iubb https://t.co/sHZqQGeGxd

— Jeff Rabjohns (@JeffRabjohns) March 15, 2021

Update (12:21 PM)- 
**Former Pitt punter Andy Lee will play his 17th season in the NFL next season with Arizona.
Cardinals Re-Sign P Andy Lee https://t.co/yl1FZK8Pw9 pic.twitter.com/0fdfXhbTDB

— NFLTradeRumors.co (@nfltrade_rumors) March 15, 2021

Update (11:30 AM)- 
**Another player that Jeff Capel and his staff previously recruited has entered the transfer portal. Former 4-star center Aidan Igiehon (6'10", 235 lbs) from Woodmere, New York has decided to transfer from Louisville. Igiehon was the No. 55 overall player and the No. 1 prospect from New York in the Class of 2019.
Louisville sophomore Aidan Igiehon is transferring, sources told ESPN. Former ESPN 100 big man has battled injuries most of the past two seasons.

— Jeff Borzello (@jeffborzello) March 15, 2021
Update (10:34 AM)-
Pittsburgh native and UMASS center Tre Mitchell hits the transfer portal. #Pitt should contact him. Fits a big need: An experienced 5, averaged 18.8 pts and 7 rebounds. First-Team All-Atlantic. Can step in and help immediately. #ZooEra #H2P 🏀 pic.twitter.com/4uAFxufCL0

— Harry G. Psaros (@PittGuru) March 15, 2021
Update (10:21 AM)- 
**The latest offer is in for Serra 2022 cornerback Pharoh Fisher.
After a great talk with @CowsetteCoach I'm blessed to have earned a Division 1 offer from the Air Force Academy🔵⚪️@Evolve2tenths @210ths @CoachRegus @DC5StarAthlete pic.twitter.com/ZM77YcpoAf

— Pharoh Fisher (@fisher_pharoh) March 14, 2021
Update (9:43 AM)-
First Spring Ball Practice in the 📚 Getting 3% better everyday grinding with the ganggg #H2P #pitt #blessed #God pic.twitter.com/rmGuhn1hrt

— isaiah stewart (@isaiahstewart_) March 15, 2021

Update (9:27 AM)-
Dahomée Forgues is transferring out of the Robert Morris WBB program via her Instagram #RMU #RMUWBB

— Nick Hedderick (@HeddsMedia) March 15, 2021
Update (9:25 AM)-
The #ACC has eliminated its rule requiring intra-conference transfers to sit out a season, which is expected to align with a change in #NCAA ruling this offseason.

— Alan Saunders (@ASaunders_PGH) March 15, 2021
Update (9:02 AM)-
Shoutout @BrennanMarion4 getting those receivers to make me work for the re-route ! Iron sharpens iron 💪🏻 #H2P

— Johnny JP Petrishen (@jP5_ERA) March 15, 2021
Update (8:05 AM)-
Love brother ❤️ https://t.co/cOifC2hWbH

— Jordy (@Espn_Jordan) March 15, 2021
Thank You @CoachDuzzPittFB For Being A Great Coach ! You Come To Work Everyday With Your Best Foot Forward ! A True Role Model ! Can't Wait To Practice Under Your Leadership 👍🏾 #H2P

— John D Morgan III ™ (@K1NG__JAY) March 14, 2021
Update (7:44 AM)-
Felt great being out there again for day 1. I want to thank @coachstacc and the rest of the strength coaches for having us prepared coming into spring physically and mentally ready💯

— Aydin "Alex" Henningham (@Underated_561) March 14, 2021
With that huge pic in 7v7‼️you turnt us all up🤞🏾🖤 https://t.co/jI0pvDvCbs

— David Green (@TMT_DGreen2) March 14, 2021
Thanks to my guys on the DLine for helping me get better today!! They are going to be a problem in the ACC this year…@K1NG__JAY @Camp_thatdude @abba1999 @djdevin79 @TMT_DGreen2 @Tbcheese45 @CoachPartridge has them ready!

— Jake Kradel (@JakeKradel) March 15, 2021
Update (7:41 AM)-
Sunday Funday 🎥

Spring Practice 1️⃣#H2P pic.twitter.com/kdBteyy3KZ

— Pitt Football (@Pitt_FB) March 15, 2021
— Pat Narduzzi (@CoachDuzzPittFB) March 14, 2021
Building stronger bonds with my fellow teammates after our first practice of spring ball‼️ #H2P 🏈 @john_vardzel @Kyi_Dorian3 @Camp_thatdude pic.twitter.com/Amv3ve1t65

— David Green (@TMT_DGreen2) March 14, 2021
You guys are all very welcomed. ALWAYS take care of my guys!!! Hail To Pitt ! 🇮🇹 https://t.co/Y0ROn1zgMK

— Pat Narduzzi (@CoachDuzzPittFB) March 14, 2021
Around the Network
Pittsburgh Soccer Now: The Panthers hold on for a win over ACC foe Boston College.
Steelers Now: Pitt fans should know how good Etienne is, who could be a good fit for the Steelers in round 1.
Nittany Sports Now: Penn State doesn't even get a NIT bid.
WV Sports Now: The Mountaineers get a 3rd seed for the Big Dance.
Pittsburgh Hockey Now: It's Penguins trade SZN.
Pittsburgh Golf Now: The Appalachian Golf Alliance is live.
Pittsburgh Racing Now: Scott Stiller's racing podcast featuring Western Pennsylvania 410 Sprint Car driver Sye Lynch.