The Frank Walker Law/PSN Daily Notebook: March 19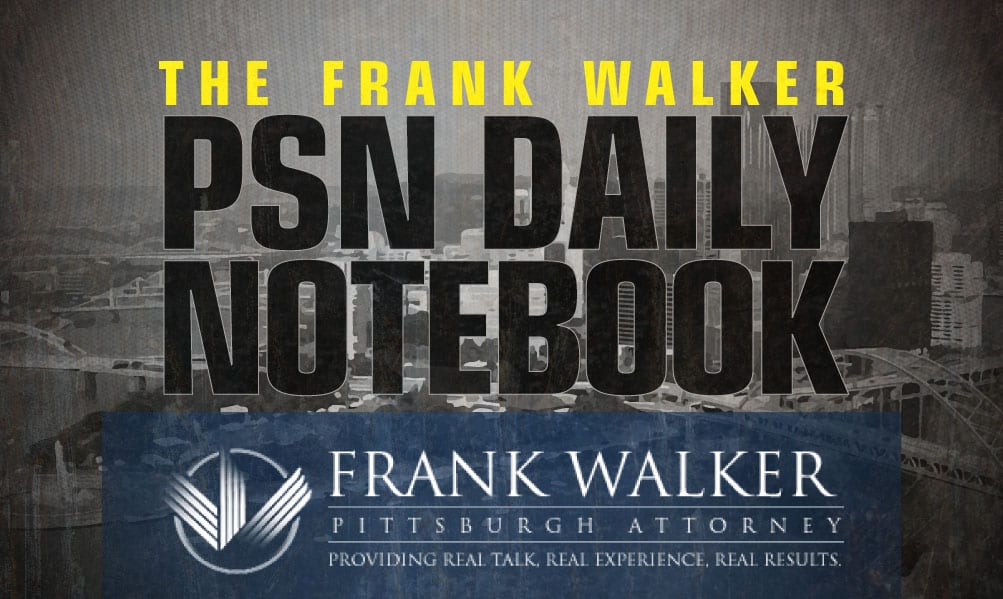 The PSN Daily Notebook is sponsored by Frank Walker, one of Pittsburgh and West Virginia's most respected criminal defense and injury lawyers. Mr. Walker has offices in Pittsburgh and Morgantown and has been named one of Top 100 National Trial Lawyers and is rated a perfect 10.0 Superb by Avvo for ethics, experience and results. To reach Mr. Walker, you can call 412-532-6805 or go to his website frankwalkerlaw.com. For real talk, real experience and real results, contact Frank Walker Law.
Update (7:12 PM)-
March 19, 2013: Robert Morris (@RMUMBasketball) upsets Kentucky 59-57 in the first round of the NIT. pic.twitter.com/NXRL6BSOc4

— This Day In Sports Clips (@TDISportsClips) March 19, 2021
Update (3:50 PM)- 
**Three offers now to players from the Pittsburg Pirates team in California as Brennan Marion offers 2023 4-star athlete Rashid Williams, who also has offers from Arizona State, Arkansas, California, Oregon State, Utah and San Jose St.

Update (3:42 PM)- 
**The second offer of the day from Pitt to a player in Pittsburg, California as this one goes to 2023 athlete Kenyan Higgins (6'4", 170). Along with Pitt, Higgins also holds offers from Arizona State.

Update (3:00 PM)-
**Pitt extends an offer to 2023 athlete Will Stallings Jr. from PIttsburg, California. Stallings received the offer from Brennan Marion. Stallings (6'2″, 210) plays both running back and defensive back in high school. Along with Pitt, Stallings holds offers from Nevada, Arkansas State and Charlotte.
Update (12:29 PM)- 
**2022 3-star RB Victor Venn (Buford, Georgia) makes a commitment to Colorado. Pitt was in his Top 5.
Blessed! COMMITTED! #SKOBUFFS 🦬 pic.twitter.com/W05DKMk2Gr

— Victor Venn (@Vic6Venn) March 19, 2021
Update (10:47 AM)- 
**Brennan Marion continues to go after players in states that Pitt haven't recruited in. This morning, Pitt extends an offer to 2023 defensive end Bai Jobe (6'4", 215) from Community Christian School in Norman, Oklahoma. This becomes Jobe's first D-1 offer.
2023 Norman (Ok) Community Christian OLB/DE/TE Bai Jobe (@22_bmj) tested w/@C4SportOklahoma & @seancooper_C4.

Broad: 120in (10ft)

10-yard split: 1.63-1.68 split (Cooper says he's most likely 4.7+ in 40yd dash.

Standing vertical: 27.8 inches

6-5 220lbs & 7-foot wingspan pic.twitter.com/X63sImb9ob

— Brandon Drumm (@BrandonDrumm247) March 17, 2021

Update (10:22 AM)- 
**Former Pitt PG Marcus Carr has entered the transfer portal. He will no doubt be a much sought after player. This past season, Carr averaged 19.4 points and 4.9 assists per game.
BREAKING: Minnesota junior Marcus Carr has entered the transfer portal, per source.

Averaged 19.4 points, four rebounds and 4.9 assists this season. || @247SportsPortal

— Travis Branham (@TravisBranham_) March 19, 2021

Update (9:41 AM)-
Happy birthday, @jwhite_333! 🥳 pic.twitter.com/p77PVfRcLq

— Tampa Bay Buccaneers (@Buccaneers) March 18, 2021