The Frank Walker Law/PSN Daily Notebook: March 28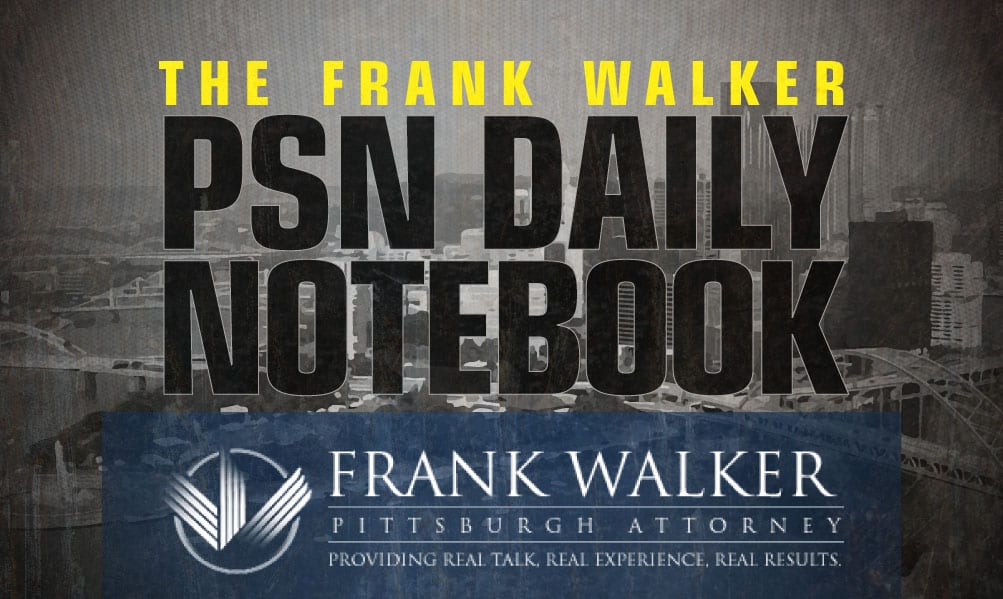 The PSN Daily Notebook is sponsored by Frank Walker, one of Pittsburgh and West Virginia's most respected criminal defense and injury lawyers. Mr. Walker has offices in Pittsburgh and Morgantown and has been named one of Top 100 National Trial Lawyers and is rated a perfect 10.0 Superb by Avvo for ethics, experience and results. To reach Mr. Walker, you can call 412-532-6805 or go to his website frankwalkerlaw.com. For real talk, real experience and real results, contact Frank Walker Law.
Update (9:41 PM)- 
**Brennan Marion extends an offer tonight to 2024 wide receiver Parker Livingstone (6'3", 185) from Pearce High School in Richardson, Texas. This is Livingstone's first D-1 offer.
Freshman 6A Varsity WR DFW – https://t.co/SSz2zJKfyO

— Parker Livingstone (@ParkerL06) December 18, 2020

Update (8:21 PM)- 
**Pitt extends an offer tonight to 2023 athlete Jakoby Banks (5'11", 170) from Missouri City, Texas. Banks got the news from Brennan Marion. This is Banks first Power Five offer (Marshall).
2023 ATH prospect @jakoby_banks showing off his deep threat capabilities on this rep. Championship Sunday vibes 🤙🏾.

2022 rising QB prospect @tannermurrayy with the dot🎯. Recently offered by Marshall, San Diego St, & UTSA 📈📈📈@Championship7v7 @TXStarsFootball Houston, Tx. pic.twitter.com/te7YGNcFXp

— Mr Houston 🏈 👑 (@MikeWestHTX) March 28, 2021
I am blessed to have received my second Division 1 offer from the university of Pittsburgh!!!!!! 💙💛💙💛 @MikeWestHTX @PghSportsNow @SamuelPadgitt @YoungBanks219 @BrennanMarion4 pic.twitter.com/TMP5yn3sct

— ♨️Jakoby "THE JOKER🃏"Banks . (@jakoby_banks) March 28, 2021

Update (7:42 PM)-
Duquesne and Pitt target https://t.co/y8Rfu5G5bg

— George Michalowski (@MichalowskiCBB) March 28, 2021
Update (3:34 PM)- 
**Pitt extends an offer this afternoon to freshmen Kobe Boykin from Orange, California. Boykin is getting recruited by Pitt as an athlete and received the news from Brennan Marion. Boykin also holds offers from Arizona, Arizona State and Colorado.
They decided to kick it to me …House call c/o 24 ATH Hudl soon .. @2Ddavis @prowaytraining @ttherzog @adamgorney @BrandonHuffman @coachkeith_1k @RyanWrightRNG @coach_cristobal @TheRBCoach @GregBiggins @OCSportsZone @K12Elite @DavidDelgado_OC @RTaylorFBscout @GHoward_Scout pic.twitter.com/mBlUsuHg4a

— Kobe Boykin (@kobe_4thawin) March 27, 2021
Update (9:55 AM)-
Dayton takes command in second half to beat Duquesne, 2-0 https://t.co/v9esqaqwnl

— Pittsburgh Soccer Now (@pghsoccernow) March 28, 2021
Update (9:27 AM)-
Another THRILLING victory in double OT❗

No. 5 Pitt moves to 11-2 overall and a combined fall/spring 7-1 in ACC play.

The 11 wins is the most in program history since 2000.#H2P pic.twitter.com/pY8cnQ5vum

— Pitt Men's Soccer (@Pitt_MSOC) March 28, 2021
Update (9:22 AM)-
Houston 62, Syracuse 46. Unless FSU reaches national championship game — potential road is Michigan, Alabama and Gonzaga — the ACC (4-6) will have its first losing NCAA tournament record since 1987. Every other conference has had at least 1 losing NCCAT record in 2000s.

— David Teel (@ByDavidTeel) March 28, 2021