The Frank Walker Law/PSN Daily Notebook: March 29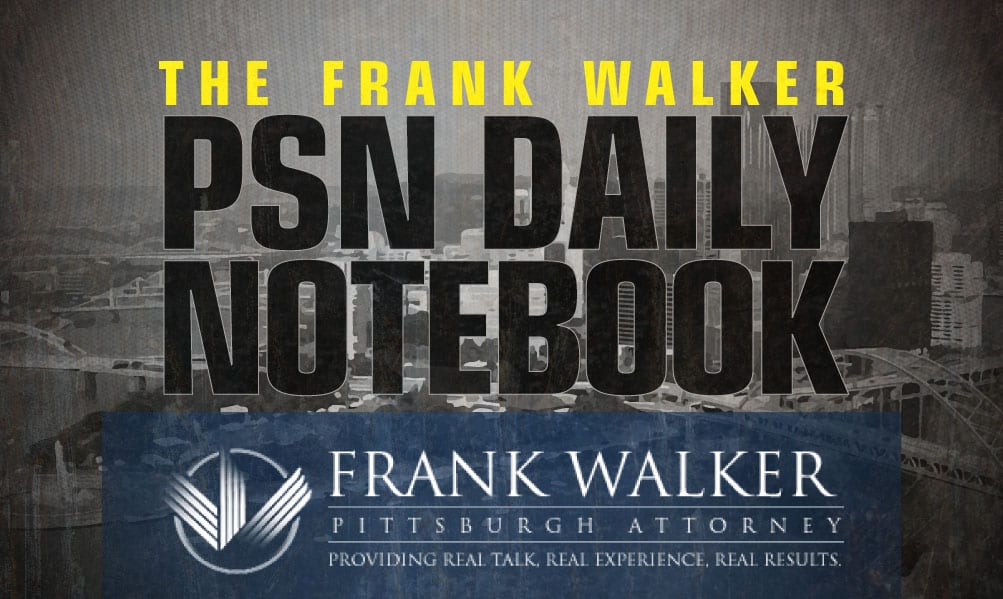 The PSN Daily Notebook is sponsored by Frank Walker, one of Pittsburgh and West Virginia's most respected criminal defense and injury lawyers. Mr. Walker has offices in Pittsburgh and Morgantown and has been named one of Top 100 National Trial Lawyers and is rated a perfect 10.0 Superb by Avvo for ethics, experience and results. To reach Mr. Walker, you can call 412-532-6805 or go to his website frankwalkerlaw.com. For real talk, real experience and real results, contact Frank Walker Law.
Update (8:05 PM)-
**2022 3-star wide receiver Aidan Gousby (6'2″, 180) picks up an offer tonight from Cory Sanders and Pitt. The native of Lehigh Acres, Florida also holds offers from Boston College, Georgia Tech, Illinois, Iowa State, Kentucky, Louisville, Maryland, Miami, Minnesota, Nebraska, Penn State and Toledo.
Check it out!! https://t.co/xVKUD4OrWw @coachchaney96

— Aidan Gousby † (@GousbyAidan) November 22, 2020
Update (7:04 PM)-
**2022 North Allegheny DE Jacob Porter picks up an offer today from Akron, his second D-1 offer. Porter's first D-1 offer was from Colorado State. Porter (6′-3″, 210) is the son of former Pittsburgh Steelers linebacker Joey Porter.
https://t.co/hf1cAC3V5u @TribLiveHSSN @wpialsportsnews @Big56Conference @nafootball_tfl @PaFootballNews

— Jacob Porter (@Jacob10Porter) December 8, 2020
Update (6:49 PM)-
𝙈𝙊𝙑𝙄𝙉' 𝙊𝙉 𝙐𝙋

we're ⬆️ one spot to #️⃣1️⃣8️⃣ in this week's @AVCAVolleyball poll.#H2P pic.twitter.com/20PUxrAGw7

— Pitt Volleyball (@Pitt_VB) March 29, 2021
Update (6:40 PM)-
**Brennan Marion and Pitt extend an offer to 2023 RB/WR/CB Chris Palfreeman from All Saints Episcopal School in Fort Worth, Texas. Palfreeman (5'10", 160) also holds offers from Baylor, SMU, Central Florida, Kansas and North Texas. Palfreeeman is yet another speedster that also runs track.
Good work with the starts today! 👀💨 10.4 something coming soon💯 pic.twitter.com/7dAsypTyac

— Chris Palfreeman (@PalfreemanChris) March 25, 2021
Update (6:03 PM)-
Boom! Program history made today with our 11th win of the season. I don't think this record is going to stand for long. Let's shatter it in the fall https://t.co/ceSxGzkx4V

— Dustin Stein (@steind13) March 29, 2021
Update (5:59 PM)-
#H2P 🔵🟡 https://t.co/pdfpT7feCz

— Harry G. Psaros (@PittGuru) March 29, 2021
Duke CB Mark Gilbert, cousin of Darrelle Revis, ran a 4.36 today at his Pro Day today. Gilbert was considered a potential first-round pick two years ago, when he was originally draft eligible, before he suffered back-to-back injuries. But he's now officially healthy.

— Adam Schefter (@AdamSchefter) March 29, 2021
Update (5:50 PM)- 
**2023 wide receiver AJ Jayroe (6'5", 185) from Prestonwood Christian High School in Plano, Texas receives an offer today from Brennan Marion and Pitt. This is Jayroe's first Power 5 offer, with his other offer coming from Illinois State.
2023 6'4" WR @Bigplay_aj on second leg rolling #TrustMyEyes coaches @drobalwayzopen @coachdwes pic.twitter.com/cAQHmQyE4u

— TrustMyEyes (@TrustMyEyesO) March 22, 2021
Making the most out of the opportunities I've been given… pic.twitter.com/1Ao1tSPIWX

— Addison "AJ" Jayroe † (@Bigplay_aj) December 1, 2020

Update (5:48 PM)-
Another ACC weekly honor! 🏅

Junior midfielder @JacksonWalti has been named ACC Defensive Player of the Week❗

Congrats, 2️⃣4️⃣❕#H2P

— Pitt Men's Soccer (@Pitt_MSOC) March 29, 2021
Update (5:47 PM)-
The early entry date for underclassmen declaring for the 2021 NBA Draft is May 30th, per release. Withdrawal deadline is July 19th. Draft will be held on July 29th.

— Jon Rothstein (@JonRothstein) March 29, 2021
Update (2:05 PM)-
No i do not have a top 4 of schools anymore , i had my mind made up at the time where me and my family thought would be good for me but then we've decided it would be best to leave all my options open and take my time with this process. Thank you!

— Antonio Daye (@antoniodayejr) March 29, 2021

Update (1:27 PM)-
Thursday calls for some cold weather 🥶

Our Thursday home game vs. Louisville has been moved to Sunday at 12 PM

First game of the series begins Friday afternoon at 3 PM 🥎#H2P

— Pitt Softball (@Pitt_SB) March 29, 2021
Update (11:59 AM)-
PITT WR Room 🟨🟦💪🏾#H2P pic.twitter.com/lxzkrPjlfh

— Coach Marion (@BrennanMarion4) March 29, 2021

Update (11:54 AM)-

In ONLY 9 games tho… Took me 14 games to get that 44 in 2018 https://t.co/1ihP6ZNjre

— Rashad Weaver (@RashadWeaver) March 29, 2021
AROUND THE NETWORK
Pittsburgh Soccer Now: Pitt men's soccer rolls on after beating VT in OT.
Steelers Now: Looks like the Steelers are closer to making full capacity at Heinz Field a probability… which bodes well for Pitt.
Nittany Sports Now: Pitt is definitely interested in some of the Penn State basketball transfers.
WV Sports Now: Mountaineers football loses one of the best players to the transfer portal.
Pittsburgh Hockey Now: Playing armchair Penguins GM.
Pittsburgh Racing Now: Late model racing results at the William Grove Speedway.