The Frank Walker Law/PSN Daily Notebook: March 31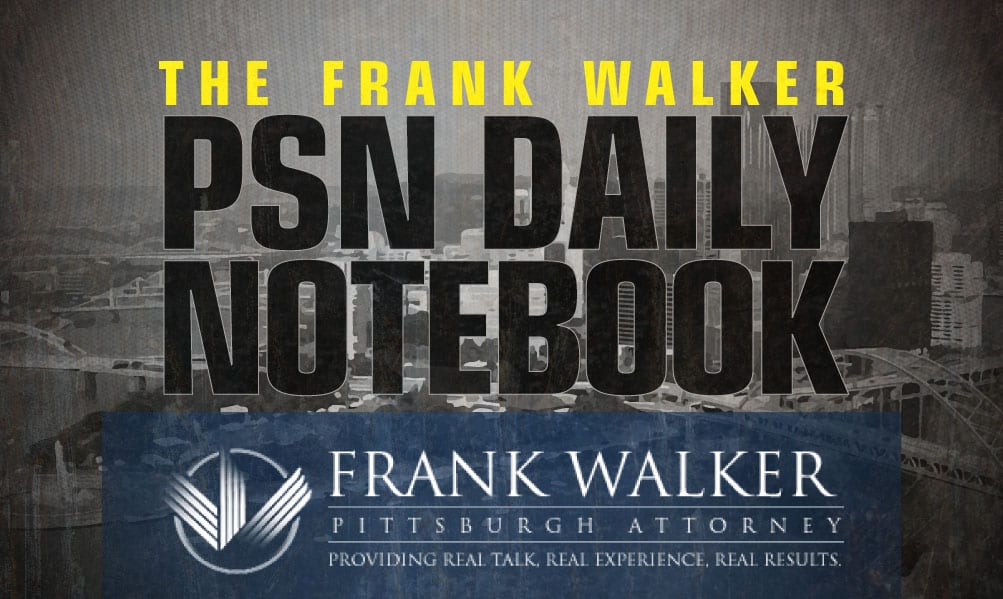 The PSN Daily Notebook is sponsored by Frank Walker, one of Pittsburgh and West Virginia's most respected criminal defense and injury lawyers. Mr. Walker has offices in Pittsburgh and Morgantown and has been named one of Top 100 National Trial Lawyers and is rated a perfect 10.0 Superb by Avvo for ethics, experience and results. To reach Mr. Walker, you can call 412-532-6805 or go to his website frankwalkerlaw.com. For real talk, real experience and real results, contact Frank Walker Law.
Update (7:10 PM)-
🚨 𝗦𝗖𝗛𝗘𝗗𝗨𝗟𝗘 𝗖𝗛𝗔𝗡𝗚𝗘

Our @ACCBaseball home series vs. No. 12 Notre Dame this week has been pushed back ✌️ days.

Saturday: 1️⃣ PM
Sunday: 3️⃣ PM
Monday: 1️⃣ PM#H2P

— Pitt Baseball (@Pitt_BASE) March 31, 2021

Update (1:24 PM)-
Seton LaSalle head football coach Mauro Monz and assistant Jason Pinkston are each suspended from coaching for one year for violating #PIAA rules against recruiting, the #WPIAL decided today. #HSSN

— Chris Harlan (@CHarlan_Trib) March 31, 2021

Update (12:49 PM)-
Pitt's Jaylen Twyman was a guest on Good Morning Football today!@JaylenTwyman x @NFLNetwork #H2P x @GMFBpic.twitter.com/xj4BREoHHG

— Pitt Football (@Pitt_FB) March 31, 2021
Update (12:22 PM)-
The newest schools to reach out to Murray are Georgia, Robert Morris, Iona, Portland, San Francisco, Louisiana, and Wofford. https://t.co/I0cmFOhj25

— jake lieberman (@jakelieberman2) March 31, 2021
Update (9:19 AM)-
STILL BETTING ON MYSELF… The Race Continues 🏁⏳#newbeginnings pic.twitter.com/DUsKMxlK96

— Mattia Acunzo (@mattia_acunzo) March 31, 2021
Update (8:58 AM)-
**Pitt football's latest offer goes to a sophomore from Washington DC. 2023 athlete Nyckoles Harbor (6'4″, 220) from Archbishop Carroll receives an offer from Andre Powell. Harbor also holds offers from Boston College, Maryland and Temple.