The Frank Walker Law/PSN Daily Notebook: April 13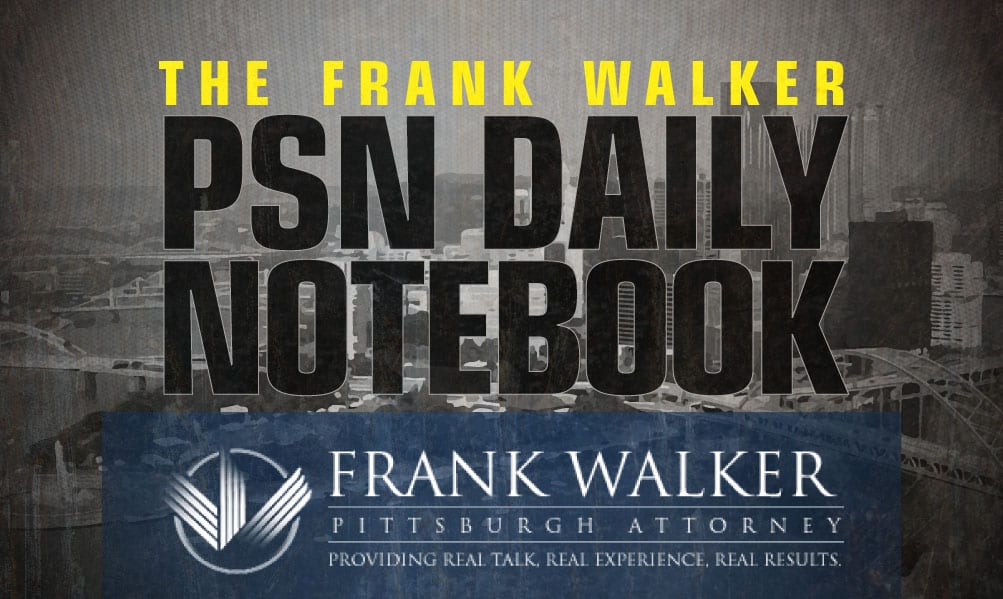 The PSN Daily Notebook is sponsored by Frank Walker, one of Pittsburgh and West Virginia's most respected criminal defense and injury lawyers. Mr. Walker has offices in Pittsburgh and Morgantown and has been named one of Top 100 National Trial Lawyers and is rated a perfect 10.0 Superb by Avvo for ethics, experience and results. To reach Mr. Walker, you can call 412-532-6805 or go to his website frankwalkerlaw.com. For real talk, real experience and real results, contact Frank Walker Law.
Update (4:36 PM)-
You can't find two greater #Pitt men. Panther legends. #H2P 🔵🟡 https://t.co/PsGLYUBFzi

— Harry G. Psaros (@PittGuru) April 13, 2021

Update (2:05 PM)-
⚠️ Stay out of School Zones ⚠️ @IAbanikanda might get ticketed for speeding‼️

🏃🏾‍♂️💨 #H2P pic.twitter.com/BuZvuePqsL

— Pat Narduzzi (@CoachDuzzPittFB) April 13, 2021
Update (1:47 PM)-
**Pitt extends an offer today to 2023 wide receiver Josiah Phillips (6'3″, 185) from Sierra Canyon High School in Chatsworth, California. Phillips received the news from Brennan Marion and also holds early offers from LSU and Oregon.
Check out my highlight – https://t.co/zjW3BONoha

— Josiah "jojo" phillips (@josiahphillip20) April 12, 2021
Update (12:22 PM)-
NATIONAL Player of the Week❗

Senior @alexjdexter was named College Soccer News National Player of the Week for his performance vs. Virginia ⚽

✍️ – https://t.co/wlyhdWE9fW#H2P pic.twitter.com/KcELzRLUKf

— Pitt Men's Soccer (@Pitt_MSOC) April 13, 2021
Update (11:29 AM)-
Fordham transfer Joel Soriano is currently on a Zoom call with Oklahoma State's Mike Boynton & scheduled to have a Zoom meeting later this week with Western Kentucky's Rick Stansbury, per kind source. #GoTops #GoPokes https://t.co/7IWyJ2Tx9R

— 𝒜𝓃𝒹𝓇ℯ𝓌 𝒮𝓁𝒶𝓉ℯ𝓇 (@Andrew__Slater) April 13, 2021
Update (7:23 AM)-
**Pitt becomes the first program to offer 2023 6'4″ wide receiver/cornerback Surahz Buncom from Mater Dei Catholic High School in Santa Anta, California.
Update (7:03 AM)-
**Pitt extended offers on Monday to 2023 wide receiver Famah Toure (6'3″, 185) from Irvington High School in Pleasantville, New Jersey. Toure also holds offers from Rutgers and Temple and he received the news from Brennan Marion.
**Last night, Brennan Marion extended an offer to freshman running back/defensive back Jabari Mann (5'11", 195) from Junipero Serra High School in California. This was big for Mann because it was his first D-1 offer.
— Jabari Mann (@MannJabari) May 8, 2020