The Frank Walker Law/PSN Daily Notebook: April 15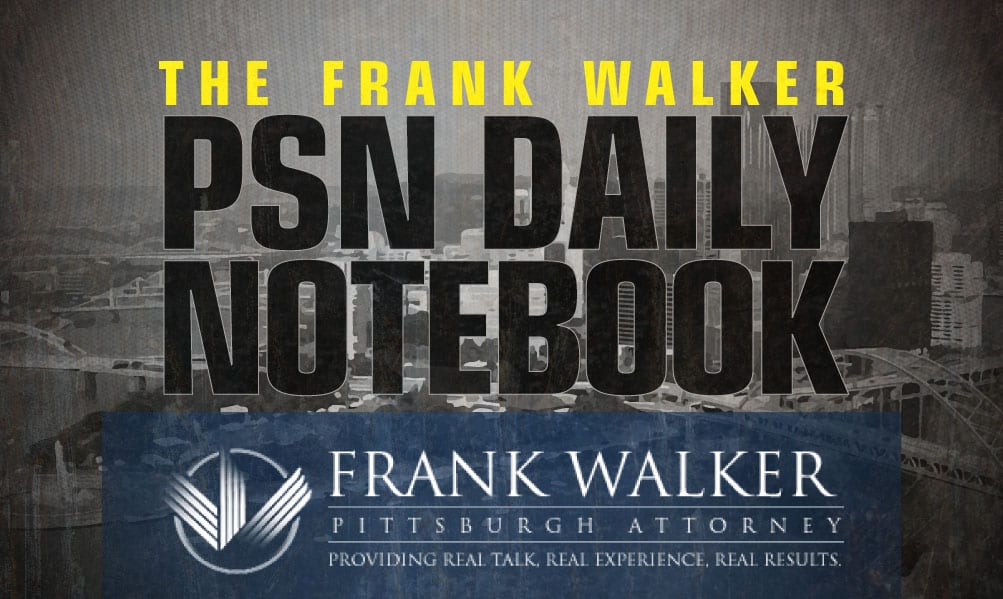 The PSN Daily Notebook is sponsored by Frank Walker, one of Pittsburgh and West Virginia's most respected criminal defense and injury lawyers. Mr. Walker has offices in Pittsburgh and Morgantown and has been named one of Top 100 National Trial Lawyers and is rated a perfect 10.0 Superb by Avvo for ethics, experience and results. To reach Mr. Walker, you can call 412-532-6805 or go to his website frankwalkerlaw.com. For real talk, real experience and real results, contact Frank Walker Law.
Update (2:20 PM)- 
**Pitt extends an offer to 2022 power forward Dominick Barlow from Dumont, New Jersey. Barlow (6'8", 205) was originally in Class of 2021 but re-classified to Class of 2022. Barlow holds offers from Siena, Quinnipiac, Saint Peters and Fairleigh Dickinson.
Update (12:47 PM)-
— Coach Todd Jochem, PhD (@ToddJochem) April 15, 2021
Update (12:37 PM)-
Nearly one-third of college basketball players are in the transfer portal.
Football is closing in on 20 percent.
And this is only the beginning of the transfer revolution.https://t.co/0fanJSokac

— Cory Giger (@CoryGiger) April 15, 2021
Update (12:30 PM)- 
**Pitt women's basketball extends an offer to 2024 point guard Brook Simpson from Michigan. This is Simpson's first D-1 offer.
https://twitter.com/uts_inc_sports/status/1382727286345064451?s=21

Update (11:16 AM)-
Also let me know how there was "hazing" in the locker room this year when we weren't allowed in the locker room all year? @PRSchools I'd love to hear instances this year. I'm sure I'll get "no comment" tho.

— Luke Miller (@_luke_miller_7) April 15, 2021
Update (10:52 AM)-
Cowards. The entire administration and school board should be ashamed of themselves. Absolutely embarrassed to be Pine-Richland students today. https://t.co/db1o68ww61

— THE MOB™ (@THEPRMOB) April 15, 2021
Update (10:48 AM)-
Official.

— Pitt Basketball (@Pitt_MBB) April 15, 2021
Update (10:35 AM)-
Statement from Ben DiNucci, quarterback on the Dallas Cowboys and former Pine-Richland football player pic.twitter.com/WwlqcBHDI7

— Jillian Hartmann WPXI (@JillianWPXI) April 15, 2021
Update (10:24 AM)-
Your students are all speaking out . To make a decision based on personal feeling rather than what's best for the community is very childish. @PRSchools preaches "The Rams Way" to students but when it comes to them it doesn't apply . I am embarrassed to call myself a Ram today.

— Luke Miller (@_luke_miller_7) April 15, 2021
Absolute BS. Jealous superintendent who didn't like how dominant football program was getting https://t.co/Uu29oj7QZn

— Ben DiNucci (@B_DiNucci6) April 15, 2021

Update (9:44 AM)-
**This morning, Brennan Marion and Pitt extend an offer to 2023 4-star wide receiver Carnell Tate from Chicago, Illinois, although Tate currently attends IMG Academy. Tate (6'2″, 185) is rated as one of the Top 50 players in the  Class of 2023. Tate holds offers from programs like Florida State, Georgia, LSU, Michigan, Mississippi State, Notre Dame, Penn State, Texas and West Virginia.
Update (9:18 AM)-
𝙍𝙀𝘾𝘼𝙋

(if you're actually up this late reading this, we salute you)

On to the Second Round!#H2P | #NCAAVB

— Pitt Volleyball (@Pitt_VB) April 15, 2021