The Frank Walker Law/PSN Daily Notebook: April 21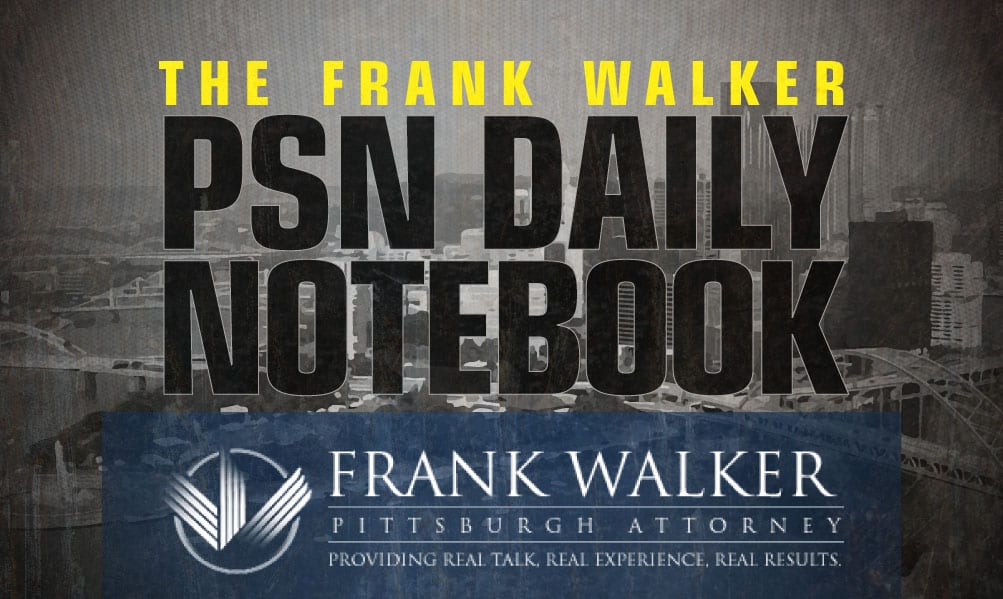 The PSN Daily Notebook is sponsored by Frank Walker, one of Pittsburgh and West Virginia's most respected criminal defense and injury lawyers. Mr. Walker has offices in Pittsburgh and Morgantown and has been named one of Top 100 National Trial Lawyers and is rated a perfect 10.0 Superb by Avvo for ethics, experience and results. To reach Mr. Walker, you can call 412-532-6805 or go to his website frankwalkerlaw.com. For real talk, real experience and real results, contact Frank Walker Law.
Update (7:16 PM)-
Pitt's series at Louisville has been cancelled.#H2P https://t.co/90SOuFsB8R

— Pitt Baseball (@Pitt_BASE) April 21, 2021

Update (7:14 PM)-
Congrats to Summer & Indya Davis on receiving offers from the University of Pittsburgh. Thanks to Coach White, Coach Mitchell and the Pittsburgh staff for taking the time to watch our girls. pic.twitter.com/CU4I9ULj8Y

— Michigan Storm Elite (@stormAAU) April 21, 2021
Update (6:51 PM)-
Syracuse transfer LB Tyrell Richards has picked up an offer from Robert Morris #FCS https://t.co/9u9Acvfzbq

— NCAA Transfer Portal (@RivalsPortal) April 21, 2021

Update (4:59 PM)-
Where was your team at???🤔 https://t.co/vizXcwcAio

— John Tate (@Twism44) April 21, 2021

Update (4:48 PM)- 
**The latest offer comes in for North Catholic 2023 PG Dacia Lewandowski.
Super excited to say I have received a scholarship offer from Oakland University. Thank you @CoachTungate @coach_keshab
Let's Go Golden Grizzlies!! pic.twitter.com/ewgoMOXKWx

— Dacia Lewandowski (@Dacia_J_Lew) April 21, 2021

Update (2:38 Pm)-
MOVING ON: A Penn State preferred walk-on football player has entered the transfer portal — for football and basketball.
He received a lot of FCS football scholarship offers out of high school and some Division I basketball offers
Details here:https://t.co/4VLqvbHjxJ pic.twitter.com/nvwCFMmyJv

— Cory Giger (@CoryGiger) April 21, 2021
Update (2:25 PM)- 
**The Pitt Football coaches are showing a lot of interest in Florida 3-star TE Mason Taylor, who will be making an official visit in June.
💛💙 @CoachTimSalem @CoachPartridge @CoachDuzzPittFB @Pitt_FB pic.twitter.com/XQ4hgP9jhQ

— Mason Taylor (@MasonTaylor52) April 21, 2021

Update (2:20 PM)-
Here's what Neil Walker had to say about the ongoing news at his alma mater (Pine-Richland): pic.twitter.com/s9lceGYF4l

— Jason Mackey (@JMackeyPG) April 21, 2021
Update (8:19 AM)-
Girls hoops recruiting news: Some big offers tonight for Pine-Richland 6-4 sophomore center Eve Fiala. Picks up offers from Maryland and Michigan State. Saw her play over the weekend. Should be able to name her school when it's all said and done.

— Brad Everett (@BREAL412) April 20, 2021