The Frank Walker Law/PSN Daily Notebook: May 4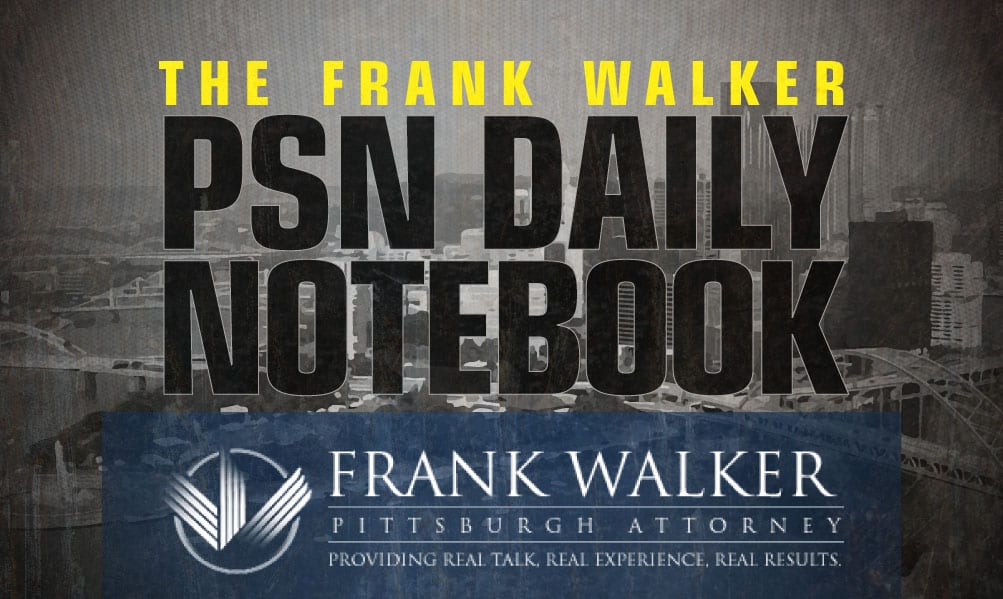 The PSN Daily Notebook is sponsored by Frank Walker, one of Pittsburgh and West Virginia's most respected criminal defense and injury lawyers. Mr. Walker has offices in Pittsburgh and Morgantown and has been named one of Top 100 National Trial Lawyers and is rated a perfect 10.0 Superb by Avvo for ethics, experience and results. To reach Mr. Walker, you can call 412-532-6805 or go to his website frankwalkerlaw.com. For real talk, real experience and real results, contact Frank Walker Law.
Update (8:44 PM)- 
**Central Catholic 2022 DB Devin Barren picks up an offer from Youngstown State, his first D-1 offer.
Truly blessed and grateful to say I Earned my first Division 1 offer from Youngstown State University ❤️🤍@ysufootball @fbcoachdp @CoachJ_Schaefer @CoachNardo27 @flem021 Go Penguins🐧 pic.twitter.com/911tdbkaPB

— Devin Barren 2️⃣ (@BarrenDevin) May 4, 2021
Update (8:39 PM)- 
**Central Catholic 2022 athlete JD Younger picks up his first D-1 offer.
AGTG! Another blessing this evening. Proud to say I've earned my first Division 1 Scholarship from Bucknell University🔹🔸 #rayBucknell pic.twitter.com/uzIxx5U0nc

— 𝑱𝑫 𝒀𝒐𝒖𝒏𝒈𝒆𝒓 ❸ (@JdBandz) May 5, 2021
Update (7:31 PM)-
Pitt QB Kenny Pickett working Gun 3 holding FS on drop vs Cov 1 with pocket movement keeping base, hips down and staying centered throwing slot fade dropping ball over outside shoulder to Florida WR Justin Shorter. @kennypickett10 @JimNagy_SB @mortreport pic.twitter.com/sr9zqX74To

— Tony Racioppi (@Tonyrazz03) May 4, 2021
Update (5:53 PM)-
Shoutout to @HamlinIsland for stopping past today to talk to @StoRoxfootball members today.

Appreciate you @HamlinIsland congratulations once again! pic.twitter.com/al2AvcJ8ud

— LaRoi Johnson (@Chise89) May 4, 2021
Update (5:35 PM)-
Colgate transfer LB/DB Brendan Ekwughalu has picked up an offer from Robert Morris #FCS https://t.co/AU1zxG9Dq8

— NCAA Transfer Portal (@RivalsPortal) May 4, 2021
Update (4:49 PM)-
#NFL quarterbacks have been put on notice! When you see #93 & #76 coming at you, run the other way! Congrats to Patrick Jones Jr. & Jaylen Twyman. #H2P https://t.co/nN0uCcq9GP

— Harry G. Psaros (@PittGuru) May 4, 2021
Update (4:39 PM)-
Raider Nation is going to love Jimmy Morrissey. I called @jimbo_slice123 the day before the Senior Bowl and he got in his car and drove to Mobile. Met with Panthers' OL coaches all day and played center and both guard spots in the game the next day. Total stud.

— Jim Nagy (@JimNagy_SB) May 4, 2021
Update (2:50 PM)- 
**Former New Castle and Ohio State star Malik Hooker will visit with the Miami Dolphins.
Dolphins Hosting S Malik Hooker https://t.co/jGQdxLcwAi pic.twitter.com/a0B3hJa98a

— NFLTradeRumors.co (@nfltrade_rumors) May 4, 2021

Update (2:46 PM)- 
**The latest Power 5 football offer for Laurel Highlands 2023 4-star athlete Rodney Gallagher comes from Arizona State.
Blessed to receive a football offer from Arizona State University🙏🏼@LHMustangFB @CoachKolesar @gridironjrj pic.twitter.com/6EVZ81fXNA

— Rodney Gallagher 3rd (LLC💞) (@RodneyG_3rd) May 4, 2021