The Frank Walker Law/PSN Daily Notebook: May 5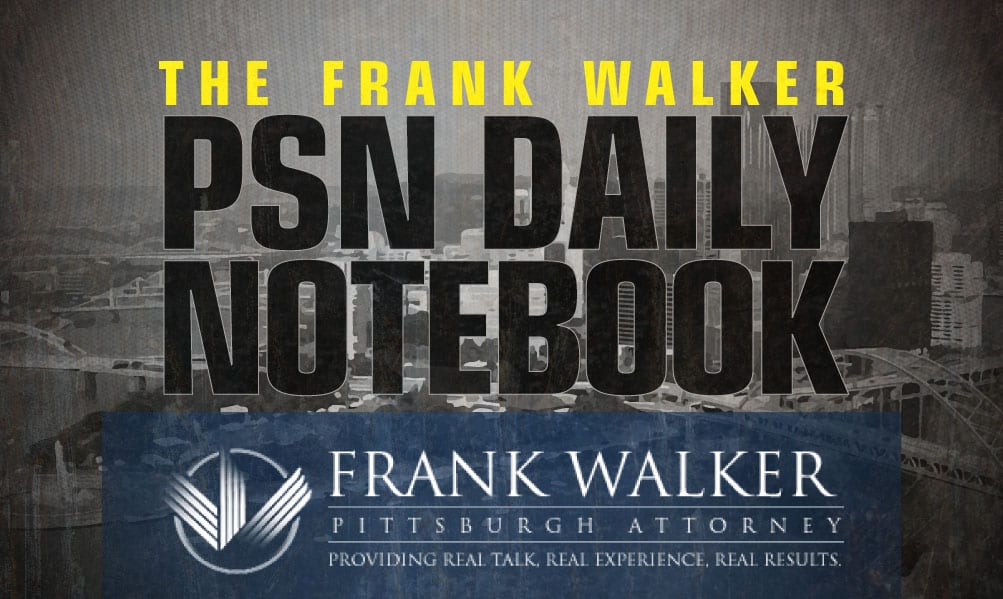 The PSN Daily Notebook is sponsored by Frank Walker, one of Pittsburgh and West Virginia's most respected criminal defense and injury lawyers. Mr. Walker has offices in Pittsburgh and Morgantown and has been named one of Top 100 National Trial Lawyers and is rated a perfect 10.0 Superb by Avvo for ethics, experience and results. To reach Mr. Walker, you can call 412-532-6805 or go to his website frankwalkerlaw.com. For real talk, real experience and real results, contact Frank Walker Law.
Update (9:05 PM)- 
**Today Pitt extends an offer to 2022 3-star athlete Timothy Spurlock, from Madison Academy in Madison, Alabama. Spurlock (6'2", 210) holds offers from Boston College, Liberty, Memphis, Mississippi State, Tulane, UAB, South Florida and Washington State. Spurlock received the offer from Ryan Manalac.
2020 Junior Year Highlights https://t.co/AkcdfrU2ck

— Timothy (Deuce) Spurlock,II (@deucespurlock) April 28, 2021
Update (7:19 PM)-
Charleston Southern transfer OL Daviyon McDaniel has picked up an offer from Duquesne #FCS https://t.co/1hKmTVgDqu

— NCAA Transfer Portal (@RivalsPortal) May 5, 2021

Update (5:49 PM)- 
**North Hills 2022 athlete Robert Dickerson earns another D-1 scholarship.
Blessed to receive a football offer from Bucknell University 🧡💙 pic.twitter.com/U9HXyyidj2

— 𝑅𝑂𝐵𝐸𝑅𝑇 𝐷𝐼𝐶𝐾𝐸𝑅𝑆𝑂𝑁 🖖🏽 (@RobDickerson16) May 5, 2021
Junior Year Highlights ❗️❕https://t.co/iFnbn4fSyg pic.twitter.com/dBDuLD0Ns8

— 𝑅𝑂𝐵𝐸𝑅𝑇 𝐷𝐼𝐶𝐾𝐸𝑅𝑆𝑂𝑁 🖖🏽 (@RobDickerson16) October 28, 2020

Update (3:34 PM)- 
**Chartiers Valley 2023 cornerback Lamont Payne receives his 5th Power Five offer (Pitt, Penn State, West Virginia and Rutgers).
Beyond Blessed to say I've received another offer from the University of Syracuse @210ths @Evolve2tenths @DC5StarAthlete @DKnause5 @RivalsFriedman @EdOBrienCFB @ESPNCFB pic.twitter.com/UcGOUx5ac2

— Lamont Payne🕷🦋 (@Lamontpayne18) May 5, 2021

Update (2:50 PM)-
Moon junior lineman Trent Fraley, son of former NFL lineman Hank Fraley, picks up his first offer. And it's from his dad's alma mater, Robert Morris.

— Brad Everett (@BREAL412) May 5, 2021
Update (9:43 AM)- 
**Former Central Catholic star Tim Terry has decided to enter the NCAA Transfer Portal. Terry is a member of the Class of 2017.
Buffalo LB Tim Terry is in the transfer portal. He's started 10 games the last two years, combining for 64 tackles across that stretch. https://t.co/JtnNDGeugy

— 247Sports Transfer Portal (@247SportsPortal) May 5, 2021
Update (8:59 AM)- 
**Former Moon star and Pitt Panther Cameron Johnson with the #1 play on SportsCenters Top 10 plays.
Cameron Johnson with the poster and stare-down on Jarrett Allen 😱 pic.twitter.com/tOcSXjg2vf

— ESPN (@espn) May 5, 2021
Update (7:34 AM)-
Monmouth transfer LB DeJaun Cooper picked up an offer from Duquesne #FCS https://t.co/zWLkxAwyfr

— NCAA Transfer Portal (@RivalsPortal) May 5, 2021
AROUND THE NETWORK
Steelers Now: Slippery Rock QB Roland Rivers III invited to Steelers rookie minicamp
WV Sports Now: Despite Aaron Donald comparisons, WVU All-American Darius Stills goes undrafted
Pittsburgh Soccer Now: Have we mentioned how good Pitt men's soccer is? Two players named as semifinalists for the most prestigious individual award in college soccer.
Nittany Sports Now: Altoona Curve set to open season after 600-day absence. | PA Set to lift COVID restrictions on outdoor gatherings
Pittsburgh Hockey Now: Blowing out the Flyers is always worth a mention
Pittsburgh Golf Now: More options for all you Western PA golf nuts
Pittsburgh Racing Now: Results from Tri-City Raceway Park in Franklin, PA