The Frank Walker Law/PSN Daily Notebook: May 8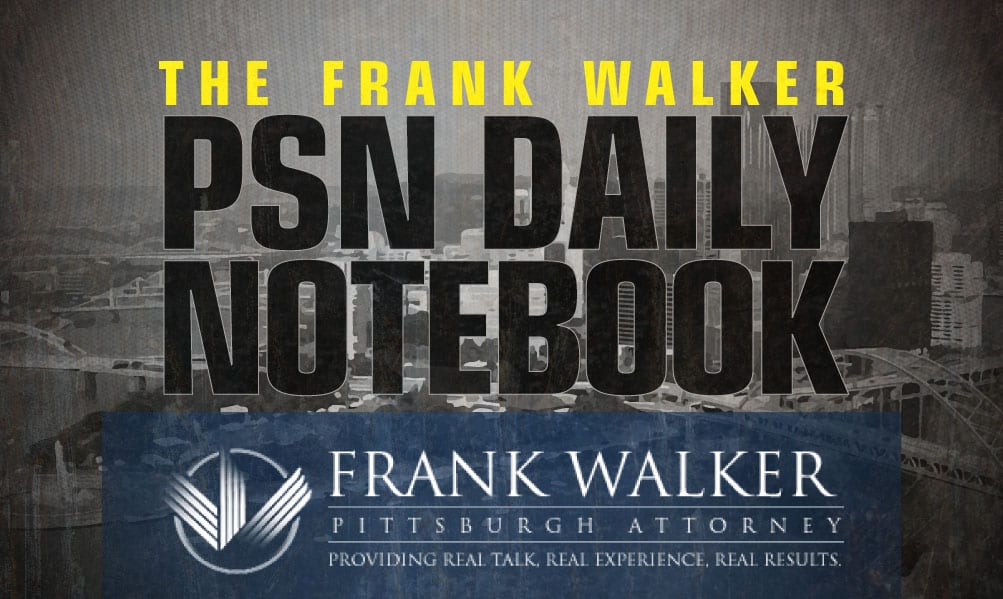 The PSN Daily Notebook is sponsored by Frank Walker, one of Pittsburgh and West Virginia's most respected criminal defense and injury lawyers. Mr. Walker has offices in Pittsburgh and Morgantown and has been named one of Top 100 National Trial Lawyers and is rated a perfect 10.0 Superb by Avvo for ethics, experience and results. To reach Mr. Walker, you can call 412-532-6805 or go to his website frankwalkerlaw.com. For real talk, real experience and real results, contact Frank Walker Law.
Update (7:28 PM)-
6'6 2022 Nolan Hodge of Northern Guilford (NC) / NC Gaters

Claimed Offers: Duquense, Old Dominion, NC A&T, Radford#BigShots #AbsoluteBasketball pic.twitter.com/pWtv7PiATr

— Jamie Shaw (@JamieShaw5) May 8, 2021
Update (7:19 PM)-
**Another D-1 offer for Butler 2022 combo guard Devin Carney.
Extremely blessed to receive an offer from North Carolina A&T #goaggies #HBCU 💛💙 pic.twitter.com/naczSg5W3F

— Devin Carney (@devin24carney_) May 8, 2021

Update (7:04 PM)- 
**Penn-Trafford 2022 athlete Cade Yacamelli picks up a big Ivy League offer.
After an awesome conversation with @SSmith_II , I am extremely honored and excited to have received an offer from Yale University 🔵⚪️ pic.twitter.com/3BO9YmyJEU

— Cade Yacamelli (@cyacamelli) May 8, 2021

Update (2:04 PM)-
**Ohio 2022 3-star tight end Brody Foley committed today to Tennessee. The Pitt staff were recruiting Foley and hoped to get him up for an official visit in June. Tim Salem and Pitt were Foley's first Power Five offer back in November.
Update (11:26 AM)-
Thank you Pitt 💙💛 pic.twitter.com/TKbjUezFVq

— Mason Taylor (@MasonTaylor52) May 8, 2021

Update (10:45 AM)- 
Soon… 🗡 pic.twitter.com/enh3BHNKPD

— Nike (@sibande_nike) May 8, 2021
Nwabuko, a burner 🔥 from Texas, visits #Pitt the weekend of June 25th. 🚀 https://t.co/7iDeWubAFC

— Harry G. Psaros (@PittGuru) May 8, 2021
Update (10:39 AM)-
Congrats to former #Pitt Panther Mike Cook. 🏀 https://t.co/Gh3TRy14sz

— Harry G. Psaros (@PittGuru) May 8, 2021
Update (9:04 AM)- 
On #Bills RD6 pick Damar Hamlin, low-key a great value selection.

Weren't many safeties with cleaner film, and he immediately can fill an important, niche role.

Full draft recap with @JonScottTV here https://t.co/SJb52obG3W pic.twitter.com/mY7wgFSrkI

— Chris Trapasso (@ChrisTrapasso) May 8, 2021
Update (8:59 AM)-
#Pitt softball got a walk-off win over No. 6 Florida State.https://t.co/8PdXYRCUtS

— Alan Saunders (@ASaunders_PGH) May 8, 2021
Update (8:55 AM)-
**Pitt made  the Top 8 of a lineman from Florida. 2022 offensive tackle Daughtry Richardson, from Miami Central High School in Miami, Florida has announced a Top 8 of (no order): Pitt, Florida State, Arizona State, Miami, Missouri, Mississippi State, Central Florida and Kentucky. Richardson (6'5″, 285) is getting recruited to Pitt by Charlie Partridge.
Dog… pic.twitter.com/hzi9awnKsI

— Daughtry Richardson (@DaughtryRichar) April 19, 2021
Update (8:34 AM)- 
**Last night, Brennan Marion and Pitt extend an offer to 2023 wide receiver DeAndra Burns from El Dorado, Arkansas. Burns, who is also a standout running track, also holds an offer from Arkansas.
I ran a 10.83 in my state meet in the 100 meter dash pic.twitter.com/q41XmPUQLz

— DeAndra Burns Jr WR 5'9 165 (@DeAndraBurnsJr) May 7, 2021
I ran a 21.96 in my first state meet in the 200 meter pic.twitter.com/jzyZfifWSQ

— DeAndra Burns Jr WR 5'9 165 (@DeAndraBurnsJr) May 8, 2021
My sophomore 7 games highlight and starts
Rec Yard 755
56 catches
11 TD
KOR 6
KOR Yard 306
PR 2
PR Yard 74
All Purpose Yard 1058https://t.co/GsIApVF8fh

— DeAndra Burns Jr WR 5'9 165 (@DeAndraBurnsJr) December 15, 2020
Update (8:27 AM)-
**Duquesne football extends an offer to 2022 athlete JD Younger. Earlier this week, Younger received his first D-1 offer from Bucknell.
— 𝑱𝑫 𝒀𝒐𝒖𝒏𝒈𝒆𝒓 ❸ (@JdBandz) November 15, 2020
#AGTG After a great conversation with @CoachLuke_Smith I'm blessed to say I've received my 2nd Division 1 offer from the hometown Duquesne University! #GoDukes pic.twitter.com/JTR3d7GnDC

— 𝑱𝑫 𝒀𝒐𝒖𝒏𝒈𝒆𝒓 ❸ (@JdBandz) May 8, 2021